[et_pb_section fb_built="1″ _builder_version="3.0.47″][et_pb_row _builder_version="3.0.48″ background_size="initial" background_position="top_left" background_repeat="repeat"][et_pb_column type="4_4″ _builder_version="3.0.47″ parallax="off" parallax_method="on"][et_pb_text _builder_version="3.18.2″]
Planning on Buying a Home in Farmington Hills MI? Things You Can Do Now To Prepare  – Buying a home in Farmington Hills MI is a major accomplishment. It's an opportunity to put down roots and build equity. That being said, the housing market has become more competitive, with national inventory down almost 30 percent. This is especially true when it comes to mid-priced, affordable houses. So, the sooner you start preparing to buy a house, the easier it will be to beat the competition. 
If you are in the early stages of buying a home, here are a few important steps you can take right now to prepare:
Check Your Credit
Once you have made the decision to buy a home in Farmington Hills MI, the first step is to request a credit report from all three credit reporting agencies (Experian, TransUnion, and Equifax). Your credit will determine whether or not you are eligible for a mortgage and also influences your mortgage rate. 
Most mortgage programs require a minimum credit score of 580 – 620. You will want to also check your report for accuracy and dispute any errors, especially negative errors that decrease your score A free copy of your credit report from each of the credit reporting agencies is available every 12 months from AnnualCreditReport.com.  
Figure Out Your Debt-to-Income (DTI)
Your debt-to-income ratio (DTI) plays a big role in whether you are able to qualify for a mortgage. It's the percentage of your income that goes toward paying your monthly debts and helps lenders decide how much you can afford to borrow. DTI is as important as your credit score and job stability, if not more so. 
Most lenders prefer a DTI that's no higher than 36%, depending on the mortgage program. DTI sometimes leaves out monthly expenses such as food, utilities, transportation costs, and health insurance, among other items. Lenders may not consider these expenses and may approve you to borrow more than you're comfortable paying. So keep these additional obligations in mind as you evaluate how much you're willing to pay each month.
You can improve your DTI by paying off as much debt as possible (credit cards, car loans, student loans, and other loans) before applying for a mortgage. Some lenders will allow a higher DTI, but only when a borrower has "compensating factors" such as a high credit score or a large cash reserve.  You don't have to be debt-free to buy a home, but the less debt you have can mean more purchasing power.
Determine Your Budget
It's easy to get caught up in the excitement of buying a home before asking yourself the most important question, "How much house can I afford? Before meeting with a mortgage lender, use one of the many online mortgage calculators to estimate affordability. For example, let's say that your total monthly take-home pay is $5,000.
Multiply it by 25% to get your maximum mortgage payment. If you earn $5,000 a month, that means your monthly house payment should be no more than $1,250. Sticking with an income of $5,000 a month, you could afford the options below on a 15-year fixed-rate mortgage: 
$187,767 home with a 10% down payment ($18,777)

$211,238 home with a 20% down payment ($42,248)

$241,415 home with a 30% down payment ($72,424)

$281,650 home with a 40% down payment ($112,660)
Keep in mind that this is just a ballpark and don't forget items like property taxes and homeowner's insurance. Once you know what you are likely to afford, you can then estimate how much to save for your down payment and closing costs.  
Save Money
First, know how much down payment you'll need. The majority of mortgage programs require a down payment ranging from a minimum of 3% to 5% for a conventional loan, and a minimum of 3.5% for an FHA home loan. So, if you pay $200,000 for a house, you will need a minimum of $6,000 to $10,000 for your down payment. A down payment is not required with VA and USDA loans.   
Typically, you will need to put down at least 20% to avoid paying for private mortgage insurance,  which protects the lender in the event a borrower defaults on the loan. You are also responsible for closing costs, which are an estimated 2% to 5% of the loan amount (or $4,000-$10,000 on a $200K loan).
If you are having trouble saving for a downpayment, every state has first-time home buyer down payment assistance programs (DPAs) as well as tax credits and help with closing costs. These programs are often run by Housing Finance Agencies or through grants issued by the U.S. Department of Housing and Urban Development (HUD).  
Gift money from relatives or friends can also provide help for downpayment and closing costs. but it must be an outright gift and not a loan. The rules for gift money vary, depending on the loan program. In many cases, there's no limit on the amount of gift money that can go into a down payment, as long as the buyer is purchasing a primary residence. 
Research Different Loan Programs
Even though your mortgage lender will discuss different home loan programs with you, it is always a good idea to do your own research before meeting with a lender. Once you are ready to buy, the process will be moving fast and you might not feel like you have time to explore financing options. 
No two home buyers are alike, so the best loan program for one buyer is likely unsuitable to another. It's up to you to ask these and other questions:
Which loan has the lowest monthly payment?

What option requires the least amount upfront?

Which loan type is suitable for my credit score?

What will cost me less over time?

How does my income affect the products for which I'm eligible?
If you settle for the first loan that your lender offers, you might miss out on lower rates or a more affordable loan program. Knowledge will help you make the most informed choice and get the best loan for your particular situation.   
The Takeaway
Buying your first home in Farmington Hills MI is very exciting, but there's a lot to think about before you start house hunting. Start by getting all your finances in order, managing your credit score, and comparing mortgage programs. 
Partner with Experienced Farmington Hills MI REALTOR®- Tom Gilliam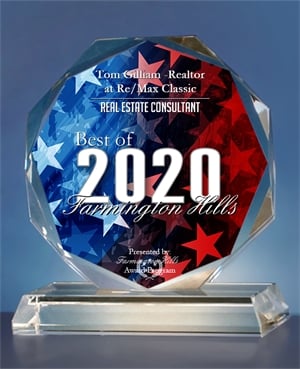 Whether you are interested in buying a home in Farmington Hills, MI, or its time to list your current property, experience matters most in a changing market.
With over 20 years of local experience, Farmington Hills REALTOR® – Tom Gilliam is very familiar with the local market and has access to the most up-to-date listings. Known for his professionalism and care for every detail, Tom is also an expert at uncovering the perfect home for his clients' lifestyle needs in the right neighborhood. 
Search Farmington Hill MI homes for sale
For sellers, Tom will create a comprehensive marketing plan that exposes your home to the public as well as to other real estate agents through the Multiple Listing Service (MLS), other cooperative marketing networks, open houses for agents, and so on.
Your listing will appear on all the most popular real estate sites where buyers spend hours a day looking at homes such as Realtor.com, Zillow, Trulia, REMAX, Redfin, and dozens of others. Your home will also be featured on Tom's own highly-trafficked website Homes2moveyou.com. You can be assured that your property will get sold quickly and for the highest market price.  
Tom works very hard for his clients. He will protect your interests, advocate for you, and be your trusted guide and advisor throughout the home buying or selling process. If you or someone you know is interested in real estate in Farmington Hills MI, please give Tom Gilliam a call at (248) 790-5594 or you can reach him here.
Tom Gilliam, REALTOR®
RE/MAX Classic 
29630 Orchard Lake Rd.
Farmington Hills 48334
Direct: 248-790-5594
Office: 248-737-6800
Email: Tom @ Homes2MoveYou.com
License #314578
[/et_pb_text][/et_pb_column][/et_pb_row][/et_pb_section]