Why You Should Consider Buying a Home in Farmington Hills, MI: If you are currently in the market to purchase a home in the metro Detroit area, you'll want to explore real estate listings in Farmington Hills. A wealthy suburb of Metro Detroit, Farmington Hills is situated in the southern part of Oakland County, MI, about 30 miles northeast of downtown Ann Arbor.
Farmington Hills was recently ranked as the fifth-best city in the state to live in Michigan and is currently home to approximately 81,230 people. Known for its strong sense of community, charming, historic downtown, and award-winning school system, Farmington Hills is a great place to buy a home and raise a family.
The wide range of affordability from entry-level homes to multimillion-dollar estates provides abundant opportunities for families to live in Farmington Hills and enjoy a quality lifestyle with top-rated schools. In order to find the perfect home in the right neighborhood, buyers will want to partner with an experienced real estate agent.
Tom Gilliam is an award-winning, professional Farmington Hills MI REALTOR® with over two decades of local experience. Offering extensive local market-knowledge, Tom can help you explore options and make the best home purchase decision. If you are ready to start searching for your dream home in Farmington Hills, feel free to call Tom directly at (248) 790-5594 or you can get in touch here!  
---
On our website, you'll be able to search real estate listings in Farmington Hills –  updated daily! You can view photos of available properties, find detailed real estate information, create a free account, receive notifications of new listings that match your specific home criteria delivered directly to your email, and access to current market data. Also, be sure to scroll down below to learn more about Farmington Hills homes for sale and living in this desirable metro Detroit suburb: 
As a top-rated Farmington Hills real estate agent, Tom keeps his finger on the pulse of the market at all times and is the first to know when new inventory becomes available, ensuring that his buyers have access to the best homes and securing an offer. 
Tom offers the kind of local market knowledge and insight into the different neighborhoods and communities in Farmington Hills that that few other agents can provide. He can inform you about the types of homes and features offered, school districts, surrounding area amenities, local community developments, and much more.
Streamline your home search by having Tom put together a list of Farmington Hills homes for sale that are the best fit based on your specific criteria in a home. Get the process started today by contacting Tom directly at (248) 790-5594 or get in touch with him here!  
Living in Farmington Hills, MI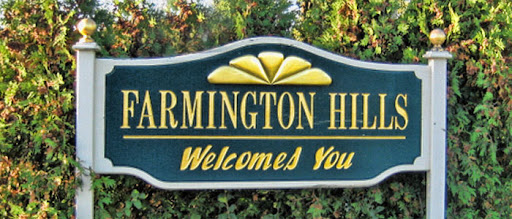 Boasting a healthy local economy and steady job growth, Farmington Hills is home to a number of major corporations such as Nissan Technical Center and Nissan Trading Corp. Hitachi Automotive Services, Hino Motors Manufacturing, and branches of Panasonic, Mercedes Benz, and Greenpath. Other top Farmington Hills employers include Robert Bosch Corporation, Botsford Hospital, Quicken Loans, Cengage Learning Gale, and Chrysler Financial Services.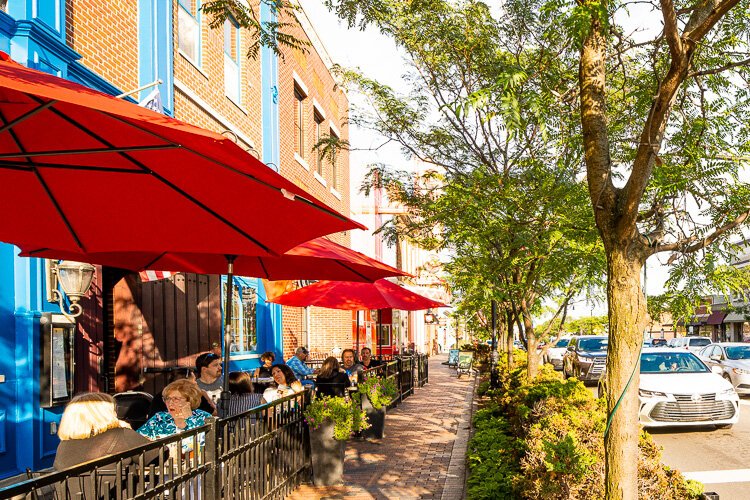 Charming and Historic Downtown Farmington
Downtown Farmington is a charming, walkable destination with over 160 businesses from banks, to photography and yoga studios to one-of-a-kind shops along with a variety of local eateries. Also located downtown is Riley Park and Walter E. Sundquist Pavilion, home to the popular Farmington Farmers & Artisans Market that is held every Saturday. The best-known park event is Rhythmz in Riley Park, attended by about 500 people every Friday between the months of June and August.  
Located less than 6 miles away in Novi is Twelve Oaks Mall, the dominant shopping destination of choice of metro Detroit. The mall features nearly 200 distinctive stores and restaurants such as Apple, Coach, Michael Kors, The CheeseCake Factory, and more.  
For parents with school-age children, most of Farmington Hills is served by the highly-acclaimed district of Farmington Public Schools, which is shared with nearby Farmington and filled with top-rated schools. School districts serving a smaller portion of the community include Clarenceville Public Schools and Walled Lake Consolidated Schools.
In addition, Farmington Hills has several private schools: The International School, The Maria Montessori Center, Mercy High School, St. Fabian Elementary and Middle School, Schoolhouse Montessori Academy – Farmington Hills, and Steppingstone School. Institutions of higher learning include branches of Michigan School of Psychology, Oakland Community College mi, and Wayne State University.
Heritage Park in Farmington Hills
Farmington Hills has plenty of neighborhood and community parks offering a vast array of amenities. Parks and facilities in Farmington Hill include Costick Activities Center, Dog Park, Fishing Pier, Founders Sports Par, Golf Club & Driving Range, Heritage Park, Ice Arena, Jon Grant Community Center, Longacre House, Nature Center, Riley Archery Range, Skate Park, Splash Pad, and The Farmington Hills Community Center.
The 211-acre Heritage Park features 4.5 miles of trails for hiking and nature study which are also used for cross-country skiing during the winter months. The park features a large picnic area, splash pad, group picnic shelter, playground, in-ground grills, two sand volleyball courts, an in-line hockey rink, and six horseshoe pits. 
The Great Lakes are the dominant physical resource in the region and a number of inland lakes reinforce the popularity of water sports and water-based activities. Lake St. Clair, the Detroit River, and Lake Erie are all within an hour's drive of Farmington Hills and attract boaters, swimmers and fishermen. The Upper Rogue River flows from Farmington Hills southward through the north and eastern portions of the City.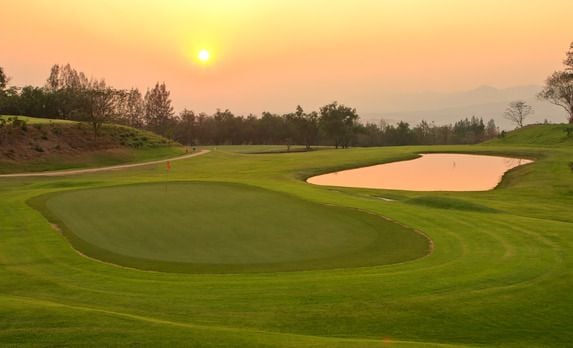 Farmington Hills Golf Club 
For golf enthusiasts, the Farmington Hills Golf Club's pristine 175-acre course offers one of the best-golfing venues in the area, with 18 challenging holes measuring 6,413 yards, manicured bent grass tees, fairways and greens, ponds, and gently rolling hills. Other golf courses in Farmington Hills include Copper Creek Golf Course (9 holes) and Glen Oaks Golf Course (9-holes).
Several major highways service the city. Grand River Avenue is a major east-west corridor through downtown Farmington. I-696 is about three miles north and I-275 about three miles west. The M-5 Freeway runs through the City and Eight Mile Road is on the southern border. Because of the excellent highway system, most sections of the metropolitan area are readily available to Farmington's residents.
Suburban Mobility Authority for Regional Transportation (SMART) operates local and regional bus service for Farmington Hills. The closest major airport serving the city is Detroit Metropolitan Wayne County Airport located 30 miles from the center of town.  
Partner with Award-winning Farmington Hills REALTOR® –
Tom Gilliam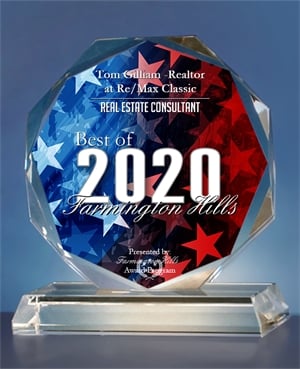 Whether you're in the market for Farmington Hills MI homes for sale or its time to list your current property, you need an agent who knows the area, processes a vast network of local connections, and has the skills and experience to negotiate like a pro.
Tom will protect your best interests, advocate for you, and skillfully handle all aspects of the buying process. With access to the most up-to-date Farmington Hills real estate listings, Tom has a gift for uncovering the perfect home for his clients' lifestyle needs.
For sellers, Tom employs the most cutting-edge approaches to marketing your home to get it in front of as many qualified buyers as possible. You can be assured that Tom will get your home sold quickly and for the best price. 
Tom works hard for his clients and provides the kind of personalized service you need a deserve when buying or selling a home. If you or someone you know is interested in Farmington Hills MI real estate, please give Tom Gilliam a call today at (248) 790-5594. 
Tom Gilliam, REALTOR®
RE/MAX Classic
29630 Orchard Lake Rd.
Farmington Hills 48334
Direct: 248-790-5594
Office: 248-737-6800
Email: Tom @ Homes2MoveYou.com
License #314578
Map of Farmington Hills, MI