[et_pb_section bb_built="1″ _builder_version="3.0.47″][et_pb_row _builder_version="3.0.48″ background_size="initial" background_position="top_left" background_repeat="repeat" custom_padding="0|0px|17.9219px|0px|false|false"][et_pb_column type="4_4″][et_pb_text _builder_version="3.18.2″]
Buying a Home in Farmington Hills, MI? Why You Need A REALTOR®
If you are thinking about buying a home in Farmington Hills, MI, you will want to consider hiring a professional real estate agent to help you through one of life's largest financial transactions. A Farmington Hills MI REALTOR®'s job is to match you with a home that fits your lifestyle needs and budget and also help you with making an offer, negotiations, the home inspection, and closing on your new place.
Some buyers may hesitate to use a professional real estate agent because they don't want to pay the agent's commission fee. That being said, it's actually the seller that is responsible for paying the commission fee and not the buyer, which are typically about 5 to 6 percent of the home's purchase price and split between the listing agent and buyer's agent. 
Search Farmington Hill MI Homes for Sale
A Farmington Hills MI REALTOR® is a professional who works on your behalf and advocates for your interests. Because most sellers will have seller representation, you also want someone that has your back to represent you.
What You Will be Responsible for Without a Farmington Hill MI REALTOR® 
If you should decide not to hire a professional Farmington Hills MI real estate agent, you will be responsible for the following: 
1). You will have to uncover homes in the neighborhood or area you want to live in that match your budget and lifestyle needs. Although the many property search sites online can give you a sampling of what homes are currently available, you will have to research whether a seller's asking price is justified based on comparable home sales in the area. 
Realtors also have access to even more listings. Sometimes properties are available but not actively advertised. A real estate agent can help you find those hidden gems. A local REALTOR® is also going to know the search area probably better than you ever could.
2). You will have to research information and important facts on a neighborhood, including those that a seller may choose not to disclose that could be important to you.  Researching local trends, market values, and other vital info can be daunting.
A real estate agent is equipped to know the ins and outs of every neighborhood. They'll be able to tell you all about the school districts, zoning codes, the types of homes offered, and where to find everyday needs.
3). You will have to negotiate an offer, including the price and other clauses and contingencies in the purchase agreement. Any time you buy or sell a home, you're going to encounter negotiations, which can easily get a little heated. Don't you want a savvy professional negotiator on your side to get the best deal for you?
4). You will have to navigate the home inspection and negotiate repairs or credits with the seller. A REALTOR® will help draw up a purchase agreement that allows enough time for inspections, contingencies, and anything else that's crucial to your particular needs.
5). You will have to sort through complex paperwork filled with real estate terms you might not understand. Real estate has its own language. It's full of acronyms and semi-arcane jargon. A skilled real estate agent has been through all the paperwork before and actually knows what it means.
Questions? Concerns? Confused? An agent can clarify all the clauses, contingencies, and jargon-filled fine print as well as find hidden fees and conditions that you might have skimmed over.
Your Farmington Hills MI REALTOR® Will Run A Comparable Sales Analysis
One of the main tasks a REALTOR® will perform for you is a comparable sales analysis (also known as "comps") of homes that are similar in size, condition, and age to the property you are interested in purchasing. 
Your Farmington Hills MI real estate agent will evaluate the prices of homes that are currently on the market and those that have sold in recent months to determine whether a seller's asking price is in line with market data. Without this critical market data, you could easily end up overpaying for a home. 
As you can see, there are a lot of moving parts that go into purchasing a home. Hiring an experienced and skilled Farmington Hill MI real REALTOR® like Tom Gilliam can save you time, money, and possible headaches down the road.  
Partner With Top-rated Farmington Hills MI Real Estate Agent – Tom Gilliam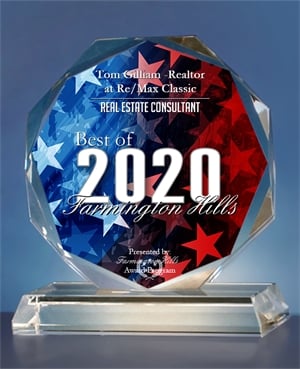 Top-rated Farmington Hills MI REALTOR® – Tom Gilliam has over 20 years of local experience and provides the kind of knowledge, skills, dedication, and personalized service you need and deserve when buying a home.
With access to the most up-to-date listings in Farmington Hills and surrounding Oakland County, Tom can help you explore your options and find your dream home. 
As your personal agent, Tom will protect your interests, negotiate on your behalf, advocate for you, and go the extra mile to ensure a smooth and successful transaction. 
Search Farmington Hill MI Homes for Sale
If you or someone you know is interested in buying a home in Farmington Hills or Oakland County, MI, please give Tom Gilliam a call today at (248) 790-5594. 
Tom Gilliam, REALTOR®
RE/MAX Classic
29630 Orchard Lake Rd.
Farmington Hills 48334
Direct: 248-790-5594
Office: 248-737-6800
Email: Tom @ Homes2MoveYou.com
License #314578
[/et_pb_text][/et_pb_column][/et_pb_row][/et_pb_section]