[et_pb_section bb_built="1″][et_pb_row][et_pb_column type="4_4″][et_pb_text _builder_version="3.18.2″]
Buying a Home in Farmington Hills MI: 5 First-time Homebuyer Mistakes to Avoid – Having a home to call your own is the "American Dream." Whether you're planning to be there for four years or forever, buying a home will be one of the most important personal and financial decisions as well as one of the largest purchases you'll ever make. Hence the reason why it's important to know about the common pitfalls that many first-time homebuyers make so you can avoid them.
Here's a list of typical home-buying mistakes to avoid when buying a home in Farmington Hills MI, which will save you some significant stress on your home buying journey:
1). Not Partnering with A Qualified REALTOR®   
Since finding homes online is fairly easy these days, you may even question whether or not you need to hire a real estate professional. However, the home buying process includes a lot more than just finding a home that you like in the neighborhood you want to live in. It also involves hundreds of details that need to be planned for and navigated in order to achieve a successful transaction. In addition, you're probably not even seeing the most accurate and updated listings online. A home you fell in love with online today may already be under contract, which is an often occurrence.  
A qualified Farmington Hill MI REALTOR® like Tom Gilliam is an invaluable resource. He is aware of new inventory as soon as it becomes available, ensuring that you have immediate access to the best homes and securing an offer. He is also highly knowledgeable about the area where you want to move and can inform you about the different neighborhoods and communities, the types of homes and features offered, the builders, HOAs, school districts, surrounding area amenities, local community developments, and much more.
An experienced and skilled agent like Tom, who is an area expert and transaction-management ace, will keep you informed every step of the way, protect your interests, advocate for you, and handle the maze of transaction details for a smooth and successful outcome.
2). Buying More House Than You Can Afford  
Although this one may seem obvious, it is a common pitfall among many first time homebuyers. Taking on more mortgage than you can afford is like taking a sledgehammer to your budget. You'll end up wiping out all your other financial goals and struggle just to pay your basic utilities. Before you begin your home search, you'll want to figure out exactly how much house you can comfortably afford and still have a life.
A good rule of thumb is that your house payment, including principal, interest, property taxes, homeowner's insurance, private mortgage insurance (PMI), and homeowners association (HOA) fees (depending on your situation), shouldn't exceed 25% of your monthly take-home pay.  Also, when buying a home, you'll typically need enough to cover six factors: the down payment, closing costs, moving expenses, repairs and maintenance, the first few months' mortgage payments, and your emergency fund.
These factors, when added together, will allow you to calculate a ballpark figure for how much you'll need to save up to be able to afford a home. If you do the math and would be barely able to scrape by, consider holding off until you're in a more stable financial position.
3). Not Getting Pre-Approved for a Loan
If you start home shopping before you get pre-approved for a mortgage loan, you could get a nasty surprise when you apply for a loan and discover you qualify for much less. It can be tempting to pull up listings online and schedule appointments to see your favorite choices before filling out a mortgage application. But if you don't already have a preapproval letter in your pocket, that can be a mistake.
A mortgage preapproval helps you understand how much house you can afford before you begin your home search, makes you more attractive to sellers and alerts you to problems that may affect your ability to actually get a loan. To get preapproved, you'll need to provide the lender with documents they will use to verify your personal, employment, and financial information.
Keep in mind that a lender might approve you for a loan amount that's realistically more debt than you can comfortably carry month-to-month. Consider that you'll need to pay homeowners' insurance, taxes, and possibly flood insurance on your new property or PMI on your loan.  
4). Not Understanding Your Down Payment Options
One of the biggest headaches and obstacles for many first-time homebuyers is the downpayment. – the money that you contribute to the total cost of the purchase. If you don't have a certain amount to put down on your home loan, you might find yourself paying private mortgage insurance (PMI) on the lifetime of the loan.
Depending on your credit score, the bank, and other factors, PMI can cost between 0.5 percent to 1 percent of the total loan amount. Most banks require at least a 20 percent down payment before they will waive the need for PMI on the loan. For a $300,000 home, you would need a $60,000 downpayment to avoid PMI. So, how much should you save for a down payment?
Typically, it's recommended that you have at least 20% of the total house price to avoid paying PMI, a type of insurance that protects your lender from losing money in case you can't make your mortgage payments. However, there are loans that allow you to put as little as 3 percent down on the home which is more attainable, especially for first-time homebuyers. Some government organizations offer free down payment grants or loans to qualified buyers.
Depending on your age, income level, credit score, and other factors, you could qualify for free money to wrap into your down payment; a full rundown of programs is available at downpaymentresource.com. For example, USDA loans and VA loans each have a very specific set of criteria you need to meet in order to qualify for a zero-down mortgage.
5). Not Waiting to Make Other Big Purchases Before Closing 
You've been pre-approved for your first mortgage loan, you've found the perfect home, your offer has been accepted, the home inspection passed and your loan officer has locked you in at a favorable rate. All that being said, its not the time to go out and buy yourself a big screen TV or furniture for your new house just yet because you won't officially be a homeowner for another 30 days, give or take.
Even if your lender has approved your mortgage loan, they will check your credit again just before your closing date, prior to granting you the funds. You want to keep your finances stable and opening a line of credit or making a big purchase after mortgage approval is a common mistake. A change in your credit score can actually make you ineligible for the loan, so wait until after closing to make any other financial moves, just to be on the safe side. 
The Takeaway
If this is your first experience buying a home in Farmington Hills MI or it's been many years since your last home purchase, knowledge is key. Along with knowing what issues to avoid, it's important to glean first-time homebuyer tips so you know what to expect and what questions to ask your agent.
Partner with Top-rated Farmington Hills MI REALTOR® -Tom Gilliam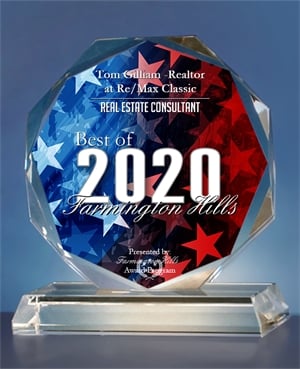 A top-rated Farmington Hills and Oakland County MI real estate agent like Tom Gilliam can show you more properties and save you thousands of dollars when buying a home. You need an agent who knows the area, processes a vast network of local connections, and has the skills to negotiate like a pro.
From first-time homebuyers to multi-million dollar investors, Tom continually strives to provide top quality service for his clients. With access to the most up-to-date MLS listings for Oakland county MI properties, Tom is able to match your lifestyle needs with the perfect home.
If you are ready to list your current property, Tom has the experience and skills necessary to handle the sale and marketing of your home for the optimum results. Tom employs the latest technology to deliver massive exposure that will drive mega-response from qualified buyers. Tom also partners with the most talented home stagers to ensure that your home is thoughtfully staged to highlight its features and amenities.
Search the MLS for Properties in Farmington Hills
With over 25 years of local real estate experience, Tom will protect your interests, advocate for you, and go the extra mile to ensure a smooth and successful transaction. If you or someone you know is interested in buying or selling real estate in Farmington Hills, MI, or in surrounding Oakland County. please give top-rated Farmington Hills MI REALTOR® – Tom Gilliam a call today at 248-790-5594 or you can get in touch here.
Tom Gilliam, REALTOR®
RE/MAX Classic
29630 Orchard Lake Rd.
Farmington Hills 48334
Call: 248-790-5594
Office: 248-737-6800
Email: Tom @ Homes2MoveYou.com
License #314578
[/et_pb_text][/et_pb_column][/et_pb_row][/et_pb_section]