[et_pb_section bb_built="1″ _builder_version="3.0.47″ custom_padding="21px|0px|35.8438px|0px|false|false"][et_pb_row _builder_version="3.0.48″ background_size="initial" background_position="top_left" background_repeat="repeat" custom_padding="1px|0px|17.9219px|0px|false|false"][et_pb_column type="4_4″][et_pb_text _builder_version="3.18.2″]
What Historically Low Mortgage Rates Mean for Farmington Hills MI Homeowners & Buyers
Mortgage rates fell below 3% for the first time ever in July, as the economy continues to struggle from the effects of the coronavirus pandemic. Many Americans have rushed to take advantage of this unprecedented opportunity, while others have questioned if these rates are truly a bargain?  
While average mortgage rates have hovered between 4% and 5% in recent years, they haven't always been so low. In 1971, Freddie Mac began tracking 30-year mortgage rates, and at that time, the national average was 7.31%. As the rate of inflation started to rise in the mid-1970s, mortgage rates surged.
In 1981, the average mortgage rate reached a high of 18.63%. By October 1982, inflation normalized, which sent mortgage rates on a downward trajectory that would bring them as low as 3.31% in 2012. Since then, 30-year fixed rates have risen modestly, with the daily average climbing as high as 4.94% in 2018.
According to the National Association of Realtors' Chief Economist – Lawrence Yun, "the number one driver of low mortgage rates is the accommodating Federal Reserve stance to keep interest rates low and to buy up mortgage-backed securities." According to Yun, "we will see mortgage rates stay near this level for the next 18 months because of the significance of the Fed's stance." 
How Low Mortgage Rates Benefit Current Farmington Hills MI Homeowners 
Low mortgage rates increase buyer demand, which is good news for sellers. However, if you are not planning to sell your home in Farmington Hills MI anytime soon, you can still benefit from falling mortgage rates. Many homeowners are capitalizing on today's historically low rates by refinancing their existing mortgages.  
Refinance applications have surged over the past few months. Reduced interest rates can save homeowners money on both monthly payments and total payments over the lifetime of a mortgage. The chart below shows the potential savings when you decrease your mortgage rate by just one percentage point. When it comes to refinancing, the bigger the spread, the greater the savings.
Estimated Monthly Payment On a 30-Year Fixed-Rate Mortgage 
Loan Amount

4.0%

3.0%

Monthly Savings

Savings Over 30

Years

$100,000

$477

$422

$55

$20,093

$200,000

$955

$843

$112

$40,184

$300,000

$1,432

$1,265

$167

$60,277

$400,000

$1,910

$1,686

$224

$80,368

$500,000

$2,387

$2,108

$279

$100,461
If you are looking to refinance, expect to pay between 2% to 5% of your loan amount. Divide your closing costs by your monthly savings to find out how long it will take to recoup your investment, or use one of the handy online refinance calculators. 
How Low Mortgage Rates Benefit Farmington Hills MI Homebuyers 
For homebuyers, low mortgage rates can save you money on your mortgage payment and also increase your purchasing power. For example, let's say you have a budget of $1,500 to put toward your monthly mortgage payment. If you take out a 30-year mortgage at 5.0%, you can afford a loan of $279,000. If the mortgage rate falls to 4.0%, you can afford to borrow $314,000 while still keeping the same $1,500 monthly payment – a budget increase of $35,000.
If the rate falls even further to 3.0%, you can afford to borrow $355,000 and still pay the same $1,500 each month –  a budget increase of $76,000!  If you've been priced out of the market before, today's rock bottom mortgage rates may put you in a better position to afford the home you've always dreamed of.  
How Low Could Mortgage Rates Go?
No one can say for sure how low mortgage rates will fall or when they will rise again. A lot depends on the trajectory of the COVID-19 pandemic and the resulting economic impact. Positive news about a vaccine or a faster-than-expected economic recovery could send rates back up to pre-pandemic levels. However, Freddie Mac and the Mortgage Bankers Association predict 30-year mortgage rates will average 3.2% and 3.5% respectively in 2021.  
While mortgage rate forecasts may differ slightly, many experts agree on one thing: Those who wait to take advantage of the lowest rates ever in history could miss out on the deal of a lifetime. 
Partner with Top-Rated Farmington Hills MI REALTOR® – Tom Gilliam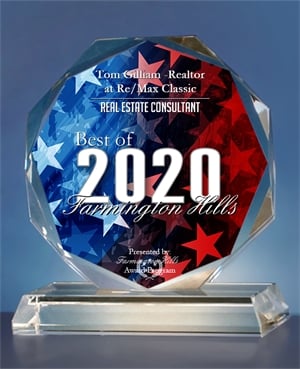 Are you currently in the market to buy a home in Farmington Hills, MI? Tom Gilliam is an award-winning Farmington Hills MI REALTOR® with over two decades of local experience. Tom keeps his finger on the pulse of the market at all times and is the first to know when new inventory becomes available, ensuring that his buyers have access to the most valuable homes and securing an offer.
Search Homes for Sale in Farmington Hills MI  
With extensive local market knowledge and access to the most up-to-date Farmington Hills MI listings, Tom can help you explore your options and make the best home purchase decision. Streamline your home search by having Tom put together a list of homes for sale in Farmington Hills that are the best fit for your lifestyle and needs.
Tom works extremely hard for his clients and provides the kind of personalized service you need a deserve when buying a home. If you or someone you know is interested in Farmington Hills MI real estate, please give Tom Gilliam a call today at (248) 790-5594. 
Tom Gilliam, REALTOR®
RE/MAX Classic
29630 Orchard Lake Rd.
Farmington Hills 48334
Direct: 248-790-5594
Office: 248-737-6800
Email: Tom @ Homes2MoveYou.com
License #314578
Sources: CNN Business, Bankrate, Mortgage Bankers Association Mortgage Market Forecast July 15, 2020, Fannie Mae July 2020 Housing Forecast, Freddie Mac June 2020 Quarterly Forecast
[/et_pb_text][/et_pb_column][/et_pb_row][/et_pb_section]