[et_pb_section fb_built="1″ _builder_version="3.0.47″][et_pb_row _builder_version="3.0.48″ background_size="initial" background_position="top_left" background_repeat="repeat"][et_pb_column type="4_4″ _builder_version="3.0.47″ parallax="off" parallax_method="on"][et_pb_text _builder_version="3.18.2″]
Urban Dwellers are Choosing To Move To The Suburbs – Urban trends of the last 50 years are showing signs of being reversed. A combination of the coronavirus pandemic, economic uncertainty, and social unrest is prompting folks to move from large cities and permanently relocate to more sparsely populated areas.
Metropolitan areas across the U.S. are experiencing residents of all ages and incomes moving in record numbers to suburban areas and small towns – places where social distancing is more of a built-in part of everyday life. The trend has been accelerated by shifting attitudes and technology that makes it easier than ever to work remotely.  
According to data from a recent Harris Poll survey, nearly a third of Americans are considering moving to less densely populated areas as a result of the pandemic. "Space now means something more than square feet," Harris Poll CEO John Gerzema said. "Already beset by high rents and clogged streets, the virus is now forcing urbanites to consider social distancing as a lifestyle."
Urbanites (43%) were twice as likely than suburban (26%) and rural (21%) dwellers to have recently browsed a real estate website for homes and apartments to rent or buy, the survey showed.  
The shifts happening during this pandemic are not only challenging and far-reaching, but they could continue long after a vaccine or treatment is found. "People will be much more cautious about living in high-density areas with so many people nearby," predicts Lawrence Yun, chief economist at the National Association of Realtors.  
More than half of the nation's 100 largest metropolitan areas are seeing increased interest in the suburbs.  Recent data from Realtor.com suggests people are interested in moving and there seems to be an increasing appeal in properties outside of cities. 
Realtor.com figures, which compared this June to June of 2019, found that homes in rural and suburban zip codes saw the biggest jump in average views per property. Homes in urban zip codes had a 19% increase in views compared to last year. But homes in suburban zip codes had a much larger 30%  jump. Homes in rural zip codes saw a 34% increase in views.
Although property views are not sales, these numbers do reflect at least an interest in getting out of the most densely packed areas and into communities that are more spread out. The demand for homes is fuelled not only by fears that coronavirus infections in densely populated urban areas could rise again next winter but also by fundamental shifts in demand from in-office to remote workers. 
Many experts say that It's not yet clear how the pandemic will reshape cities in the long run, but it has definitely accelerated trends that were already underway before the coronavirus outbreak. If the allure of cities declines further due to the risk of disease, an uncertain economy, and a future of telework, the flight to suburbia and rural safety will continue well after a coronavirus vaccine or treatment becomes available.
Partner with Top-rated Farmington Hills MI REALTOR® – Tom Gilliam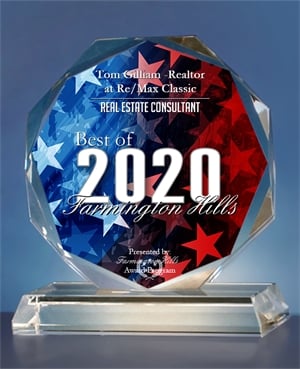 A top-rated Farmington Hills and Oakland County MI real estate agent like Tom Gilliam can show you more properties and save you thousands of dollars when buying a home. You need an agent who knows the area, processes a vast network of local connections, and has the skills to negotiate like a pro.
From first-time homebuyers to multi-million dollar investors, Tom continually strives to provide top quality service for his clients. With access to the most up-to-date MLS listings for Farmington Hills and Oakland County MI properties, Tom is able to match his clients' lifestyle needs with the perfect home.
If you are ready to list your current property, Tom has the experience and skills necessary to handle the marketing and sale of your home. Tom employs the latest technology to deliver massive exposure that will drive mega-response from qualified buyers.   
Search the MLS for Properties in Farmington Hills MI
With over 25 years of local real estate experience, Tom will protect your interests and work hard for you in order to ensure a smooth and successful transaction. If you or someone you know is interested in buying or selling Farmington Hills MI real estate, please give top-rated Farmington Hills MI REALTOR® Tom Gilliam a call today at 248-790-5594 or you can get in touch here.
Tom Gilliam, REALTOR®
RE/MAX Classic
29630 Orchard Lake Rd.
Farmington Hills 48334
Call: 248-790-5594
Office: 248-737-6800
Email: Tom @ Homes2MoveYou.com
License #314578
Article sources:
[/et_pb_text][/et_pb_column][/et_pb_row][/et_pb_section]