[et_pb_section bb_built="1″][et_pb_row][et_pb_column type="4_4″][et_pb_text _builder_version="3.18.2″]
The Residential Real Estate Market is Bouncing Back – July 2020 – Even with the coronavirus pandemic, a recession, protests, and record unemployment, the residential real estate market is staging a rebound. So, what is the big reason for a bounce-back in real estate sales?  "The number of buyers in the market far outstrips the number of homes available," says Realtor.com Economist George Ratiu.  After months on hold, Americans are beginning to feel more confident about the idea of buying or selling a home.
Buyer demand has been incredibly strong since mid-May after the coronavirus shut down most housing activity in April. The only thing standing in the way of more sales is the record-low supply of homes for sale. According to realtor.com data, median home prices went up 6.2% year over year in the week ending June 27, and homes are selling faster than they did in 2019 before anyone had ever heard of COVID-19. 
Redfin reported that more than half of its offers faced competition in June. Specifically, 54% of home offers placed by the real estate agency's representatives faced bidding wars. Redfin Economist Taylor Marr commented on this almost surreal state that the housing industry now finds itself in:
"Bidding wars continue to be fueled by historically low mortgage rates and fewer homes up for sale than almost any time in the last two decades. It's like a game of musical chairs where only the best bidders get a seat. Both renters and move-up buyers who have held onto their jobs are vying for the small number of single-family homes on the market as they realize they need more space for their families," stated Marr.
Ali Wolf, the chief economist of Meyers Research (a national real estate consulting firm) stated that "The housing recovery has been nothing short of remarkable. The expectation was that housing would be crushed. It was—for about two months—and then it came roaring back."  Nearly two-thirds of consumers (61%) said it was a good time to buy a home in June, based on a Fannie Mae housing survey of 1,000 participants – a 9 percentage point increase from May. Roughly 41% of respondents said it was a good time to sell, also an increase of 9 percentage points from the previous month.  
"The second month of improvement in June allowed the HPSI (Fannie Mae Home Purchase Sentiment Index®) to regain some of the sharp losses in optimism observed in March and April," said Doug Duncan, Senior Vice, and Chief Economist. "The share of renters who say it's a good time to buy a home is now at its highest level in five years, suggesting favorable conditions for first-time homebuying, consistent with the recent rebound in home purchase activity." 
Buyers shouldn't expect deep discounts, at least not yet. Unlike the Great Recession, a flood of foreclosures isn't expected to hit the market, bringing prices down.
Another major reason for the housing market's rebound is the record-low mortgage interest rates which have created a surge of mortgage applications for home purchases. After a short pullback at the end of June, homebuyers lunged back into the mortgage market to take advantage of record-low mortgage rates. Mortgage applications to purchase a home rose 5% for the week and were a remarkable 33% higher than a year ago, according to the Mortgage Bankers Association's index, which was seasonally adjusted, including for the Fourth of July holiday.
Information released by the Mortgage Bankers Association showed that the average contract interest rate for 30-year fixed-rate mortgages with conforming loan balances of up to $510,400 dropped to 3.26% from 3.29%. Points, including the origination fee, for loans with a 20% down payment decreased to 0.35 from 0.36.
More optimism that came earlier this month was when Black Knight announced that active forbearance plans fell an additional 435,000 weekly, which is the largest drop since the onset of the pandemic. As of July 7, 4.14 million homeowners were in forbearance plans, which represents 7.8% of all active mortgages—down from the prior week's 8.6%. This represents around $900 billion in unpaid principal. 
Partner with Top-rated Farmington Hills MI REALTOR® – Tom Gilliam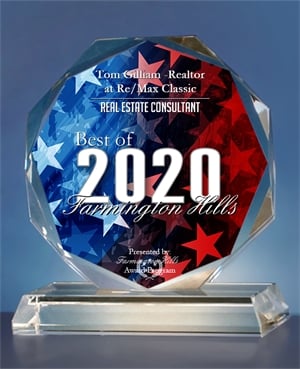 A top-rated Farmington Hills and Oakland County MI real estate agent like Tom Gilliam can show you more properties and save you thousands of dollars when buying a home. You need an agent who knows the area, processes a vast network of local connections, and has the skills to negotiate like a pro.
From first-time homebuyers to multi-million dollar investors, Tom continually strives to provide top quality service for his clients. With access to the most up-to-date MLS listings for Farmington Hills and Oakland County MI properties, Tom is able to match his clients' lifestyle needs with the perfect home.
If you are ready to list your current property, Tom has the experience and skills necessary to handle the marketing and sale of your home. He employs the latest technology to deliver massive exposure that will drive responses from qualified buyers. Tom also partners with the most talented home stagers to ensure that your home is thoughtfully staged to showcase its features and amenities.
Search the MLS for Properties in Farmington Hills MI
With over 25 years of local real estate experience, Tom will protect your interests, advocate for you, and go the extra mile to ensure a smooth and successful transaction. If you or someone you know is interested in buying or selling real estate in Farmington Hills, MI, or in the Oakland County area, please give top-rated Farmington Hills MI REALTOR® – Tom Gilliam a call today at 248-790-5594 or you can get in touch here.
Tom Gilliam, REALTOR®
RE/MAX Classic
29630 Orchard Lake Rd.
Farmington Hills 48334
Call: 248-790-5594
Office: 248-737-6800
Email: Tom @ Homes2MoveYou.com
License #314578
Article Sources:
https://www.fanniemae.com/portal/research-insights/surveys/national-housing-survey.html
https://www.realtor.com/news/trends/housing-market-rebounds/
https://www.floridarealtors.org/news-media/news-articles/2020/07/pandemic-recession-and-protests-havent-hurt-housing
https://www.redfin.com/blog/june-2020-real-estate-bidding-wars-increase/
https://www.blackknightinc.com/blog-posts/forbearances-see-largest-weekly-drop-yet/
[/et_pb_text][/et_pb_column][/et_pb_row][/et_pb_section]