Are you thinking about buying a home in 2018? Are you on the fence about entering the real estate market? If so, you might want to consider buying sooner rather than later. Mortgage rates just rose again, and economists from Freddie Mac and other groups are predicting that they could rise gradually throughout 2018.
Mortgage Rates Hit Highest Level Since December 2016
During the week of February 8, 2018, the average rate for a 30-year fixed home loan rose to 4.32%. Rates haven't been that high since December 2016. This is based on the weekly mortgage industry survey conducted by Freddie Mac. The average rates for 15-year fixed mortgages and 5/1 ARM loans rose as well. Those are the three categories tracked by this survey.
According to the Freddie Mac report:
"The U.S. weekly average 30-year fixed mortgage rate rocketed up 10 basis points to 4.32 percent this week. Following a turbulent Monday, financial markets settled down with the 10-year Treasury yield resuming its upward march. Mortgage rates have followed. The 30-year fixed mortgage rate is up 33 basis points since the start of the year."
This is actually the continuation of a trend that began a few weeks ago. For a while now, mortgage rates have been following a steady upward path. You can see that clearly in the chart below. During the latter half of 2017, and into the beginning of 2018, the average rate for a 30-year mortgage hovered below 4%. Then it crossed that threshold and shot up by 25 basis points (0.25%), which brings us up to the latest reading.
Chart: 30-Year Loan Rates Over the Last Year
The chart below, courtesy of Freddie Mac, shows average rates for a 30-year fixed home loan going back one year. As you can see, rates are higher now (on the right side of the chart) than they've been all year.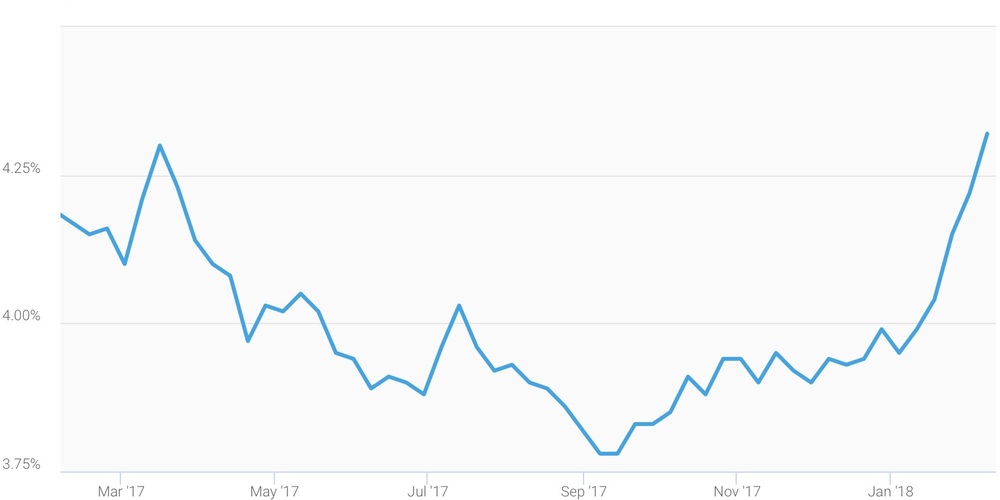 Chart: Average mortgage rates over the last year | Source: Freddie Mac PMMS
This is not surprising to industry watchers and analysts. Last year, economists from the Mortgage Bankers Association and Freddie Mac were predicting that rates would rise gradually throughout 2018. Some forecasts suggested that the average rate for a 30-year mortgage would reach 5% by the end of this year. And that's entirely plausible, given this recent uptick in lending rates.
So what's causing this recent rise in borrowing costs? Several things. Over the last year, the Federal Reserve has been gradually increasing the short-term federal funds rate. This can have an indirect affect on consumer borrowing costs. The Fed's policy changes, along with general economic improvements, are partly what's driving the rise in interest rates — including those used for mortgage loans.
And some economists are predicting that we will see a continued yet gradual rise in rates throughout 2018.
All of this makes a good argument for buying a home sooner rather than later. Home buyers who postpone their purchases until later in the year could encounter higher mortgage rates. And when you consider the fact that home prices are still rising in most parts of the country, there's even more urgency.
Granted, you should never make a home purchase until you are 100% ready to do so, financially and emotionally. It has to be the right move for you, one that will improve your qualify of life in some way. With that being said, it might make sense to buy sooner rather than later to avoid possible rate hikes and home-price increases.
Note: Mortgage rates can vary from one borrower to the next due to a number of factors, including credit history and the type of loan being used. The numbers presented above are based on averages reported by Freddie Mac.