House Hunting With The Right Farmington Hills MI REALTOR®  – Most first-time homebuyers will agree that the only thing more exciting than shopping for your first house is the day you move in. That being said, shopping for the right house can put even the most seasoned shoppers to the test.
According to the National Association of REALTORS®, 56% of buyers of all generations believe that picking the right house is by far the most challenging step in the home buying process. Even with the ability to search online 24/7 for houses, 52% of buyers say that help in finding the right home to purchase is what they want most from a REALTOR®.
That is because the information you find on websites doesn't compare to the local knowledge and expertise an experienced agent brings to the table. However, not all real estate agents are equal.
If you hire an agent and red flags about their performance are coming at you left and right, you need to quickly decide if you want to respectfully cut ties and find another. Since buyers agents don't get paid during the house hunting phase, you don't want to string them along and waste both your time and theirs. Of course, the best course of action is to partner with the right agent from the get-go. 
What You Should Expect From Your Real Estate Agent and Red Flags 
Here are a few things you should expect from your real estate agent and a few red flags to look out for:
1). A qualified Farmington Hills MI real estate agent should be able to provide in-depth knowledge of the area. If they have to Google an area you asked about, send you homes outside your desired area, or they can't tell you about an area's proximity to local shops, restaurants, walking trails, or commuting times, this may be a red flag that they are not the right agent for you.
2). A good real estate agent will take the time to understand all the facts about your situation. The last thing you want to do is spend your time house-hunting, find a home you love, and get your heart set on it, only to find out that there's some restriction that doesn't allow you to buy. Experiences like that can be avoided upfront with an agent who takes the time to understand everything about you, your time frame, your budget, and what type of mortgage you qualify for.
3). Your agent should be objective and act as a consultant rather than a salesperson. If your REALTOR® is pushing you towards a house that's not the best match, you feel pressured to just hurry up and buy, or you don't like something about a house and voice concerns and they're not considering your perspective, it may be a red flag that the agent is more interested in their sales commission than helping you find the right home.  
4). You want a Farmington Hills MI REALTOR® who keeps their finger on the pulse of the market, who's got all the listing alerts set up and is the first to know when new inventory becomes available. Your agent should provide you with access to the most up-to-date listings so that you don't miss out on your dream home. 
If your agent rarely if ever sends you houses or you often find listings that match your specific home criteria long before they do, its probably an indication they're not on top of the MLS or working that hard on your behalf.
Finding The Right Farmington Hills MI REALTOR
®
Here are a few tips for finding the right Farmington Hills MI real estate agent to work with from the beginning:
You will want to interview at least 3 real estate agents before committing to just one. Compare your choices based on performance such as the number of transactions they've completed in your target neighborhoods, how much money they save clients on average, and the percent of the list price their buyer clients end up paying, on average. 
You also want to ask them important questions like how well they know the area, how many clients they currently represent and how many they work with at one time, the kind of properties they help their clients buy (single-family homes, condos, townhomes), their experience working with first-time homebuyers, and what separates them from their competition.  
The Takeaway
Since the agent you choose will be by your side from house hunting to closing, you want to make sure you hire an experienced and professional Farmington Hills MI REALTOR® with the expertise you can trust and a personality you'll enjoy working with. 
Why You Should Partner with Top-rated Farmington Hills MI REALTOR® -Tom Gilliam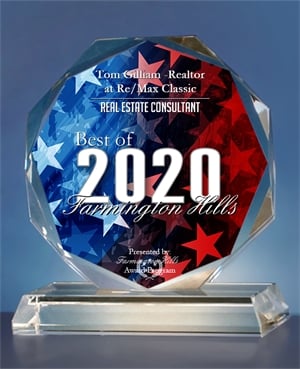 Whether you are interested in buying a home in Farmington Hills, MI, or its time to list your current property, experience matters most in a changing market.
With over 20 years of local experience, Farmington Hills REALTOR® – Tom Gilliam is very familiar with the local market and has access to the most up-to-date listings. Tom is known for his professionalism and is an expert at uncovering the perfect home for his clients' lifestyle needs in the right neighborhood or community.
Search Farmington Hill MI homes for sale
For sellers, Tom will create a comprehensive marketing plan that exposes your home to the public as well as to other real estate agents through the Multiple Listing Service (MLS), other cooperative marketing networks, open houses for agents, and so on.
Your listing will appear on all the most popular real estate sites where buyers spend hours a day looking at homes such as Realtor.com, Zillow, Trulia, REMAX, Redfin, and dozens of others. Your home will also be featured on Tom's own highly-trafficked website Homes2moveyou.com. You can be assured that your property will get sold quickly and for the highest market price.  
Tom works very hard for his clients. He will protect your interests and be there as your trusted guide and advisor throughout the home buying or selling process. If you or someone you know is interested in real estate in Farmington Hills MI, please give Tom Gilliam a call at (248) 790-5594 or you can reach him here.
Tom Gilliam, REALTOR®
RE/MAX Classic
29630 Orchard Lake Rd.
Farmington Hills 48334
Direct: 248-790-5594
Office: 248-737-6800
Email: Tom @ Homes2MoveYou.com
License #314578