It's a new year, which means it's a new opportunity to update your space and embrace the trends of 2017. And what better place to incorporate trends than in your living room? Your living room is the social hub of your home. It's where you spend time with your family, where you entertain, and often gets more foot traffic than any other area in your home, which is why of all places, you want to make sure it's well decorated and on trend.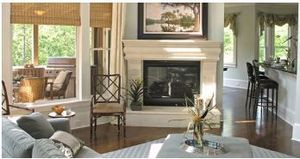 Here are 5 living room design trends you'll want to embrace in 2017 to update your space and ensure your living space is well designed for the times:
1. Color, Color, Color (2017)
 One of the biggest trends for living room decor in 2017 is color, color, color. Interior designers across the globe are embracing this trend by bringing in brights, jewel tones, and deep colors to make an impact in the living area.
The good thing about this trend is it seems there's no color palette that's trendier than another; as long as you embrace color and bring vibrancy into the room, you're embracing the trend. If you want to be timely with your color choices, be sure to incorporate Greenery, the 2017 Pantone Color Of The Year. The vibrant green will add a sense of freshness and tranquility to your living space.
If too much color feels overwhelming to you, there's no need to paint the walls and buy furniture in the colors of the rainbow. You can start by adding small pops of color to offset your neutrals, like a deep purple throw pillow or a ruby red accent chair, and then slowly start adding more colorful items to your room as the year continues on.
2. Mixing Patterns (2017)
 Mixing patterns was a huge trend on the runways late last year and the trend has made it's way to interior design in 2017.
The key to mixing patterns is to choose patterns that complement each other in some way; you don't want the multiple prints to be competing for attention.
If you're new to mixing patterns, try choosing one large pattern to serve as the focal point and mix it with a more subdued pattern to act as an accent. If you feel a little more adventurous, try bringing in multiple patterns that share the same color palette or try two pieces with a matching pattern in contrasting colors.
3. Minimalist Chic (2017)
 If you're a person who likes to keep things simple when it comes to design, you're in luck: this year, minimalist chic is a hot trend for living spaces.
By keeping your space sparsely decorated, it actually allows you to focus attention on a few key pieces. Choose one or two pieces you want to be the focal point of the room, like an interesting coffee table or a statement chair, and then keep the rest of the furniture, decor, and colors simple in order to let those pieces stand out.
4. Gallery Walls (2017)
 Gallery walls have been a trend for the past few years and they're showing no signs of slowing down in 2017. Gallery walls are a fantastic way to show off personal photos, artwork, and even sculpture in a design-friendly and interesting way.
There are a million ways to create gallery walls; you can line up two rows of frames horizontally to showcase your travel photos in a structured or linear way, you can choose frames of different shapes and sizes, or you can mix frames, artwork, sculpture, and any other pieces you want to showcase in the room.
The key to building a gallery wall is to think about balance; balance between the pieces you're displaying and balance with the rest of the furniture and decor in the room. Don't design a gallery that takes up an entire wall; instead, have it focused on one area, like above the couch, so it doesn't overwhelm the room.
5. Tufted Sofas (2017)
 Tufted headboards are a huge trend for bedrooms this year, and for living rooms, the tufted sofa is setting up to be just as big of a trend.
Tufted sofas add a touch of contemporary sophistication to a living room. If you want to stay more on the traditional side, choose a classic shape in a neutral color. If you want to go for a more whimsical or dramatic feel, try a scroll arm sofa in a plush fabric, like velvet.
A word of caution: tufted couches don't have the reputation for being the most comfortable, so if you plan on spending a lot of time on your sofa, be sure to grab a few comfy throw pillows.
With these 5 design trends, your living room will be the envy of everyone who gets the opportunity to spend time in your home.