Renovation TV Shows like HGTV and DIY have truly changed residential real estate for the better. Thanks to these renovation shows, buyers and sellers today are more educated about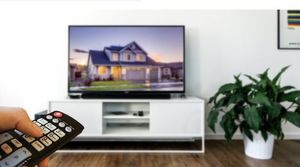 their homes' structures, décor, and remodeling costs. Everybody's expectations are higher and most buyers and sellers' creativity is too. Have you wondered about how these shows are made? What is real and what is not? Here are some fun facts.
First, for the remodeling or fix and flip shows, the remodeling budget is truly the homeowners' remodeling budget. If the homeowners have wanted more than their budget will allow, the producers usually bring the buyers back to reality long before the remodel is started. If there is some unforeseen cost, other changes are omitted or downscaled.
The inspections are real inspections, too. When you see a renovation show host presiding over a sewer inspection (yuk!), they are really checking it out.
The renovation TV shows need true action in addition to just on-camera interviews. (Ever notice how each of these shows has at least one homeowner hitting a wall with a sledge hammer?) When you see a show host or a new owner actually doing work, they are not faking it – they are really doing the work that you are seeing. Those are real nails in those nail guns. All of the show hosts and all of the buyers get involved in at least some portion of the decorating or remodel.
Now for the dirty little secrets of these renovation TV shows. Here is the big one for the house hunter shows. Although it is really fun to try and guess which house a buyer will pick, these programs are shot in reverse. That means the show is filmed after the buyers buy – and close on – their home. The other homes are "decoys" that are filmed after the transaction concludes and were never seen by the buyers during the actual search.
Ever notice how much the buyer or house remodeler couples argue and disagree? A lot of the drama on the renovation shows is fake. Conflict, like action, makes a more interesting television show. The producers will encourage the magnification of buyers' and sellers' fears and dilemmas because it is believed – correctly or incorrectly – that it makes for better ratings.
And even though the host and home owners get involved in some of the work, most of the work is done off-camera by professional contractors and (sometimes) large crews. The projects can take much longer than they usually would as well; the contractor's schedules and stages have to work with the production crew's schedules and availability.
Nevertheless, these shows are really fun to watch, and offer lots of general education about homes and house hunting.
Renovation TV Reality