[et_pb_section fb_built="1″ _builder_version="3.0.47″][et_pb_row _builder_version="3.0.48″ background_size="initial" background_position="top_left" background_repeat="repeat"][et_pb_column type="4_4″ _builder_version="3.0.47″ parallax="off" parallax_method="on"][et_pb_text _builder_version="3.18.2″]
Why You Need A Top-rated RE/MAX Farmington Hills REALTOR®: Whether you are a first-time buyer or a seasoned veteran, buying a home in Farmington Hills MI can be one of the most exciting experiences of your life. It can also be a stressful undertaking. Fortunately, there are qualified real estate agents out there who can help you navigate the challenges of buying a home and help eliminate a lot of the stress. Overall, you'll want to look for a REALTOR® and company you feel comfortable with and trust. Selecting the right one can make the difference between finding the right home for your lifestyle needs quickly and securing an offer or searching unsuccessfully for months.  
Tom Gilliam is a top-rated RE/MAX Farmington Hills MI REALTOR®  with over 17 years of experience. When you choose a RE/MAX professional like Tom Gilliam to help you with the home buying process, you can expect an exemplary level of service. Tom is a local market expert with access to a full complement of real estate tools and resources to ensure a successful home buying experience. With a trusted RE/MAX professional and the right support system, you'll be able to make the most informed decisions. Tom's comprehensive, high-quality services can save you time and money, as well as make the experience more enjoyable and less stressful.
Why Choose RE/MAX?
RE/MAX (short for Real Estate Maximums) has been in operation since 1973. The real estate company has since grown to encompass more than 100,000 sales agents working in franchise-owned and operated offices in more than 100 countries. A real estate powerhouse in its own right, and one of the industry's most recognized brands, RE/MAX  is regarded as one of the country's most productive real estate sales forces.  
When you look for the highest quality real estate service, look to a RE/MAX Associate. 

RE/MAX Associates are The Real Estate Leaders®. You can depend on RE/MAX Associates to make the sale or purchase of a home as effortless and seamless as possible.

RE/MAX agents are The Hometown Experts With a World of Experience®. They are the most knowledgeable agents, with the experience and community connections to assist you in the homebuying process. Across the globe, they are the people next door, or just down the block.
At RE/MAX, advanced education is a priority. RE/MAX Associates dominate the Accredited Buyer Representative (ABR), Certified Distressed Property Expert (CDPE), Certified Residential Specialist (CRS), and Seniors Real Estate Specialist (SRES) ranks.
Customer Satisfaction. 

The proof of quality service is in repeat customers and in customers who refer RE/MAX Associates to friends. RE/MAX Sales Associates typically generate a large percentage of their business from past customers and referrals.
Why You Need Top-rated REMAX Farmington Hills REALTOR
®

 -Tom Gilliam 

For buyers interested in Farmington Hills MI homes for sale, Tom can help you every step of the way with real estate contracts, finding the best interest rate and loan programs, and even work with appraisers and home inspectors. If you are relocating to Farmington Hills from another part of the state or country, you'll need a qualified agent to help you find the right home for your family. As a local expert, Tom can help educate you on the best neighborhoods and communities, the types of homes and features offered, schools, utilities, zoning, surrounding area amenities, commuting information, local community developments, and more.

As your RE/MAX Farmington Hills MI REALTOR®, Tom can go over different financing options and refer lenders that are best qualified to help you. He will take the time to investigate all available properties and has access to many resources to assist you in uncovering the right home for your family. Tom will arrange private showings for homes worth seeing in person based on your specific criteria and assist you in making the best purchase decision by providing objective information about each property. He can also help with negotiations and inspections and will guide you through the closing process to ensure that everything flows together smoothly.
Living in Farmington Hills, MI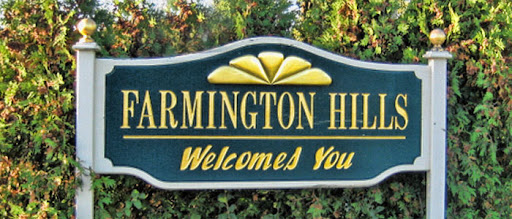 Farmington Hills is a northern suburb of Metro Detroit and the second most-populated city in Oakland County. Farmington and Farmington Hills are often thought of as the same community although the two cities have separate services and addresses. Downtown Farmington is a charming, walkable destination with over 160 businesses from banks, to photography and yoga studios to one-of-a-kind shops along with a variety of local eateries. 
Also located downtown is Riley Park and Walter E. Sundquist Pavilion, home to the popular Farmington Farmers & Artisans Market that is held every Saturday. The best-known park event is Rhythmz in Riley Park, attended by about 500 people every Friday between the months of June and August.  
Several major corporations are located in Farmington Hills including Nissan Technical Center and Nissan Trading Corp, Hitachi Automotive Services, Hino Motors Manufacturing, and branches of Panasonic, Mercedes Benz, and Greenpath. Other top Farmington Hills employers include Robert Bosch Corporation, Botsford Hospital, Quicken Loans, Cengage Learning Gale, and Chrysler Financial Services.  
Twelve Oaks Mall in Novi is located less than 6 miles from Farmington Hills. The mall is the destination of choice of metro Detroit and features nearly 200 distinctive stores and restaurants such as Apple, Coach, Michael Kors, The Cheese Cake Factory, and more.  
For parents with school-age children, most of Farmington Hills is served by the highly-acclaimed district of Farmington Public Schools, which is shared with nearby Farmington and filled with top-rated schools. School districts serving a smaller portion of the community include Clarenceville Public Schools and Walled Lake Consolidated Schools.
Private schools in Farmington Hills include The International School, Maria Montessori Center, Mercy High School, St. Fabian Elementary and Middle School, Schoolhouse Montessori Academy – Farmington Hills, and Steppingstone School. Institutions of higher learning include branches of Michigan School of Psychology, Oakland Community College mi, and Wayne State University.
Farmington Hills has several community parks and facilities, including Costick Activities Center, MI -Dog Park, Fishing Pier, Founders Sports Park, MI – Golf Club & Driving Range, Heritage Park, Ice Arena, Jon Grant Community Center, Longacre House, Nature Center, Riley Archery Range, Skate Park, Splash Pad, and Farmington Hills Community Center.
The 211-acre Heritage Park in Farmington Hills features 4.5 miles of trails for hiking and nature study which are also used for cross-country skiing during the winter months. The park features a large picnic area, splash pad, group picnic shelter, playground, in-ground grills, two sand volleyball courts, an in-line hockey rink, and six horseshoe pits. 
The Great Lakes are the dominant physical resource in the region and a number of inland lakes reinforce the popularity of water sports and water-based activities. Lake St. Clair, the Detroit River, and Lake Erie are all within an hour's drive of Farmington Hills and attract boaters, swimmers and fishermen. The Upper Rogue River flows from Farmington Hills southward through the north and eastern portions of the City. 
For golfers, the Farmington Hills Golf Club's pristine 175-acre course offers one of the best golfing venues in the area, with 18 challenging holes measuring 6,413 yards, manicured bent grass tees, fairways and greens, ponds, and gently rolling hills. Other golf courses in Farmington Hills include Copper Creek Golf Course (9 holes) and Glen Oaks Golf Course (9-holes).
Several major highways service the city: Grand River Avenue is a major east-west corridor through downtown Farmington. I-696 is about three miles north and I-275 about three miles west. The M-5 Freeway runs through the City and Eight Mile Road is on the southern border. Because of the excellent highway system, most sections of the metropolitan area are readily available to Farmington's residents. Suburban Mobility Authority for Regional Transportation (SMART) operates local and regional bus services for Farmington Hills. The closest major airport is Detroit Metropolitan Wayne County Airport located about 30 miles from the center of town. 
Partner with REMAX Farmington Hills REALTOR
®

 -Tom Gilliam 

Whether you're interested in purchasing your first home, upsizing to a larger home with room for a growing family, looking to buy your dream home or the right investment property, why not take advantage of Tom's 17-plus years of experience as a top-rated RE/MAX Farmington Hills MI REALTOR®? Tom will look out for your best interests, advocate for you, negotiate on your behalf, and do whatever it takes to ensure the best results possible. Get the homebuying process started today by calling Tom directly at (248) 790-5594 or you can reach him by email.

Tom Gilliam, REALTOR®
RE/MAX Classic
29630 Orchard Lake Rd.
Farmington Hills 48334
Direct: 248-790-5594
Office: 248-737-6800
Email: Homes2MoveYou.com
License #314578 
Farmington Hills MI 
[/et_pb_text][/et_pb_column][/et_pb_row][/et_pb_section]