[et_pb_section fb_built="1″ admin_label="section" _builder_version="3.0.47″][et_pb_row admin_label="row" _builder_version="3.0.48″ background_size="initial" background_position="top_left" background_repeat="repeat"][et_pb_column type="4_4″ _builder_version="3.0.47″ parallax="off" parallax_method="on"][et_pb_text admin_label="Text" _builder_version="3.18.2″ background_size="initial" background_position="top_left" background_repeat="repeat"]
Looking for a great suburb in Metro Detroit for your next home? Be sure to explore Royal Oak MI homes for sale! Royal Oak is the 8th-largest city in Oakland County, Michigan, and home to approximately 59,112 people. Royal Oak has maintained the appeal of a small town while affording many of the amenities of a large metropolis.
Buyers will find  a wide mix of housing choices ranging from apartments and condominiums, affordable single-family homes, historic homes in the historical district, to larger luxury homes and condos. Royal Oak's close proximity to major routes including I-75, I-696, and M-1 makes it conveniently located.
The city was recently named "One of the Coolest Suburbs in America" by Apartment Therapy Magazine, and the "Best Downtown Shopping District" by the Detroit Metro Times, Downtown Royal Oak is considered a trendy, upscale, urban-chic district attracting visitors from all over. The city is also home to the Detroit Zoo, Michigan's number one tourist destination.
Buyers are certain to find Royal Oak MI real estate perfectly suited to their lifestyle and needs with the help of a qualified local agent. Tom Gilliam is a top REALTOR® in Royal Oak MI with over 20 years of experience working with buyers and sellers. Tom's knowledge, professionalism, and expertise in the local market will give you the assurance you need for making the best home purchase decision.
Get the process started today by calling tom directly at (248) 790-5594 or you can get in touch with him here!
On our easy-to-use website, you'll find the most accurate and up-to-date listings for Royal Oak MI homes for sale! You can save your search, create a free account, and receive email alerts of new listings that match your home criteria delivered directly to your email! Also, be sure to scroll down below to learn more about living in this vibrant community:
Browse Royal Oak MI Homes For Sale   
More About Royal Oak MI Real Real Estate
The median price of currently listed Royal Oak homes for sale is $269,900. Approximately 64% of Royal Oak homes are owned, compared to 30% rented, while 6% are vacant. Royal Oak MI real estate listings include condos, townhomes, and single-family homes for sale. Commercial properties are also available. Now is the perfect time to buy and take advantage of still affordable home prices in a great suburb of Metro Detroit.
Top Royal Oak MI REALTOR® – Tom Gillian keeps his finger on the pulse of the local market at all times and is the first to know when new inventory becomes available, ensuring that his buyers have access to the most valuable homes and securing an offer. In order to ensure that you get the most value for your money, Tom will evaluate the prices of Royal Oak MI homes for sale currently on the market and those that have sold in recent months to determine whether the seller's asking price is in line with market data.
Tom knows the local market inside and out and can inform you about the different neighborhoods and communities, the types of homes and features offered, the builders, nearby schools, area amenities, and so much more. Tom can streamline your home search by putting together a list of Royal Oak MI homes for sale that best fit your specific preferences and needs.
Get started on finding your dream home today by calling Tom directly at (248) 790-5594 or you can get in touch with him here!
More About Living in Royal Oak, Michigan
Recently named among the"Top 10 Most Exciting Small Cities in America" by Movoto, and the "Best Place to Live in Michigan" by Area Vibes, Royal Oak has a lot to offer. The median household income in Royal Oak is $57,876 compared to the national median of $49,877. The median age of people living in the city is 39.8 years.
Major employers in Royal Oak include William Beaumont Hospital, The City of Royal Oak, Royal Oak Public Schools, Oakland Community College, Consumers Energy, Flex-N-Gate, Detroit Zoo, Holiday Market, and HHI- Form Tech. For parents with school-age children, Royal Oak is served by the highly-regarded Royal Oak Neighborhood Schools. A small portion of the city is also zoned for Berkley Public Schools, and a branch of Oakland Community College mi is also located in the city.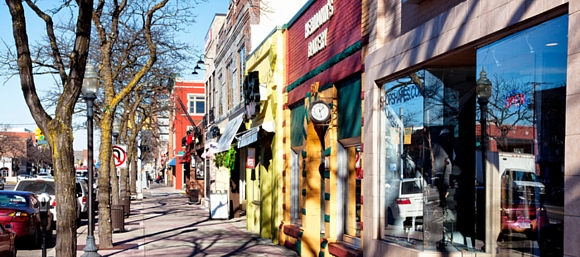 Downtown Royal Oak is a diverse and thriving walkable destination brimming with shopping and dining options, as well as professional services, galleries & theaters. The Downtown area is home to a successful Farmer's Market and hosts many community art fairs and special events throughout the year, such as the Art of Fire Show, Arts Beats and Eats, the Beer & Wine Strolls, and the Antique and Garage Sale, just to name a few. The many lofts and modern, high rise apartments and condo complexes located downtown are attractive housing options for all age groups. Outside of downtown's core, you'll find numerous tree-lined streets and well-established neighborhoods featuring a wide range of Royal Oak MI homes for sale to choose from.
Points of interest in the city include the Detroit Zoo, Royal Oak Music Theatre, Main Art Theatre, Baldwin Theatre, Mark Ridley's Comedy Castle, and Emagine Theater along with a number of shops, restaurants, and cafes. The main offices of Hour Detroit media, the publisher of Metro Detroit's lifestyle magazine, are also located in the city. Royal Oak also boasts over 50 public parks, 30 baseball fields, an ice arena, public and private golf courses, 34 tennis courts, an indoor soccer facility, and two Senior/Community Centers. With so much to offer, it's easy to see why so many people want to call Royal Oak home!
The city provides convenient access to several major routes making for hassle-free commuting. I-75 runs north-south along the city's east side,  I-696 runs east-west along the city's south side, M-1 (also known as Woodward Avenue) runs southeast-northwest along the city's west side, and five numbered east-west mile roads run through the city. Suburban Mobility Authority for Regional Transportation (SMART) operates local and regional bus transit throughout the city. The nearest major airport is Detroit Metropolitan Wayne County Airport, offering international and domestic flights from Detroit, located 32 miles from the center of town.
PARTNER WITH TOP REALTOR® IN Royal Oak –
TOM GILLIAM
Whether you're interested in Royal Oak MI homes for sale or its time to list your current property, experience matters most in a changing market. Serving the local community for over 20 years, Tom Gilliam provides the kind of expertise, dedication, and personalized service you need and deserve. As a member of the National Association of REALTORS®, Tom adheres to a strict Code of Ethics and Standards of Practice and possesses a strong work ethic. He will always take the time to listen to your needs and concerns, keep you updated every step-of-the-way, and will do whatever is necessary to facilitate a smooth and successful transaction. 
If you are looking to sell your home, tom incorporates the most effective and cutting-edge approaches to marketing your home. It will be listed in hundreds of locations all around the Internet and will get exposure on all the major sites such as Zillow, Trulia, Realtor.com, Movato.com, Homes.com, and Redfin, among other sites that homebuyers frequently use. You can rest assured that Tom is 100% committed to getting your home SOLD for the highest market price in the least amount of time possible. 
Partner with Tom and you'll have a Royal Oaks MI real estate expert by your side who will protect your interests, advocate for you, and handle all the details of your home purchase or sale for the best possible outcome. To find out more about Royal Oak MI homes for sale, feel free to call Tom directly at (248) 790-5594 or you can get in touch with him here!
Tom Gilliam, REALTOR®
RE/MAX Classic
29630 Orchard Lake Rd.
Farmington Hills 48334
Call: 248-790-5594
Office: 248-737-6800
Email: [email protected]
License #301741
[/et_pb_text][/et_pb_column][/et_pb_row][/et_pb_section]