[et_pb_section fb_built="1″ _builder_version="3.0.47″ custom_padding="24px|0px|35.8438px|0px|false|false"][et_pb_row custom_padding="1px|0px|17.9219px|0px|false|false" _builder_version="3.0.48″ background_size="initial" background_position="top_left" background_repeat="repeat"][et_pb_column type="4_4″ _builder_version="3.0.47″ parallax="off" parallax_method="on"][et_pb_text _builder_version="3.18.2″ inline_fonts="Adamina"]
What is Motivating Americans to Move and Buy Homes Right Now? – Today, Americans are moving and purchasing homes for a variety of reasons. The current health crisis has reshaped our lifestyles and needs. It has prompted many of us to think more about what we truly want in a home and where we want to live. In the early days of the pandemic, many people escaped small apartments in crowded cities to the suburbs and more open locations to escape the deadly virus.
As remote work became an option for many, people suddenly felt they had more freedom to choose where they wanted to live, as they were no longer tethered to where their employers were located. And just like that, 2020 made moving a reality for millions of Americans. Some moved in with their parents to be around family and even save on rent. For others, it finally gave them a reason to focus on pre-pandemic dreams such as moving across the country in pursuit of a more quality lifestyle and cheaper cost of living.  
According to the 2020 Annual National Movers Study: "For customers who cited COVID-19 as an influence on their move in 2020, the top reasons were concerns for personal and family health and wellbeing (60%); desires to be closer to family (59%); 57% moved due to changes in employment status or work arrangement (including the ability to work remotely), and 53% desired a lifestyle change or improvement of quality of life." 
With a new perspective on homeownership, here are some of the top reasons why people are reconsidering where they live and thinking differently about what they want and need in a home:
1. Remote Work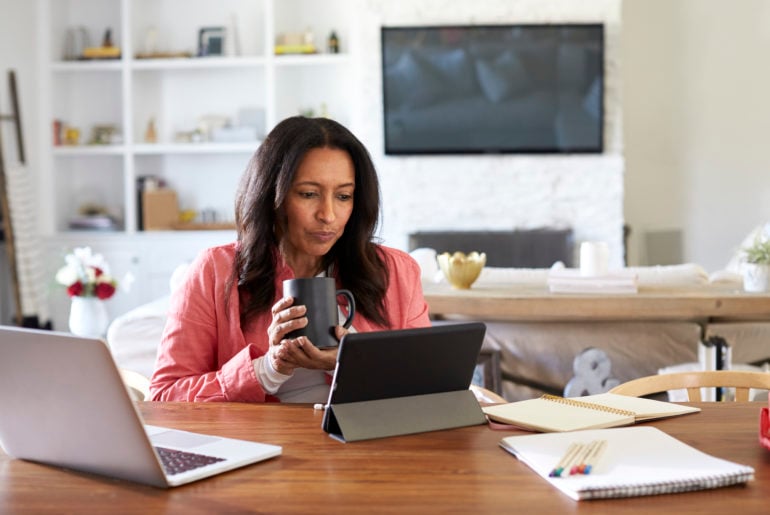 According to the Census Bureau, the percentage of people who change residence each year has been declining since the mid-1980s and reached its lowest point just before the COVID-19 pandemic. This trend may have continued if not for the sudden and rapid adoption of remote work. Real estate brokerage firm Redfin found in a recent survey that a third of home buyers and sellers would consider moving to a different city or area if remote work becomes permanent. Remote work became the new norm, and for many, it's persisting longer than initially expected. 
Apartment List notes: "The COVID pandemic has sparked a rebound in residential migration: survey data suggest that 16 percent of American workers moved between April 2020 and April 2021, up from 14 percent in 2019 and the first increase in migration in over a decade… One of the major drivers in this trend is remote work, which expanded greatly in response to COVID and will remain prevalent even after the pandemic wanes.  
Working from home was already gaining popularity before COVID but the pandemic accelerated the trend. According to the latest research, even after the pandemic subsides, the economy will contain significantly more remote jobs than ever before. And this newfound flexibility is getting people moving again. Many in the workforce are discovering they don't need to live near their office and can get more for their money if they move further outside the city limits.  
Lawrence Yun, Chief Economist for the National Association of Realtors (NAR) notes: "With the sizable shift in remote work, current homeowners are looking for larger homes and this will lead to a secondary level of demand even into 2021." If you're renting a small space or recently tried to convert your dining room into a home office with minimal success, it may be time to make a change. The reality is, your current house may not be optimally designed for today's lifestyle, making remote work and continued productivity very challenging.
2. At-home Fitness Space

Staying healthy and active is a top priority for many Americans. COVID-19 may have closed gyms for most of 2020, but it didn't keep us from working out. Instead of going to the gym, many turned to home-based alternatives. From March to October 2020, health and fitness equipment revenue more than doubled, skyrocketing to $2.3 billion, according to data from market research firm NPD. Treadmill sales increased 135 percent, and stationary bike sales almost tripled, with Peloton reporting $1.8 billion in 2020 revenue.
Peloton chief membership officer Brad Olson told The Washington Post: "We do believe that the pandemic has compelled consumers to re-evaluate their fitness routines and many have discovered that the best, most connected workout can actually be experienced at home." Buying their own equipment and accessing instructions through apps or teleconferencing is enough for them.
It's expected that 59 percent of Americans don't plan to renew their gym memberships post-pandemic, according to a TD Ameritrade survey. Many people, however, don't have space for a dedicated home gym or even for exercise equipment. Having room to maintain a healthy lifestyle at home – mentally and physically – may prompt you to consider moving to a place that includes space for the healthy lifestyle you desire.  
3. Outdoor Living Space

For apartment owners and city dwellers, the experience of having to stay at home month after month during the pandemic has emphasized the desirability, importance, and value of having private outdoor space. You may be able to find small balconies or terraces in the midst of urban living, but larger backyards and space are more likely to be found, and more affordable, in the suburbs.
While outdoor space has always been considered an appealing feature to homeowners, many have emerged from quarantine with a new appreciation for a place to step outside, breathe in the fresh air, and have enough space for humans and pets to run around and be active. At the end of the day, it's all about how we can make our homes the most comfortable and enjoyable place to live and pass the time, both inside and out.
An outdoor living space can take many different forms. It can be a few chairs around a fire bowl, a poolside gazebo, or a deck with a barbeque grill. It should have places to sit and tables for beverages and snacks. Think about when you'll be spending time in the space. Do you need lighting? What about shade? For privacy, plant a hedge or a vine growing on a trellis.
Better Homes & Gardens recently released the outdoor living trends that are huge for 2021. Building on last year's momentum, homeowners can expect to bring indoor conveniences outdoors with multipurpose add-ons, smart technology, and structures that allow us to be outside longer and more often throughout the year. Whether it's a spot to grow herbs for homemade meals, a private patio with plenty of shade, or a place to do the cooking, outdoor living in 2021 is synonymous with more time spent at home.
Outdoor Kitchens

– A

2021 design trends

report by the National Kitchen and Bath Association (NKBA) found that 60% of homeowners are looking to add outdoor kitchens. 

Edible Garden: Millions of people began gardening during the pandemic. Motivations varied from the desire to be outdoors to wanting a new hobby to fill the time at home. One of the biggest reasons for increased interest in edible gardening was to supplement pantries with homegrown fruits and veggies.

Front Yards

–

Social front yards are the newest home "addition,"

according to Blythe Yost, CEO, and co-founder of online landscape design company Tilly. Creating an outdoor living space at the front of the home is not only about maximizing available space for daily living—it's for welcoming our communities, too. "Because of the pandemic and the change in our social lives, there is a desire to feel connected more than ever," Yost says.

Secluded Spaces

– As outdoor activity increases, so does the need for privacy, shade, and shelter from the elements. Whether it's a secluded space to practice yoga or a place to use your laptop out of the sun's glare, a mix of landscaping, hardscaping, and even furniture, can provide protection and add privacy to outdoor spaces.

Outdoor Technology

– As people integrate the outdoors into everyday living, they're "looking to incorporate all the technology they use on the interior, for the exterior," says Joe Raboine, director of residential hardscapes with Belgard. Working from home has many people adding boosters to amplify Wi-Fi signals outdoors for home offices. "The pandemic really has driven great interest into creating outdoor office spaces," he says.
For many homebuyers, having ample outdoor space Is the main consideration for moving.  
Bottom Line
If you are in need of more room to accommodate your changing needs and lifestyle, making a move might be your best option, especially while you can take advantage of today's low mortgage rates. It's a great time to get more home for your buck, just when you need it most. If you've been trying to decide if now is the right time for you to buy a home, let's connect to discuss your options.
Partner with top-rated Farmington Hills MI REALTOR® –

Tom Gilliam
With a passion for real estate, Tom Gilliam has been serving Farmington Hills and the surrounding Oakland County MI area for nearly two decades. Tom is known for his friendly demeanor, dedication, and professionalism. He will be able to quickly ascertain your needs and goals and create a plan of action based on your specific criteria. 
Tom's clients appreciate his honesty and transparency and feel it helps them as they make important real estate decisions. He understands how important good communication is to every transaction and is available for his clients whenever they have questions or concerns, promptly returning all phone calls, texts, and emails.
Having someone like Tom to advise and guide you means there is one less thing you need to worry about. He will protect your interests, advocate for you, negotiate on your behalf, and go the distance to ensure the best results possible. If you are interested in buying or selling Farmington Hills real estate or homes in the surrounding area, please give Tom Gilliam a call at (248) 790-5594 or you can reach him by email.
Tom Gilliam, REALTOR®
RE/MAX Classic
29630 Orchard Lake Rd.
Farmington Hills 48334
Direct: 248-790-5594
Office: 248-737-6800
Email: Homes2MoveYou.com
License #314578 
Map Farmington Hills MI
[/et_pb_text][/et_pb_column][/et_pb_row][/et_pb_section]