Why You Should Consider West Bloomfield MI Homes for Sale – If you are currently in the market to buy a home in metro Detroit, West Bloomfield MI homes for sale should be at the top of your list. Located in south-central Oakland County, Michigan, West Bloomfield Charter Township is an affluent suburb of Detroit with a population of approximately 65,845. 
Located 10 miles northwest of Detroit, West Bloomfield is bordered by Bloomfield Township to the east, Farmington Hills to the south, Commerce Township to the west, and the communities of Waterford Township, Orchard Lake Village, Keego Harbor, and Sylvan Lake to the north. 
Dotted with many small and medium-sized lakes, West Bloomfield is often referred to as  "Lake Township of Oakland County." Walnut Lake, Pine Lake, and Union Lake feature many beautiful luxury estates on the waterfront.
The communities of West Bloomfield, Orchard Lake Village, Keego Harbor, and Sylvan Lake make up what is known as "Greater West Bloomfield." The Township recently received an overall A+ Grade for "Best suburbs to live in Michigan" by Niche.com.     
A Qualified West Bloomfield real estate agent holds the key to finding the most desirable West Bloomfield MI homes for sale, negotiating the best terms and price, and facilitating a smooth and successful transaction.
Whether you're interested in low-maintenance condos/townhomes, single-family homes in a quiet neighborhood, new construction homes or custom-built luxury lake estates with the latest features and amenities, West Bloomfield MI real estate accommodates every lifestyle and buyer.    
A top REALTOR® in West Bloomfield, Tom Gilliam has over two decades of experience assisting buyers and sellers in West Bloomfield and Oakland County. 
Offering in-depth local market knowledge and expertise, Tom has all the resources and information you need for making the best home purchase decision.
To find out more about West Bloomfield MI real estate for sale, feel free to call Tom directly at (248) 790-5594 or you can get in touch with him by email.
More About West Bloomfield MI Real Estate  
The median home value in West Bloomfield is $309,600, which has gone up 3.3% over the past year. Real estate industry experts predict home values will rise by another 1.6% within the next 12 months.
The median price of currently listed West Bloomfield MI homes for sale is $365,000. 82% of residents in West Bloomfield own their own home.
As a licensed, professional real estate agent, Tom Gillian stays on top of the local market at all times and is the first to know when new inventory becomes available, ensuring that you have access to the most desirable homes and securing an offer. 
To ensure that you get the most value for your money, Tom will evaluate the prices of homes that are currently on the market and those that have sold in recent months to determine whether a seller's asking price is in line with market data.
Tom keeps his finger on the pulse of the local economy, community trends, business developments and other factors that can affect the market value of property in the area. 
Intimately familiar with the West Bloomfield housing market, Tom can help educate you on the best neighborhoods and communities, the types of homes and features offered, the builders, schools, property values, area amenities, and so much more.
Allow Tom to help streamline your home search by putting together a list of homes that are the best match for your specific preferences and needs. You can request customized search results delivered directly to your email along with email alerts of new listings.
Feel free to call Tom directly at (248) 790-5594 or you can get in touch with him here!
More About Living in West Bloomfield MI
West Bloomfield has a total area of 31.2 square miles, of which 27.3 square miles is land and 3.9 square miles is water.  Once primarily a farming community dotted with apple orchards, The township of West Bloomfield is now one of the most populous, affluent, and desirable suburbs of Detroit.  
Orchard Lake Road runs north-south through the middle of West Bloomfield and is the main artery of West Bloomfield's economy along with West Maple Road – flanked on each side by strip malls and shopping complexes. 
When it comes to shopping, West Bloomfield is brimming with high-end boutique stores and big-box retailers. Orchard Mall is an intimate high-end shopping destination in the heart of West Bloomfield offering a variety of upscale boutiques, salons, and eateries.
Approximately 10 miles away in Novi is Twelve Oaks Mall, a super-regional shopping mall with over 180 stores, and considered the shopping destination of choice in metro Detroit. In addition to great shopping, the township offers a wide assortment of restaurants and eateries to choose from, all within a 5 to 10-minute drive from home. 
For parents with school-age children, West Bloomfield MI homes for sale are served by seven school districts filled with top-rated schools. 
School districts include West Bloomfield School District, Waterford School District, Farmington Hills School District, Birmingham City School District, Pontiac School District, Walled Lake Consolidated School District, and Bloomfield Hills School District (considered to be one of the best school districts in Michigan).
West Bloomfield High School and Jewish Academy of Metropolitan Detroit are the two high schools located within the township.
Hundreds of acres of parks and recreation areas in the township provide a myriad of activities for all ages to enjoy throughout the year. The West Bloomfield Trail is a 54-acre linear park that meanders for 6.8 miles throughout West Bloomfield, Orchard Lake, Keego Harbor, and Sylvan Lake.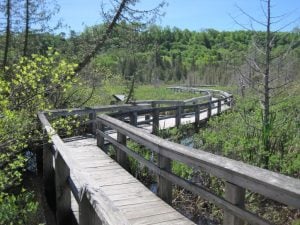 Hike West Bloomfield Preserve Trail!
Located in the middle of the Township along West Bloomfield Trail is the West Bloomfield Woods Nature Preserve. The 162-acre preserve was the first in Michigan to receive recognition as an Urban Wildlife Sanctuary from the National Institute for Urban Wildlife.
West Bloomfield's quality parks and recreational programs invite and retain business, improve property values, provide economic impact, and attract new residents to the community. 
Bus service in the township is provided by SMART. West Bloomfield Parks and Recreation and SMART provide transportation for West Bloomfield senior citizens, age 55 or over, or persons under the age of 55 with a physical and/or mental disability. 
The closest major airport is Detroit Metropolitan Wayne County Airport with international and domestic flights from Detroit, located about 34 miles from the center of West Bloomfield.
Partner with The Best West Bloomfield REALTOR® – TOM GILLIAM
Whether you're interested in purchasing a home in West Bloomfield or you're ready to list your current property, West Bloomfield REALTOR® – Tom Gilliam provides the kind of knowledge, skills, commitment, and personalized service you need and deserve.  
Tom's extensive knowledge in the local market is an asset that his clients quickly come to appreciate. He will take the time to listen to your needs and concerns, keep you updated every step of the way, and will always have your best interests in mind.  
For sellers, Tom is 100% committed to getting your home sold for the highest market price in the least amount of time possible.
Tom incorporates the most effective and cutting-edge approaches when it comes to marketing your home. It will be listed in hundreds of locations all around the Internet and will get exposure on all the major sites like Zillow, Movato.com, Homes.com, and Trulia, along with many other sites that are frequented by buyers.
By partnering with Tom, you'll have an expert by your side who will protect your interests, advocate for you, and handle the details of your home purchase or sale for a smooth and successful transaction. 
To find out more about buying or selling West Bloomfield MI real estate, please give Tom Gilliam a call today at (248) 790-5594 or get in touch with him here!
TOM GILLIAM
RE/MAX Classic
29630 Orchard Lake Rd,
Farmington Hills 48334
Direct: 248-790-5594
Office: 248-737-6800
[email protected]
License #301741
Map of West Bloomfield MI Real Estate