[et_pb_section fb_built="1″ _builder_version="3.0.47″][et_pb_row custom_padding="0|0px|17.9219px|0px|false|false" _builder_version="3.0.48″ background_size="initial" background_position="top_left" background_repeat="repeat"][et_pb_column type="4_4″ _builder_version="3.0.47″ parallax="off" parallax_method="on"][et_pb_text _builder_version="3.18.2″]
Things To Consider Before Buying a Fixer-Upper in Farmington Hill MI  
Are you currently thinking about purchasing a fixer-upper home in Farmington Hills MI? Keep in mind that it will require time and money – not to mention, home improvement experience or the ability to hire professionals and design experts. For homebuyers with the right skill-set and resources, purchasing a fixer-upper can be enticing and a rewarding project. 
In many cases, renovating a home in need of major repair and TLC allows buyers to purchase a property in a neighborhood they would like to live in but may not be able to afford otherwise. There are definitely pros and cons to be considered before investing in a fixer-upper rather than a move-in ready home. Ultimately, the decision will come down to your needs, abilities, and resources.
The pros for buying a move-in ready home in Farmington Hills MI 
The pros of buying a move-in ready home vs a fixer-upper are pretty straight forward: No painting, no carpeting, no knocking out walls, no plumbing fixes or hidden electrical problems, no adding rooms or landscaping changes. Just move in and unpack your boxes.
Not only is life a whole lot simpler with a move-in ready home, but financing can also be. Loans for both fixer-uppers and move-in ready homes depend on credit history, employment history, down payments, etc. However, when it comes to a 30-year fixed mortgage, the move-in ready homebuyer may have an easier time qualifying for a mortgage. 
The pros in favor of buying a fixer-upper in Farmington Hills MI 
A fixer-upper, (code phrase for "needs a lot of work") is a good choice for those who are generally intrigued by the idea of fixing up a run-down home and understand that it will take some time before the property is move-in ready. Of course, the price of a fixer-upper is usually a lot less than the market price the home will command once all the renovations are finished.
The lower price and potential increase in value are appealing, especially in today's economic climate. Property taxes are another pro. Your property taxes are based on the sale price of your home, which means that your annual property tax is often a lot lower for a fixer-upper than on a move-in ready home. 
Here are a few important questions to ask yourself before committing your time and resources to a fixer-upper:  
1). Can you afford to renovate a fixer-upper?
Before purchasing the home, conduct a walk-through with a general contractor and ask for advice and guidance on repairs, remodeling, and pricing. The contractor may be able to give you a rough estimate of overall costs. Also, do your own research on the average cost for the repairs and renovations needed.
Make sure that you include enough room in your budget for unexpected expenses as most all fixer-uppers come with a few unexpected surprises, some more costly than others. 
2). Are you getting a good deal on the property?
If you are planning to sell the fixer-upper in the future and make a profit, make sure that you are getting a good deal on the home. To ensure that you are not paying too much for the home, it is a good idea to partner with a qualified Farmington Hills MI REALTOR®.
A skilled agent can help you determine and negotiate a fair price for the home. If you can't get a fair price, you can walk away from the deal.
3). Are you planning to flip the house?
If you are planning on flipping the house and selling it to local homebuyers, you will need to research which home improvements will give you the most return on your investment. For the most part, buyers are likely to pay up for a house that includes a master suite, nice landscaping, and updated kitchen and bathroom finishes.
You will need to assess the costs of renovations and upgrades that will appeal to most buyers such as neutral paint colors, flooring types, etc.
4). How exactly are you going to renovate the home?
Unless you're a licensed contractor, make sure you have a list of top contractors in the area. An experienced general contractor will be able to help you secure permits from the city, collect materials needed for the renovations, and find reputable subcontractors to complete the various projects.
Because the general contractor will be your main point of contact for everyone and everything going on, you will want to make sure that you hire someone you trust and don't mind spending a lot of time around. 
5). How much time will it take to renovate the property?
Before investing in a fixer-upper, you will want to get an idea from a local contractor on how long the renovations will take. More often than not, renovating a fixer-upper can take four months and upwards. If permits from the city are required, expect a delay in your timeline as permits can sometimes take several weeks and even months to obtain.
If you need to move to a new home in under six months, you might not want to take on a fixer-upper at this time.
6). Will you be able to live in the fixer-upper while it's being renovated?
If you are not able to live in the house during the renovation process, which could take anywhere from four months to a year, then you will need to arrange for a place to stay.  However, if you are going to have to live in the house in the midst of renovation and construction chaos, which could go on a lot longer than anticipated, you may not want to purchase a Farmington Hill MI fixer-upper.  
The takeaway 
With a fixer-upper, renovations, especially kitchen and bathroom upgrades, will typically get you instant equity that can take years to build otherwise. However, it has to be the right type of renovation and the right scale in order to reap these benefits. If you don't mind taking risks, getting your hands dirty, and the time needed for renovations and repairs to be finished, a fixer-upper could possibly be the right home purchase decision. 
Work closely with your Farmington Hills MI real estate agent, who can help you buy a home for the right price and ensure you are yielding a good return on the improvements you plan on making.
Partner with Top-rated Farmington Hills MI REALTOR® – Tom Gilliam
Whether you are interested in buying a home in Farmington Hills, MI, or its time to list your current property, experience matters most in a changing market. Top-rated Farmington Hills REALTOR® – Tom Gilliam offers over 20 years of local experience, in-depth market knowledge, and access to the most up-to-date listings for Farmington Hill MI homes for sale.
Known for his professionalism and care for every detail, Tom is an expert at uncovering the perfect home for his clients' lifestyle needs in the right neighborhood or community.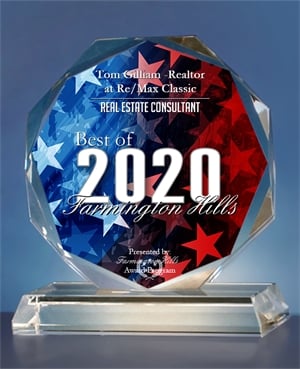 If you are ready to sell your home, Tom will create a comprehensive marketing plan that exposes your home to the public as well as to other real estate agents through the Multiple Listing Service (MLS), other cooperative marketing networks, open houses for agents, etc.
Your listing will appear on all the most popular real estate sites where buyers spend hours a day looking at homes such as Realtor.com, Zillow, Trulia, REMAX, Redfin, and dozens of others.
Your property will also be featured on Tom's own highly-trafficked website Homes2moveyou.com. You can be assured that your home will get sold quickly and for the highest market price.
Search Farmington Hill MI Homes for Sale
Tom works very hard for his clients. He will be there to protect your interests, advocate for you, negotiate on your behalf, and do whatever it takes to ensure a smooth and successful transaction.
If you or someone you know is interested in buying or selling Farmington Hills MI real estate, please give top-rated Farmington Hills MI REALTOR® – Tom Gilliam a call today at (248) 790-5594 or you can reach him here.
Tom Gilliam, REALTOR®
RE/MAX Classic
29630 Orchard Lake Rd.
Farmington Hills 48334
Direct: 248-790-5594
Office: 248-737-6800
Email: Tom @ Homes2MoveYou.com
License #314578
[/et_pb_text][/et_pb_column][/et_pb_row][/et_pb_section]