[et_pb_section fb_built="1″ admin_label="section" _builder_version="3.0.47″][et_pb_row admin_label="row" _builder_version="3.0.48″ background_size="initial" background_position="top_left" background_repeat="repeat"][et_pb_column type="4_4″ _builder_version="3.0.47″ parallax="off" parallax_method="on"][et_pb_text admin_label="Text" _builder_version="3.18.2″ background_size="initial" background_position="top_left" background_repeat="repeat"]
If you are currently seeking a tight-knit, family-friendly community offering a small-town vibe for your next home, South Lyon MI homes for sale deserve consideration. The quaint city of South Lyon is located in the southwest corner of Oakland County, Michigan and is home to approximately 11,408 people. Situated near the crossroads of Interstate 96 and US 23, South Lyon is just 19 miles north of Ann Arbor, 45 miles west of Detroit and 58 miles east of Lansing, the capital of Michigan.
At just 3.5 square miles in size, the city is known for its historic and charming downtown, annual festivals, beautiful parks, and excellent schools – offering unparalleled quality of life and a great place to raise a family!
A qualified agent holds the key to finding the most valuable homes for sale in South Lyon,  negotiating the best terms and price, and facilitating a smooth and successful transaction. Tom Gilliam is a top REALTOR® in South Lyon with over 20 years of experience helping families find and get into the home of their dreams.
Tom's knowledge and professionalism and his expertise in the local market will give you the assurance you need for making the best home purchase decision. Get started today by calling Tom directly at (248) 790-5594 or you can get in touch with him here!
Search the MLS for the most accurate and up-to-date listings for South Lyon MI homes for sale below. You can save your search, create a free account, and receive email alerts of new listings that match your home criteria delivered directly to your email. Also, be sure to scroll down below to learn more about South Lyon MI real estate and living in this charming community:
Browse South Lyon MI Homes for Sale
If you would like to schedule a private showing or would like more information about any of the above South Lyon MI real estate listings, please contact top REALTOR® in South Lyon, Tom Gilliam, today!
More About South Lyon Mi Real Estate  
Buyers will find a wide range of homes for sale in South Lyon from townhomes and condos to single-family homes and luxury homes with plenty of privacy and extras.  With so many residential options, your sure to find the perfect home for your family's lifestyle and needs.
Neighborhoods and subdivisions in South Lyon include:  Oakmonte Estates at Mill River, Trotters Pointe, Andover Creek, Arbors of Lyon, Brookwood Village, Carriage Club, Carriage Trace, Cedar Ridge, Charleston Park, Colonial Acres, Copperwood, Eagle Heights, Evergreen Court, Fountain View, Glen Meadows, Greenock Hills, Hidden Creek, Hornbrook Estates, Knightsbridge Gate South Lyon. Lexington Place, Lovewell Park, Maple Creek, Nichwagh Lake Estates, Nichwagh Ridge, Orchards of Lyon, Pinehurst, Saddle Creek, Southridge, Stoneleigh, Stoneridge, Trailside at Mill River, Turnberry Park Estates,Twin Pines, Village at Eagle Heights, Villas at Crystal Creek, Walnut Creek Estates, Woodwind Glen, and Woodwind Village.  
The median price of currently listed South Lyon MI homes for sale is $399,800  Approximately 70% of South Lyon homes are owned compared to 21% rented. As a licensed, professional real estate agent, Tom Gilliam understands the importance of staying on top of the local market and always the first to know when new listings in South Lyon become available, ensuring that his buyers have access to the best homes and securing an offer.
Tom will evaluate the prices of homes that are currently on the market and those that have sold in recent months to determine whether a seller's asking price is in line with market data. He keeps his finger on the pulse of the local economy, community trends, business developments and other factors that can affect the market value of properties in the area to ensure that you get the most value for your money, 
Tom's in-depth knowledge of the local area is something that his buyers quickly come to appreciate. He can help educate you about the different South Lyon neighborhoods and subdivisions, the types of homes and features offered, the builders, nearby schools, area amenities, and so much more. Allow Tom to streamline your home search by putting together a list available homes for sale in South Lyon MI that best match for your wants and needs. 
Request customized search results delivered directly to your email along with email alerts of all new listings. You can get the home search process started today by calling Tom directly at (248) 790-5594 or you can get in touch with him here!
MORE ABOUT LIVING IN South Lyon MI
Originally established as an agricultural center built around two railroads and incorporated as a city in 1930, South Lyon is becoming a center for manufacturing, with 70 acres of light industrial properties located within the city limits. The center of the business district is at Ten Mile Road and Pontiac Trail, known as Lake Street and Lafayette Street within the City.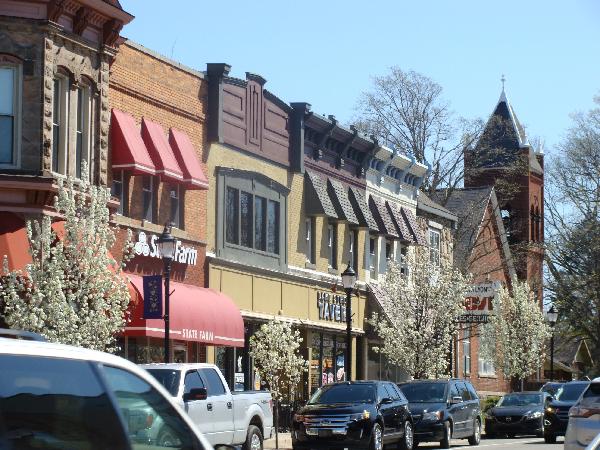 Twelve walkable blocks filled with salons, shops, and fabulous dining located at the intersection of Lake & Lafayette streets. Downtown South Lyon is a traditional hometown shopping and dining experience with over 100 stores, restaurants, and services including the famous South Lyon Hotel.
South Lyon has over 200 acres of parkland including McHattie Park, Volunteer Park mi, Paul Baker Memorial Park (Fountain Park), Andover Park, Columbia Park, and the Huron Valley Rail Trail. Located in the center of town, the 15 acre McHattie Park features a children's playground, little league ball diamonds, sand volleyball courts, a sledding hill, and plenty of open space for picnicking and outdoor fun. 
McHattie Park is also home to the historic Witch's Hat Depot Museum, Little Village Chapel, the Freight House, and the Victorian Gazebo. Volunteer Park is home to the majority of the city's sports facilities and features baseball diamonds, soccer fields, a sand volleyball court, and a multi-use trail. The smaller Paul Baker Memorial Park features a beautiful fountain and gazebo.
The popular, annual Pumpkinfest is the largest festival in South Lyon which is held during the last weekend of September. Events along Main Street include inflatable rides, games, carnival food, live entertainment, parade, arts & crafts show,  5k run through town, and much more.  
For parents with school-age children, homes for sale in South Lyon MI are served by South Lyon Community Schools, an accredited public school district in Oakland County. The District serves  Lyon Township, the City of South Lyon, Green Oak, and Salem Township, as well as portions of  Novi. Elementary schools include Salem, Sayre, Bartlett, Dolsen, Hardy, Kent Lake, Brummer, and Pearson Elementary.
There are two middle schools:  Millennium Middle and Centennial Middle and two high schools: South Lyon High, and South Lyon East High School For higher education, Schoolcraft College, Washtenaw Community College, and Oakland Community College, are all located within 16 miles of South Lyon.
There are two major airports serving South Lyon: Detroit Metropolitan Wayne County Airport has international and domestic flights from Detroit, located about 41 miles from the center of town; Bishop International Airport has domestic flights from Flint, Michigan and is 42 miles from South Lyon.
WORK WITH THE BEST REALTOR® IN South Lyon – TOM GILLIAM
Serving the local community fo rover 20 years, Tom  Gilliam provides the kind of knowledge, expertise, and personalized service you need and deserve. He will take the time to listen to your needs and concerns, keep you updated every step-of-the-way, and will always have your best interests in mind. Toms foremost goal is to exceed your expectations!
Whether you're interested MI homes for sale or it's time to list your current property, experience matters most in a changing market. One of the things that Tom appreciates most about being at top South Lyon REALTOR® is being able to share the joy that his clients feel when they find the home of their dreams. 
For sellers, Tom is 100% committed to getting your home SOLD for top dollar in the least amount of time possible. Tom incorporates the most effective and cutting-edge approaches to marketing your home and getting it in front of as many buyers as possible. Your property will be listed in hundreds of locations all around the Internet and will get exposure on all the major sites like Zillow, Movato.com, Trulia, Redfin, Homes.com  and many other sites that are frequently used by buyers.
As your personal agent, Tom will protect your interests, advocate for you, and skillfully handle all the details of your home purchase or sale for a smooth and successful transaction. To find out more about buying or selling Rochester MI real estate, please give Tom Gilliam a call today at (248) 790-5594 or send him an email.
TOM GILLIAM
RE/MAX Classic
29630 Orchard Lake Rd.
Farmington Hills 48334
Direct: 248-790-5594
Office: 248-737-6800
[email protected]
License #301741
[/et_pb_text][/et_pb_column][/et_pb_row][/et_pb_section]