[et_pb_section bb_built="1″][et_pb_row][et_pb_column type="4_4″][et_pb_text _builder_version="3.18.2″]
Should I Sell My Farmington Hills Home During COVID-19 Crisis or Wait?
With the COVID-19 pandemic causing uncertainty in the economy and housing market, some Farmington Hills home sellers are asking themselves: "should I sell my home right now or should I wait?"  Some sellers are choosing to wait it out in hopes that the situation will improve in the coming months.
Not everyone, however, has the luxury to take the wait-and-see approach due to job relocation,  growing family needs, facing a different financial situation, or some other personal reason. 
Although selling a home now and in the near future is going to look a lot different than it did only a few months ago, people haven't stopped selling houses altogether and real estate transactions are still moving forward. Many sellers are still listing their homes, and buyers are still buying them.
In late March, the U.S. Department of Homeland Security declared residential real estate sales an "essential service" that will be allowed to continue.
That being said, you should check with your REALTOR® or local government for what's allowed in your area, and keep in mind that things could change depending on how the coronavirus situation progresses.
Even if real estate businesses are considered essential, they could still have restrictions in some places such as prohibited gatherings exceeding a certain number of people.
So, you couldn't have, say, more than 10 people in an open house if such a crowd is prohibited. In certain areas, in-person home showings are still taking place, although how they are held and how many people are allowed to attend has changed.
Open houses in accordance with guidance from the Center for Disease Control (CDC) and the President: 
Ensure that less than 10 people are touring the home at any given time, and consider only allowing one buyer group to tour the home at a time.

 

Be sure that guests maintain social distancing of six or more feet apart, and require potential buyers to wash their hands or to use an alcohol-based hand sanitizer immediately upon entry and to remove shoes/cover footwear with booties.

 

Be sure to check with your client before using any cleaning products, and recommend that your client disinfect their home after the open house, especially commonly touched areas like doorknobs and faucet handles.
Alternative Ways to Market Your Farmington Hills Real Estate
Home showings of any kind, including open houses and even private showings, are not allowed under Michigan's current stay-at-home order. In response, REALTORS® are getting creative, offering tours through 3D-photo or video, Facebook Live, Zoom, and other avenues.
While virtual tours and showings are a great way to keep home sellers and buyers safe, this new reality has raised the bar on how homes should be presented and marketed online.
A few nice photos of your home may not be enough during this time. You only get one chance at a first impression, so you don't want to be using poorly shot and lit iPhone photos and videos.
Make sure the real estate agent you hire is well-versed in digital technologies that will be used to show off your home in the best possible light. 
Some Homes May be Easier to Sell than Others During COVID-19 
Before you list, ask your REALTOR® how likely your home is to sell in this unusual market. Some properties have a better chance of selling than others based on factors such as: 
Price Point

– If it's a beautiful home at a medium price point in your area and it's priced competitively and staged well, it will have a better chance of selling at this time. Buyers at higher price points who have large holdings in the equity markets may postpone large real estate transactions as they wait for stocks to recover from the market plunge.

 

Online Presence and Marketability

– In today's market, your home must shine in online listing photos and videos to convince buyers to leave their house to view it in-person. Now, more than ever, you have to make sure you have professional photography because that's what people are seeing online. They are not going to open houses and not driving by as much.

 

Vacant vs. Occupied

–  Vacant properties are receiving the most attention due to ease of viewing while tenant occupied homes are proving more difficult to sell. Tenants have rights, and many don't want people coming through their house. With "offer subject to interior inspection," only buyers who make an offer on the property are permitted to view it in-person. While more common to see for tenant-occupied properties, owner-occupied homes may be listed as "offer subject to interior inspection," as well.
A House Sold During Coronavirus Pandemic
If you sell your Farmington Hills home during the COVID-19 pandemic, your contract may include a coronavirus clause that permits closing extensions and home sale cancellations without legal or financial repercussions. For sellers, this means the buyer may leave the deal without losing their earnest money.
To protect your interests, you can negotiate in what scenarios the buyer keeps their earnest money. For instance, you can amend the clause to state that the buyer must forfeit their earnest money if they withdraw their offer with no reasonable cause.  
The Takeaway
For the best insight on how the coronavirus Pandemic is affecting the local market, reach out to a top real estate agent that specializes in your area.
Top agents track daily updates and evolving COVID-19 regulations, and can help you determine whether your Farmington Hills property is marketable at this time as well as answer any questions you may have, and accommodate any special needs such as a contactless home assessment.
Partner with Farmington Hills MI REALTOR® – Tom Gilliam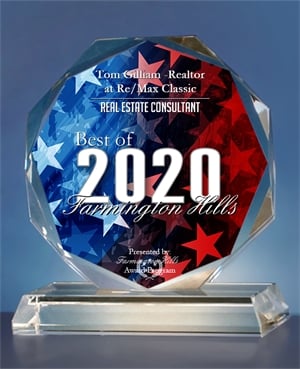 Whether you are looking for homes for sale in the Farmington Hills or you are ready to list your current property, experience matters most in a changing market.
With over 25 years of local experience, Tom provides the kind of knowledge, skills, dedication, and personalized service you need and deserve.
As your personal agent, Tom will protect your interests, advocate for you, and go above and beyond to ensure a smooth and successful transaction. 
If you or someone you know is interested in buying or selling Farmington Hills real estate, please give Tom a call today at 248-790-5594 or you can get in touch here.
Tom Gilliam, REALTOR®
RE/MAX Classic
29630 Orchard Lake Rd.
Farmington Hills 48334
Call: 248-790-5594
Office: 248-737-6800
Email: Tom @ Homes2MoveYou.com
License #301741
[/et_pb_text][/et_pb_column][/et_pb_row][/et_pb_section]