Selling Your Farmington Hills Home During COVID-19 Crisis
Now more than ever, it's important for home sellers to be flexible with shifting market dynamics. While some sellers are deciding to pull their homes off the market during the COVID-19 crisis and try to sell at a later date, that may not be an option for everyone.
If you are planning to move forward with selling your Farmington Hills home, there are some things you can do differently during this current market while keeping everyone involved as safe and healthy as possible.
Prepping Your Home to Sell
Rather than spend your time going stir crazy from isolation and social distancing, use this downtime as an 'opportunity' to prep your home to look its best. Organize, clean, declutter, and prepare the inside of your home for the showings that will come.
Also, finish any DIY jobs such as replacing broken tiles or fixing or replacing that leaking tap.
When it comes to the outside of your home, spend some time creating the ultimate curb appeal that will blow the competition out of the ballpark. 
Paint the trim, clean the gutters, powerwash the driveway and walkways, trim the hedges, plant some flowers, and whatever else that you can do to make your home look its best.
Create A Video Tour of Your Home
Getting your home in front of as many buyers as possible and finding new and creative ways during this time to accomplish that is key to getting your property sold.
Unfortunately, even though open houses are typically an effective tool to show your home to many prospective buyers at once, they are just not advisable at this time, given the current restrictions around large gatherings.
There's no easy way to regulate how many people come into your home at once during one of these events. Instead of open houses and physical tours, ask your listing agent to create a video tour of your home as part of their marketing plan.
Many websites allow agents to upload videos to listings in addition to photos. The number of 3D home tours created on Zillow went up 362% as of March 20th. 
A detailed and compelling virtual tour using either smartphone videos or 3D cameras to create high-definition, 360-degree walk-throughs can help prospective buyers get a feel for the layout of your home and an idea of whether or not it's the right fit for them.
This will also help limit the amount of traffic going through your home to only those buyers who are seriously interested in your property.  
Adjusting To The New Norm – Remotely
Although home selling during the COVID-19 crisis has slowed down a bit, it hasn't come to a screeching halt. Professionals in the real estate industry are adjusting the way in which homes are being sold.
A listing appointment, market analysis, or preparing the home can all be done safely with sellers, while buyers consultations, preapprovals, and online home searches can also be done remotely. 
Once you get an offer on your Farmington Hills real estate property, there are many different e-signing programs that you can use to sign contracts without having to go into an office and meet with your agent.
Title companies and loan officers with banking institutions are also instituting safe methods for selling houses without having all parties huddled in an office conference room at closing. 
Buyers and sellers who are looking to start the process can still do what is required without putting themselves and others at risk.  
Partner with Top-Rated Farmington Hills REALTOR® – Tom Gilliam
Whether you are interested in Farmington Hills homes for sale or you are ready to list your current property, Tom Gilliam provides the kind of knowledge, skills, dedication, and personalized service you need and deserve. Tom will take the time to listen to your needs and concerns, keep you informed every step of the way, and will go above and beyond to ensure a smooth and successful transaction.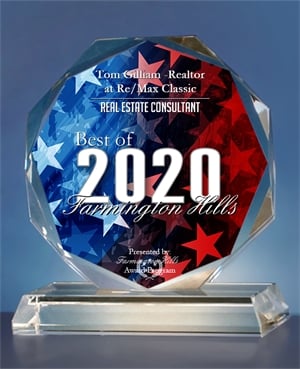 To find out more about buying or selling Farmington Hills real estate, please contact Tom today at 248-790-5594 or you can get in touch here.
Tom Gilliam, REALTOR®
RE/MAX Classic
29630 Orchard Lake Rd.
Farmington Hills 48334
Call: 248-790-5594
Office: 248-737-6800
Email: [email protected]
License #301741