Oakland County Rentals Could Be Homes
It's been a long, long debate: Should you rent or buy in Oakland County, MI? That truly is up to the individual to decide, but understandably there are many who cannot get qualified or think they cant and are throwing away money and paying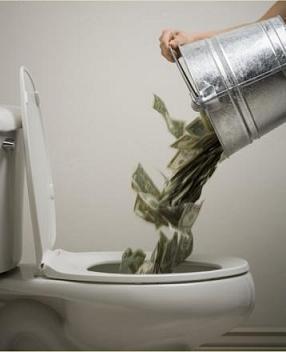 their landlords mortgage every month. I have many friends in Oakland County that spend an incredible amounts of money each month for renting their homes and apartments. For comparison reasons, the Muirwood Apartments boast a  700 Sq Ft Apartment for a whopping $1,035 a month! As a Realtor in Oakland County I cannot understand why someone would pay so much to rent a one bedroom and one bath apartment for that much. Maybe, Just maybe some of them will find this post blog and decide they have much better options out there.
To help make this decision, consider these five questions. (Spoiler Alert: If you answer "yes" to most of these, you're ready to buy a home.):
Is it expensive to rent in your community? If you've noticed rents are rising lately, you aren't alone. The Associated Press reported in the spring of 2014 that nationwide apartment rents averaged 6% annual increases from 2000 to 2012. And in some markets—such as downtown areas of major cities—rents have soared even higher. If rents in your preferred neighborhood keep rising, it might be time to buy a home, take out a mortgage loan and lock in monthly payments that won't rise each year.
Do you want to establish roots? Have you found the perfect neighborhood for you and your family? Do you plan to live there for seven years or more? If so, buying a home makes sense. Renting is a good choice if you expect to move soon. But if you don't? Buying a house gives you the chance to become part of a community—and build equity from loan payoff and rising home values.
Are you ready to start—or grow—your family? If you're ready to add children to your family or take back an elder relative, a larger home makes sense. You might also get a large backyard. Apartment living might feel too cramped for your growing family.
Are you creative? This might seem like an odd question. But remember, when you rent an apartment you are often forbidden to decorate as you might like. But if you own a home? You can paint those kitchen walls any color of the rainbow. You can turn your kids' bedroom into a jungle fort. And you can paint your fireplace mantel pink.
Do you need another income stream? If you buy the right kind of home—with a separate live-in unit—you can rent out space to generate income. This rental income might come in handy if you need to save for a child's college education or give your retirement a boost.
Buying Verses Renting A Home
When it comes to a home, you have two options: buy or rent. What is right for one person may not be right for another, which is why it's important to know which the best option for your individual situation is.
Why People Rent
There are a number of reasons why someone may either choose or be forced to rent, including sporadic or unpredictable income, a high debt-to-income ratio, a bankruptcy or foreclosure within the last six months, unpaid collection accounts or judgments, frequent relocating for employment or the inability to save enough money for a required down payment on the purchase of a home.
Maintenance Matters
As a homeowner, you will be responsible for any maintenance or repair issues that arise. This is a big consideration when choosing whether to rent or buy. When you rent, the property owner is responsible for repairs and it may not always be obvious that these issues can be very costly.
How To Know When It's Time To Buy
If you have steady income with a good employment history, can provide a down payment of at least 5-10 percent of the purchase price and are current with all debts, it may be time to consider buying a home instead of renting. In some cases, the cost of rent may even exceed that of a typical mortgage payment.
When deciding to buy, job stability is a big factor. If your job does not require frequent relocation and you plan to live in the home for at least 5-10 years, you may want to consider making the purchase. If you need to relocate after that, you may have enough equity from the sale to use as a down payment on another home.
Home Buyer's Checklist
If you can answer yes to the following questions, you may be ready for home ownership. Your REALTOR® can help you to find the perfect home based on your individual needs.
Have you been steadily employed for at least one year, but preferably two years?
Do you plan to live in the home long enough to build equity?
Can you provide a down payment and still have enough money left to pay for closing costs, utilities and home furnishings?
Are you current on all debts, including auto loans, credit cards, etc.?
In addition to any current debts that you may have, can you afford a monthly mortgage payment which will likely include property taxes and insurance?
Do you have the time to devote to shopping for a home and comparing interest rates from various lenders?
Have you checked your credit reports for inaccuracies and disputed anything that needs correction with each of the three major credit reporting agencies?
The decision to buy or rent is a very personal one that can only be determined after a careful evaluation of your situation. A REALTOR® like myself can show you the perfect home and a lender can tell you whether or not you can afford it, but it's up to you to make the choice as to whether or not you are ready to make the move.
https://www.youtube.com/watch?v=FOLDdBgy7A0&feature=youtu.be