Now that the thaw begins in Oakland County Michigan and Spring forward is just around the corner it is important to know what the Oakland County Housing market is doing and how this can affect home sellers and home buyers in all areas of Oakland County, Michigan. The Oakland County Housing market is always in a state of change not only in Oakland County but also around the country with home prices edging upward once again, but some of the west part of the country is seeing red, in this post we will focus on our Oakland County Michigan housing market.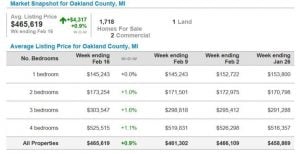 On Market Oakland County Housing
There are currently over 1,700 homes currently on the market in Oakland County Michigan ( according to the graph) with the average price rounding out to be approx. 466,000 which is a price increase of around .09% overall, which is a great sign for home sellers in the Oakland County Housing market this spring, but remember these numbers are always moving  and days on the market had increased from around 30 up to 60 and are now beginning to head downward again. As of late last year, many felt we were leaning towards more of a buyers' market but it seems we are seeing prices in the Oakland County Housing market starting to climb again these first couple of months. In most cases 2019 will be a better year for home buyers as inventory is increasing and rates are on hold for the meantime.
A Look Ahead in The Oakland County Housing Market
In the spring Oakland County Housing market, I see the market balancing, meaning that home sellers and home buyers will keep the market in the middle with the buyer pool being about the same but with more inventory to actually find the home they like and purchase and home sellers remaining in good shape as far as their equity is concerned. Last year in 2018 the housing market was hot in the beginning due to low rates and sellers gaining equity, but it was not enough to keep it going through late fall and December was a challenging month for our Oakland County Michigan Housing market. Many factors were in play such as; Low Inventory, Slow building and home buyers waiting for new homes to come on the market. I believe that we will see an increase in inventory and this includes new construction more choices and low rates. Unless there is a recession, hike in rates or some other factor to prevent pent up buyers from making the move this year, I believe our local Oakland County Housing market will thrive.
I have included in this post below my weekly housing market reports for you to sign up to in order for you to make the best home buying or home selling decision for yourself, and if I can help in anyway with any of your real estate needs here in Oakland County Michigan I would be delighted.
Click On Chart Graph Below and Add Any Zip Code