[et_pb_section fb_built="1″ _builder_version="3.0.47″][et_pb_row _builder_version="3.0.48″ background_size="initial" background_position="top_left" background_repeat="repeat"][et_pb_column type="4_4″ _builder_version="3.0.47″ parallax="off" parallax_method="on"][et_pb_text _builder_version="3.18.2″ background_size="initial" background_position="top_left" background_repeat="repeat"]
Explore New Construction Homes for Sale In Novi MI. The city of Novi is situated about 25 miles northwest of Detroit, MI, and approximately 30 miles northeast of Ann Arbor. Continuous economic growth, excellent schools, fabulous shopping & dining options, and a great central location make Novi an attractive place to put down roots and buy a home. Buyers will find an impressive selection of new construction homes in Novi MI featuring the latest options in new home design including modern open floor plans, first-story master bedrooms with en suite spa-like bathrooms, state-of-the-art kitchens, three-car garages and more.
If you are ready to begin your search for new construction homes for sale in Novi MI, you'll want to partner with a qualified local agent to represent your best interests and who can help you find the perfect home in the right community. Top Novi REALTOR® – Tom Gilliam has over 20 years of experience working with new home buyers in Novi and the surrounding area. Tom can give you an overview of all of the new home developments in the area, the types of homes and features offered, nearby schools, area amenities, and so much more. Get the process started today by calling Tom directly at (248) 790-5594 or you can get in touch with him here.
On our easy-to-use website, you'll be able to search the MLS for the most accurate and up-to-date listings for new construction homes in Novi MI. You can save your search, create a free account, and receive email alerts of new listings that match your home criteria delivered directly to your email!
BROWSE NEW CONSTRUCTION HOMES IN Novi MI 
More About New Construction Homes in Novi MI
As a licensed, professional real estate agent, Tom Gillian stays on top of the local market at all times and is the first to know when new construction homes in Novi become available, ensuring that his buyers have access to the best new homes and securing an offer. Tom can provide you with detailed, accurate information that goes well beyond what is listed on the MLS.
To ensure that you get the most value for your money, Tom will evaluate the prices of new construction homes in Novi currently on the market and comparative homes that have sold in recent months to determine whether the seller's asking price is in line with market data. Get started on finding your dream home today by calling Tom at (248) 790-5594 or you can get in touch with him here.
REASONS TO CONSIDER NEW CONSTRUCTION HOMES IN Novi MI over Resale
New Construction homes in Novi MI will typically include highly-rated features and the latest amenities on the market such as energy-efficient appliances, well-insulated windows, and other sustainable features. The latest security features have also been incorporated into many new homes such as state-of-the-art alarm systems, smart locks, and additional safety features that often come standard.
Not to mention that many of these new homes are nestled in the safety and privacy of private gated communities. You'll also want to take into account the types of amenities you want in your new community such as plenty of green spaces, walking trails, tot lots, community swimming pools, tennis courts, recreational buildings, gated-entry, 24-hour roaming security, and so on.
Living The Good Life in Novi, MI
Novi continues to be one of the fastest-growing cities in Michigan. Thriving in business and leisure activities, MONEY Magazine recently ranked Novi #23 out of all U.S. cities for the best places to live in America. The magazine highlighted "minuscule" unemployment, plenty of shopping options, and a high average income. Novi ranks among the top Oakland County communities for research, technology and service companies. 
For parents with school-age children, Novi is known for its top-rated schools. The city includes all or part of four public school districts including Northville Public Schools, Novi Community Schools, South Lyon Community Schools, and Walled Lake Consolidated School District. Private schools in Novi include Detroit Catholic Central High School and Franklin Road Christian School. Higher Education opportunities in Novi can be found at one of Walsh College's 3 campuses, The Art Institute of Michigan, and South University. The Japanese School of Detroit is a supplementary Japanese school also located in Novi.
Located in Novi is Twelve Oaks, a super-regional shopping mall with over 180 stores. Considered to be the dominant shopping destination of choice in metro Detroit, Twelve Oaks is anchored by major retailers including Lord & Taylor, Macy's, Nordstrom, and JCPenney.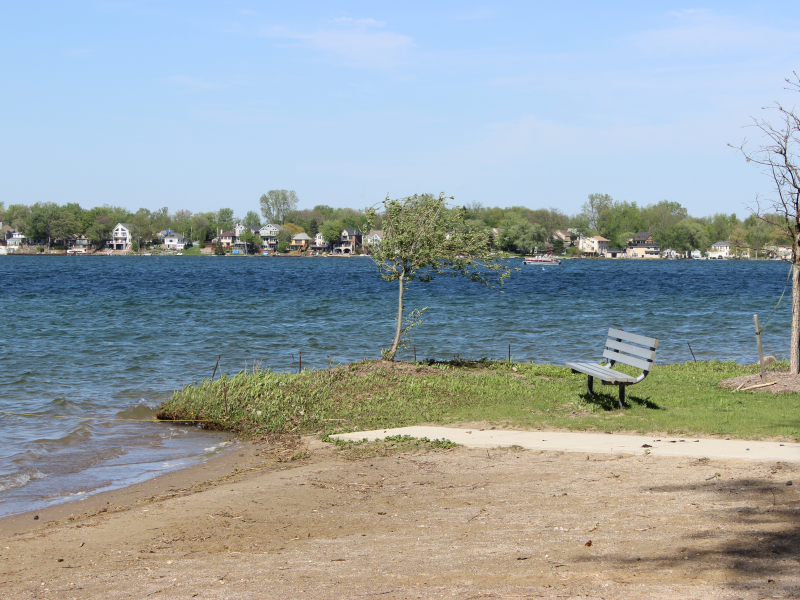 Lakeshore Beach in Novi, MI
You'll find numerous outdoor recreation opportunities in Novi with plenty of neighborhood and community parks.  The nationally accredited Parks, Recreation and Cultural Services Department maintains more than 1,200 acres of parkland throughout the community. Novi's quality parks and recreational programs invite and retain business, improve property values, provide economic impact, and attract new residents to the community.
The largest park in Novi is Lakeshore Park, which includes a swimming beach on Walled Lake (the largest lake in the City), biking and walking trails, two play structures, and picnic shelters. Golfers have several top-rated, 18-hole courses to choose from in Novi including Maples Golf Club (semi-private golf course), East/South at Links of Novi (public), South/West at Links of Novi (public), and West/East at Links of Novi (public). 
The Suburban Mobility Authority for Regional Transportation (SMART) operates local and regional bus services for Novi and the surrounding area. The closest major airport is Detroit Metropolitan Wayne County Airport, located about 27 miles from the center of Novi.
PARTNER WITH Novi New Homes REALTOR® – TOM GILLIAM
Although the real estate market is always changing, Tom Gilliam's commitment to exceptional, personalized service is something you can always count on. Tom has helped hundreds of families find and get into the perfect home for their lifestyle and needs.
When you partner with Tom, he will always take the time to listen to your needs and concerns, keep you informed every step-of-the-way, and will do whatever is necessary to facilitate a smooth and successful transaction. To find out more about new construction homes in Novi MI, please call Tom directly at (248) 790-5594 or you can get in touch with him here!
[/et_pb_text][/et_pb_column][/et_pb_row][/et_pb_section]