Mortgage Pre-qualification, Pre-approval, and Approval Process  
If you are ready to make your dream of homeownership a reality, then you have probably already heard that you should consider getting prequalified or preapproved for a mortgage. It's important to understand what each of those terms means. When you are working toward a major life goal like buying a home, you want every advantage and tool in your homebuying arsenal. 
In this article, we will discuss the mortgage prequalification, preapproval, and approval process and what to expect from all three:
Mortgage Pre-qualification 
When you pre-qualify for a home loan, you are getting an estimate of what you might be able to borrow. Many first-time homebuyers find that getting prequalified is helpful, especially when they are establishing their homebuying budget. Pre-qualification also provides the opportunity to learn about different mortgage options you may not know about and work with a lender to identify the right fit for your individual needs and goals. 
Keep in mind that you may qualify to borrow more money than you are comfortable spending on a home. But that doesn't mean you have to spend more. It's always a good idea to limit your home search to houses priced at an amount you can comfortably afford and obtain a mortgage amount that easily fits into your overall budget. 
Mortgage Pre-approval 
Pre-approval is as close as you can get to confirming your creditworthiness without having a purchase contract in place. Getting preapproved is a smart step to take when you are ready to put in an offer on a home. It shows sellers that you can secure a mortgage, which makes it more likely that you will complete your purchase of the home. Because you have had your finances and creditworthiness verified, sellers will be more likely to consider you a serious buyer.  
With a pre-approval, you will complete a mortgage application. The lender will verify the information you have provided and perform a credit check. If you are, in fact, preapproved for a home loan, you will receive a pre-approval letter, which is an offer (but not a commitment) to lend you a specific amount of money, which is good for 90 days. Lenders will look at every detail of your finances when granting pre-approval. Be prepared to answer lender questions as soon as they come up.
How Long It Takes To Get Pre-qualified or Pre-approved 
Pre-qualification and pre-approval can take different amounts of time. Pre-qualifying is a quick process and can actually be done online. You may even get results within an hour. Since you will need to supply more information for a mortgage pre-approval, it is likely to take more time. You should expect to receive a pre-approval letter within 10 business days after you have provided all of the information requested by your lender.  
Information Needed to Get Pre-qualified and Pre-approved
The information you will need to provide to get pre-qualified for a mortgage:   
Basic income information

Credit Check

Basic information about bank accounts

Downpayment amount and desired mortgage amount

No tax information required
 The information you will need to provide to get pre-approved for a mortgage:
Copies of pay stubs that show your most recent 30 days of income

Credit check

Bank account numbers/two most recent bank statements

Downpayment amount and desired mortgage amount

W-2 statements 

Signed, personal and business tax returns from the past two years
Pre-qualification Vs. Pre-approval Comparison
| | | |
| --- | --- | --- |
|   | PREQUAL  | PREAPPROVAL |
| Benefits | You can start house-hunting knowing how much you might be able to borrow | You'll be ready to make an offer with confidence—and gain a competitive advantage |
| Process | Provide basic information to a lender and quickly get a prequalification amount | After submitting documentation to a lender, you should receive a decision within 10 business days |
| Documentation | Answer questions for this process, plus a credit check | Provide proof of financial details, plus a credit check |
Factors Involved with Getting Approved for a Mortgage 
Even if you have been pre-approved for a mortgage, it isn't an automatic final approval. Pre-approval is only the first step in the loan process and your underwriting can still be denied. Being pre-approved will make sure you have a good credit score, verify your income, and assure that you will be able to pay back the loan amount. 
Once you've been pre-approved, your file must then go to the underwriter who will take a much deeper look into your financial stability.  The underwriter will review your loan scenario and supporting documentation to determine whether you qualify for the loan, with the following basic criteria in mind:
Your ability to repay the loan

– Is your income enough to cover the new mortgage payment and all your other monthly expenses? Lenders use your

debt-to-income ratio

(DTI) and most lenders want your debt-to-income ratio to be 36% or less.

Your likelihood to repay the loan

. Your payment history and credit score are indicators to lenders of your likelihood to make payments in the future.

The home's value –

The underwriter will look at the value of the home you are purchasing to verify that it meets or exceeds the purchase price and whether the loan-to-value ratio (LTV) fits within the loan program guidelines. With a conventional loan, most lenders require a loan-to-value ratio of no more than 80-95% (The higher your home's value and the less you owe on it, the lower your LTV).

The source and amount of funds for your down payment –

You will typically be required to pay private mortgage insurance (PMI), which increases your monthly mortgage payment if you have a down payment of less than 20%. The underwriter will review your information to estimate whether you have enough money to cover closing costs. Lenders also typically require reserves to cover your mortgage payment in case of emergencies or unforeseen events.
As you move forward, your income, debt, credit history, down payment, savings, home value, and loan program guidelines will all play a role in whether your mortgage application is approved.
Partner with Top-rated Farmington Hills MI REALTOR® -Tom Gilliam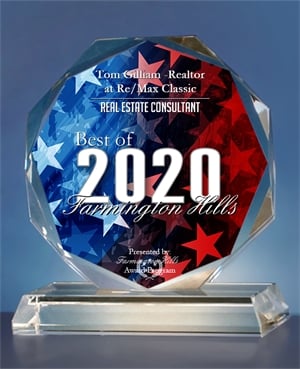 Whether you are interested in buying a home in Farmington Hills, MI, or its time to list your current property, experience matters most in a changing market. With over 20 years of local experience, Farmington Hills REALTOR® – Tom Gilliam offers in-depth local market knowledge and access to the most up-to-date listings.
Known for his professionalism and care for every detail, Tom is an expert at uncovering the perfect home for his clients' lifestyle needs in the right Farmington Hills neighborhood or community.
Search Farmington Hill MI homes for sale
For sellers, Tom will create a comprehensive marketing plan that exposes your home to the public as well as to other real estate agents through the Multiple Listing Service (MLS), other cooperative marketing networks, open houses for agents, and so on.
Your listing will appear on all the most popular real estate sites where buyers spend hours a day looking at homes such as Realtor.com, Zillow, Trulia, REMAX, Redfin, and dozens of others. Your property will also be featured on Tom's own highly-trafficked website Homes2moveyou.com. You can be assured that your home will get sold quickly and for the highest market price.  
Tom works very hard for his clients. He will protect your interests, advocate for you, and be your trusted guide and advisor throughout the home buying or selling process. If you or someone you know is interested in Farmington Hills MI real estate, please give Tom a call today at (248) 790-5594 or you can reach him here.
Tom Gilliam, REALTOR®
RE/MAX Classic
29630 Orchard Lake Rd.
Farmington Hills 48334
Direct: 248-790-5594
Office: 248-737-6800
Email: Tom @ Homes2MoveYou.com
License #314578