"location, location, location" and Novi MI
It's a maxim in real estate that the three most crucial factors in selecting a home are "location, location, location" and Novi MI is a great place to start looking for a home! It's also true! No matter how wonderful the home is, the location is key to how well you'll like living in it and how well it sells when you're ready to move on. Before you buy, carefully check the Novi MI factors to be sure the home you like is really the one you want to live in and be able to resale.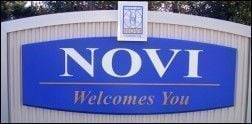 Consider destinations In Novi MI
Where will family members go most often from this new location? How easy is it to reach those places from the home? How accessible are schools, churches, grocery stores, medical care, public transportation, shopping malls and emergency services? Novi MI provides easy access to all Freeways and has many Shopping options including and not limited to Twelve Oaks Mall.
Check around the clock
Is rush hour traffic a problem in Novi MI? What will be the impact of special events such as local high-school games or church picnics? Test the driveway. How easy is it to get into and out of the driveway?
Test drive possible properties In Novi MI.
Literally. Before you buy your first home in Novi MI, drive from and to the new address from your work during morning and evening drive times. Are there alternate routes? How long does it take to get to work? Schools? Supermarket? Convenience stores? Is parking adequate on street, off street or in a garage? Will the morning or evening sun be a headache? Note your location 15 minutes and 30 minutes from your first home. Now use that distance on a map as a radius to get a sense of your circle of community. Many of us spend a lot of time in our cars. Knowing how much time can help you decide if a new home in Novi MI is right for you.
Novi, MI Facts
The city of Novi, Michigan is located in Oakland County and spans 31.28 square miles, with 1.02 square miles of the span being water covered. The city is 25 miles from both Detroit and Ann Arbor making it centrally located among employment, entertainment and educational opportunities. Novi is a sister city with Owani, Japan and is home to many notable people such as six Swedish players from the Detroit Red Wings hockey team. The city is governed by a council-manager system which includes an appointed city manager and an elected council. The city respects the rich history of the area and is home to four historic sites; Historic Township Hall, Novi Depot, Tollgate Farm, and the Colonel Samuel White Homestead.
Throughout most of its early history the area was predominantly rural farmland. A settlement or town was not officially recognized until the early 1800s. Subsequently, the township of Novi was organized and named in 1832. Construction of roads and railways helped spur growth in the early history of the township. The Grand River toll road was constructed in 1850. The Holly, Wayne&Monroe Railway, which is now known as CSX Transportation, was constructed through the area in 1870-71. The city was officially incorporated in February of 1969.
According to the United States Census of 2010, the city of Novi was home to approximately 55,224 people, giving the city a population density of about 1,825.0 people per square mile According to the United States Census of 2000 the median household income in Novi was $71,918 and the median family income was $91,369. Annually, Novi holds the largest Japanese Festival in the entire state. With this festival and the sister cityship with Owani, Japan, Novi is thriving affluent community that embraces diversity and encourages a more global outlook on life.
Novi has acres of beautiful park land and wildlife areas and maintains a warm small town atmosphere, despite its size. Ella Mae Power Park features a Civic Center and many activities connected with the Civic Center as well as hosting baseball and softball tournaments on its beautiful ball fields. Homes for sale in Novi range from starter homes and fixer-uppers up through luxury homes with sprawling yards. Apartments, duplexes and houses are available for rent and lease properties include condominiums and townhouses. Contact local real estate agents for assistance in finding your dream home in bustling and beautiful Novi, Michigan.