Latest Update On The Current Housing Market – May 21, 2020 –Since the onset of COVID-19, forecasts on the housing market run the gamut from optimistic to pessimistic as things continue to change from week-to-week.  
In the early stages of the outbreak in February of this year, the market was cruising along at a steady pace with sellers continuing to gain leverage, and buyers benefiting from lower mortgage rates. The month of February showed some early signs of coronavirus outbreak, especially in those markets that were hit early and hard. 
Days on The Market – 15 Days Longer
Now, with states just beginning to open up, days on market is a half a month longer than this time last year, according to REALTOR.com's current weekly housing trends report. This is the biggest increase in time on the market since 2013.
"Days on the market" is the number of days that a property has been listed on the local multiple listing services (MLS) until a seller has accepted an offer and signed a contract. It can also be referred to as "time on market" or "market time."
New listings were also down 28% with declines continuing nationwide. This trend is visible in local data as well as the national figures, with 69 of the largest 100 metros showing similar double-digit percent increases in time on market from one year ago.
"Mid-May is normally the time of year when homes sell the fastest," as it's in the thick of the busy spring home-buying season, says realtor.com Chief Economist Danielle Hale. 
Median listing prices are still growing at a slower pace than before the COVID-19 situation, but according to REALTOR.com, it's expected that time on market figures will improve in late summer, especially as buyers try to make up for the missed spring season.
Home Prices Still Remain Strong
Although home sales have declined due to social distancing & economic unpredictability, home prices are still strong across the nation.
According to the National Association of Realtors® the median existing-home price for all housing types in March was $280,600 – up 8.0% from March 2019 ($259,700), as prices increased in every region.
The median home price gains mark 97 straight months of year-over-year gains (nationally). In March, the unsold inventory was equal to a 3.4-month supply at the current sales pace, up from three months in February and down from the 3.8-month figure (from a year ago).
According to Realtor.com, in April 2020, the median national listing price grew by only 0.6 percent year-over-year, to $320,000. 
Of the largest 50 metros, now only 30 still saw year-over-year gains in median listing prices, down from 45 last month. Forty-seven of the 50 largest metros saw their year-over-year listing price growth decrease compared to last month.
Market Data Summary 
Week ending

May 16

Week ending May 9

Week ending May 2

First Two Weeks March

Time on Market

15 days slower YOY

13 days slower YOY

11 days slower YOY

4 days faster

YOY

New Listings 

-28% YOY

-29% YOY

-39% YOY

+5% YOY

Total Listings 

-20% YOY

-19% YOY

-19% YOY

-16% YOY

Median Listing Prices

1.5% YOY

1.4% YOY

1.6% YOY

4% YOY
Partner with Top-rated Farmington Hills and Oakland County MI REALTOR® -Tom Gilliam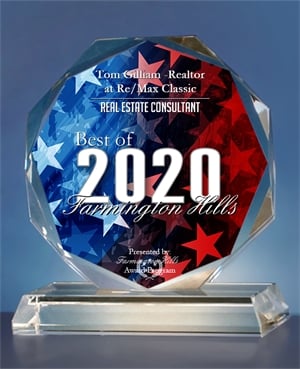 A top-rated Farmington Hill and Oakland County MI real estate agent like Tom Gilliam can show you more properties and save you thousands when you buy a home. You need an agent who knows the area, processes a vast network of local connections, and has the skills to negotiate like a pro.
From first-time homebuyers to multi-million dollar investors, Tom continually strives to provide top quality service for his clients. With access to the most up-to-date MLS listings for Oakland county MI properties, Tom is able to match your lifestyle needs with the perfect home.
If you are ready to list your current property, Tom has the experience and skills necessary to handle the sale and marketing of your home for the best possible results. Tom employs the latest technology to deliver massive exposure for your home to drive responses from buyers.
Tom also partners with the most talented home stagers to ensure that your home is thoughtfully staged to showcase its features and amenities in the best possible light.
With over 25 years of local real estate experience, Tom will always protect your interests, advocate for you, and go above and beyond your expectations to ensure a smooth and successful transaction.
If you or someone you know is interested in buying or selling Farmington Hills or Oakland County real estate, please give Tom Gilliam a call today at 248-790-5594 or you can get in touch here.
Tom Gilliam, REALTOR®
RE/MAX Classic
29630 Orchard Lake Rd.
Farmington Hills 48334
Call: 248-790-5594
Office: 248-737-6800
Email: Tom @ Homes2MoveYou.com
License #314578