A while back, Forbes noted what they called "The Four Ways the Real Estate Market Changes" after Labor Day. The article recognized a truism that holds for most parts of Michigan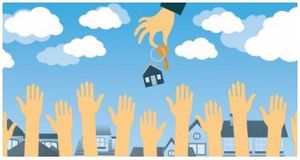 —namely, that the period between Labor Day and Thanksgiving is what most of us think of as "fall." It went on to describe four ways the change of seasons alters the house hunting landscape.
Although I may not agree entirely with their broad brush proposition that a great number of house hunters throw in the towel after Labor Day, the four market changes described are often true enough.
Farmington Hills House Hunting, Labor Day Means "Go!"
More of a buyer's market. Buyers who have held off through the prime selling seasons are more apt to find sellers who are more open to negotiation.
Action increases for vacation homes. This is prime time for Farmington Hills home shoppers whose eyes are on vacation homes. By purchasing in the fall, "you can have it bought and furnished by spring."
Price dips. House hunters find that asking prices, like the autumn leaves, fall. Forbes may have simply been unable to resist the simile, but in many cases, it's true!
Open-ended house hunting. Time pressures (like having to be moved in by the first day of school) will have vanished by Labor Day, so many Farmington Hills house hunters tend to adopt a more leisurely house hunting attitude. There may also be something about crisp autumn days (and they'll be here soon enough) that helps contribute to a more relaxed atmosphere—at least until the Holidays loom!
Every Farmington Hills house hunter has specific individual goals and expectations—and of course, the same is true for sellers, as well. But it does seem to be true that post-Labor Day Farmington Hills listings tend to include an uptick in price reductions—as well as some withdrawals that, as Forbes might have it, "will sprout anew" come springtime.
If your busy summer included activities and travel that kept you fully occupied, now may be an opportune time to inaugurate your own Farmington Hills  house hunting venture. If so, do give me a call!