[et_pb_section bb_built="1″ _builder_version="3.0.47″][et_pb_row custom_padding="0|0px|17.9219px|0px|false|false" _builder_version="3.0.48″ background_size="initial" background_position="top_left" background_repeat="repeat"][et_pb_column type="4_4″][et_pb_text _builder_version="3.18.2″]
How will the 2020 presidential election affect the housing market?
Most people will agree that 2020 will be remembered as one of the most challenging years of our lives. A coronavirus pandemic, a recession with historic unemployment, and a level of social unrest perhaps never seen before have all changed the way we currently live – and what has been coined "the new normal."
As the upcoming election approaches, we can also expect to see home sales scale back, based on expert analyses of previous election years. Research and industry experts agree that the closer the election gets, the more likely its effects on the housing market, regardless of who the candidates are. In general, presidential races breed uncertainty, which alters attitudes among residential home buyers, sellers, and investors. 
How predictable the outcome of a presidential election appears to be can also influence real estate sentiments 
"When an incumbent arises as a likely winner, cementing the continuation of familiar policies, the housing market may experience fewer jitters," says Arlene Reed, a real estate agent with Warburg Realty in New York City. When the election result evades easy forecasts, "people get a little tentative," Reed says. "There's some uncertainty how the new president's policies will affect the economy, the stock market, taxes."  
Analysis of the past 13 presidential election cycles and their effect on new home sales 
In a recent Meyers Research Group analysis, it was found that over the past 13 Presidential election cycles, the median change in new home sales activity from October to November fell 15%, whereas in the year after an election, the median change in sales was 8%.
According to the Meyers report, in non-presidential years, there is a -9.8% decrease in November compared to October. This is the normal seasonality of the market, with a slowdown in activity that's usually seen in fall and winter. 
In fact, the year after a presidential election is the best of the four-year cycle. This suggests that demand for new housing is not lost because of election uncertainty. Rather, it gets pushed out to the following year.
"This caution is temporary, and ultimately results in deferred sales, as the economy, jobs, interest rates, and consumer confidence all have far more meaningful roles in the home purchase decision than a presidential election result in the months that follow," said Ali Wolf, director of economic research for Meyers Research.
"In December [following an election], and in the following year, the sales that are lost during November are recovered. It isn't that consumers say, 'I'm nervous, and I never want to buy.' They say, 'I'm nervous. Let's just wait to see how things play out.'" says Wolf. 
The takeaway
It's a good idea to keep an eye on elections if you are in the housing market to buy or sell, but elections typically don't affect the housing market in the long run.
Partner with top-rated Farmington Hills MI REALTOR® – Tom Gilliam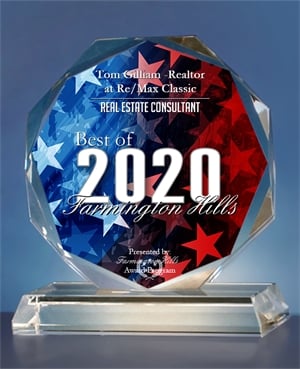 With over 20 years of real estate experience, Tom Gilliam provides the kind of knowledge, skills, dedication, and personalized service you need and deserve when buying or selling a home. As your personal agent, Tom will protect your interests,  advocate for you, and go the extra mile to ensure a smooth and successful transaction. 
Search Farmington Hill MI homes for sale
If you or someone you know is interested in buying or selling Farmington Hills MI real estate, please give Tom Gilliam a call today at (248) 790-5594. 
Tom Gilliam, REALTOR®
RE/MAX Classic 
29630 Orchard Lake Rd.
Farmington Hills 48334
Direct: 248-790-5594
Office: 248-737-6800
Email: Tom @ Homes2MoveYou.com
License #314578
Article Sources:
[/et_pb_text][/et_pb_column][/et_pb_row][/et_pb_section]