How To Get "Eyeballs"  On Your Canton Property?
If you've been thinking about selling your Canton property, or if you've been trying to sell it without success, then you'll probably want to start taking a more innovative approach to your marketing.
After all, it's not as easy to sell Canton real estate today as it was a few years ago before the markets crashed.
Here below are some ideas I practice that should help you.
Flexible Realbird

The first thing you'll want to do is use a service like Realbird.Com to build a nice "Single Property" website for your Canton property.
This will accomplish 2 main things. First, you'll have an "online base" for your property marketing efforts… a site you can link to in order to drive visitors to get more info about your property; a url you can place on the other traffic source you're about to read about below.
Second, you'll be able to take advantage of the "syndication" that a service like this offers. Once you post your property to realbird, it'll also be sent to syndication portals such as Zillow, Trulia, Yahoo, and more than 20 others.
Almost instantly, your Canton property will have the chance to be seen by millions of home buyers searching online.
Excellent! (it's really funny how many real estate professionals, still… to this day don't bother to take this quick and easy step of creating a single property page that syndicates itself all over the place online!)
Craigslist Tips
Of course you know about Craigslist as a way to advertise your Canton property. But here are some tips you can use to make sure your property stands out from the crowd of all the others that you'll be competing with on craigslist.
Make sure your headline sticks out.
Take a feature of your property and turn it into an interesting phrase. example — "PARTY TIME front Porch" or "Bling Bling Bling Blanger — Finished Basement!" you know, have fun. Otherwise your Canton property will get lost in a sea of others.
Use pictures!
Lots of people browsing Canton craigslist will just ignore your posting if you don't include at least 1 picture.
If you have a video of the Canton property be sure to include a picture of your video in the Craigslist ad.
You can't embed the video, but you can certainly link to the picture and take folks back to your single property page, where you'll have a more captive audience….
Backpage Doesn't Mean Back Seat

Similar to craigslist, Backpage is an online classified listing site.
Even though it gets less traffic than Craigslist, Backpage still has a good number of people searching the Canton real estate section, and there's a major upside to using backpage.
You can post your ad once, and pay just a few bucks for automatic re-posting! (A very convenient time-saver that Craigslist just doesn't offer!)
Do you ever see those ads on the right side of your Facebook profile?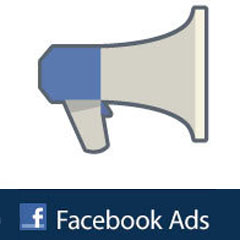 Well, they're very powerful, and anybody can set one up in just a few minutes.
Here are the major upsides to using a Facebook ad to get eyeballs on your Canton property.
■ Instant gratification — because Facebook is so universal and so many people use it, your ads will be seen by 1000's of potential buyers almost instantly!
■ Targeting — you can choose to show your ads to demographics most likely to purchase your property. For example, if your property is in an over 55 community, you can show your ad only to seniors. Or, if it's near a college. You could show the property only to college age students with an ad like "tell mom and dad to buy this and save money on dorms."
You get the point – Facebook ads are a quick, powerful way to help you with your home sale. (and one that for some strange reason, most real estate pros haven't committed to yet!)
AdSense Makes Sence

Have you ever searched for anything online using Google, Bing, or Yahoo?
Well bazillions do every day, including perhaps the next buyer for your Canton house.
Go ahead.
Go to Google.Com now and search for "homes for sale" in your Canton area.
Do you notice how the top 2 or 3 spots and all the spots on the right side are all offering property searches. These are paid ads, and your property can quickly and easily be featured here, so people searching google for a property in the Canton area can find yours!
TIP –> advertising your specific property address, instead of just some generic list of properties will certainly stick out from among all those other ads that are offering a very general Canton property search!)
And again, this one's a lot like Facebook. Super powerful, but for some weird reason so called "real estate professionals" by and large haven't committed to featuring their properties in paid search engine results yet.
Extra Extra! — Lets Talk About The Newspaper!
Ok, so maybe it's a little obvious to you that the newspaper would be a way to get eyeballs on your property.
But do you know that if you're thinking about running an ad for your Canton property in the newspaper, you are probably going to waste a lot of money doing it!
Yep, while most real estate professionals are still just posting a picture and a short description of the property in the newspaper, even very few pros are aware of this next "enhanced response" technique for getting eyeballs on your Canton property.
Instead of just posting the property address and a picture in the newspaper try this: Post the property address, the picture, and a TEXT BASED CALL TO ACTION that allows the visitor to see more pictures and/or a video of your Canton property.
This technique will allow you to get much more "bang for your buck" when it comes to your newspaper advertising.
First, your ad will stick out, because it'll offer just a little more than the other ads do.
2nd, you'll be able to showcase a lot more about your Canton property as visitors access what's on the other side of the text code.
3rd… You'll get real live contact info (a phone number) for someone who's interested in buying your Canton house!
(Don't worry — if you're not sure about the "techy stuff" behind this last idea, we can help. We actually provide all our clients with such a service.)
There are loads of other ways to get eyeballs on your property, but really what you will need is to create a unique marketing plan that will utilize strategies that are best for your property and your marketplace.
We can help!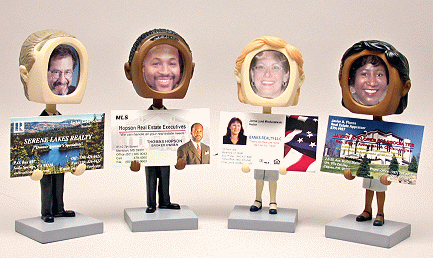 BONUS — The "Bobble Head Business Card Holder" Approach
See these "Bobbleheads Well they're doing it all wrong!
If you decide you want our help marketing your property, we'll get Bobbleheads like these sitting on counters of businesses all around town.
Except… Instead of giving out our business cards, we'll give out cards that Showcase Your Property!
ok, "Bobblehead Business Card Holders"… sure that's a little "out there…"
But if you're going to sell your property in such a tough marketplace,you're going to want the help of someone who thinks a bit "outside of the box!" 🙂
_