Homestaging to get you home in showing order doesn't have to be expensive or difficult, homestaging is a matter of stepping back and getting the big picture. Being the home owner there is noone that knows your home better than you which is why your the expert in homestaging it for a quick sale. Try to picture the home as you first saw it yourself and highlight the things that made you love the home. One of the most frequently ask questions from my sellers is "should I leave furniture for showings" my response is yes, but not too much as it will make the home look smaller. The key is to make your home looked lived in but not cluttered. Homestaging can give the perspective buyer a feel for how their furniture and decor will go with your home that you are selling. Below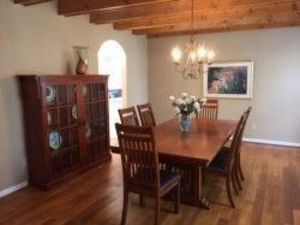 are some helpful tips for homestaging and suggestions so that you don't have to over spend to get your home ready for home buyers, I hope this helps.
Tips For Homestaging
Homestaging requires De-cluttering, reorganizing and returning rooms to their showcase role can help sell a home. But what if you've already moved out? And, renting or buying brand new furniture and accessories would break the budget? Remember, leaving behind some homey, welcoming pieces in an otherwise empty home can mean the difference between sold and stagnation. Or, ask friends or neighbors to lend furniture pieces or accessories. Then put these homestaging tips to work:
Set up a small end table and chair, a small bistro set, and a comfy chair draped with a throw to provide potential buyers the homey feel they're looking for.
Small tables create great focal points when topped with a book, vase or small knick knack.
Keep a painting, picture or mirror hanging on select walls for interest.
A vase of silk flowers in the kitchen, an artful display on the mantel or birch logs in the fireplace and/or a small table at the entry way brighten up a home.
An area rug or throw rug can add warmth and dimension to a room.
Use an old table—covered with a long tablecloth—as a dining table set with some dishes.
An artful umbrella propped in an entryway corner, a clean welcome mat or a small wreath on the door can also create a great first impression.
Suggest office space or sitting area in a large corner of a bedroom, living room, or basement with a small desk and lamp.