Home Team-When it's time to buy a home, you'll find it takes a team of professionals working together on your behalf. With so many people involved in such a large purchase, it pays to know who is responsible for each facet of the home-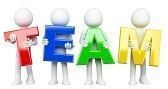 buying process.
The first professionals, of course, are real estate professionals—like us—who help you begin and close the home-search process. Our local expertise and market knowledge help you make an informed decision when you are searching for the perfect home.
Remember, a seller's listing agent is committed to the seller's interests only, working to get the highest possible price for the property. A buyer's agent is legally committed to the buyer's best interests and helps buyers search for homes, advises them during negotiations, works to get the lowest price and best contract on the homes their clients want and keeps the process on track to closing/settlement.
Next, is a mortgage lender who helps determine how much home you can buy. Working with the right lender (ask us for names) early in the home-buying process ensures you look only at homes you can afford. And, when you get pre-approved for a mortgage, your purchase offer will carry more weight with home sellers. Your lender will also help you find a loan that fits your financial situation.
But it takes more than just two professionals to make your home purchase run smoothly. The cast of service providers who will help you through the process is lengthy. Here's a peek at the people you'll meet on your journey from shopping to settlement.
Scoring Your Credit
Credit-reporting agencies such as Equifax, Experian and TransUnion research your credit and collect these facts in a credit report that's been ordered by your lender. Their records include documentation from databases that store credit information, payment history, public records (such as judgments and bankruptcies), employers, banks and previous landlords.
Inspectors
It's prudent to have a home inspected for problems that may not be evident at first glance—or even known by the seller. A professional home inspector will report on a home's condition, helping you determine if it's the home for you. To protect both the lender and buyer, other inspectors may be called in to search for specific issues caused by pests, mold, radon and other possible concerns.
Contractor
If the home inspector finds major damage or significant problems, you or the seller (depending on your contract) may need to have someone come in and make repairs.
Title Company
The homebuyer purchases a title insurance policy from the title company to protect the lender's interests, and another policy to protect the homeowner, in case hidden tax liens or other title problems arise later. This policy also insures that the title to your home is free and clear and that you will actually own the property.
Appraiser
The appraiser, who works for the lender, determines the property's true market value. If the appraisal comes in lower than the agreed-upon sales price, the buyer can make up the difference with a higher down payment, the seller can drop the sales price or the contract may be declared void, depending on how it is written.
Insurance
Private mortgage insurance (PMI) companies insure mortgages that exceed 80% of the value of a property. This policy protects the lender in case the buyer defaults on the loan. A separate policy from a homeowners/hazard insurance company protects the homeowner and lender against home damage from fire, storms and other natural disasters, and would pay off the debt to the lender if a catastrophe occurred.
Closing/Settlement
The closing agent could be an attorney, or an escrow or title-company agent, acting as an impartial third party to the transaction and ensuring the process is completed properly and lawfully. You are free to call an attorney in to the transaction, but some areas of the country require the presence of legal counsel.
Homework
Whether you're buying your first house or your umpteenth, contact us first. I can answer your questions about the entire home-purchase process…and help you pull together the best home team for you.