Around the country especially in Oakland County and cities such as Novi, Northville, Farmington Hills and West Bloomfield home inventories is the lowest we have seen in quite some time. The signs of home buyer's frustrations are clear, but with consumer confidence is at the highest level in over a decade and with interest rates still under 4%, new programs available for down payments as low as 3%, and you have an attractive market for buyers. Buyers demand for housing remains twice as high as this time last year, so what's really going on with home inventories?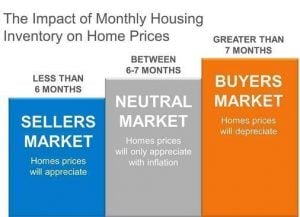 NAR's Chief Economist, Lawrence Yun states about Low Home Inventories
"Insufficient supply appears to be hampering prospective buyers in several areas of the country and is hiking prices. Stronger price growth is a boon for homeowners looking to build additional equity, but it continues to be an obstacle for current buyers looking to close before (interest) rates rise."
Many economic scholars have their opinions and facts about the low home inventories were facing on the market today, but as a Realtor out there every day in my local Oakland County area, I hear other reasons why home sellers don't want to list and can speculate why home inventories are low. When speaking with potential home sellers it seems as if they have one major thing in common and that is fear, not only not being able to find a home due to low home inventories but the uncertainty in the housing market and the shock still in their minds of the past collapse of the housing market that hit Oakland County pretty hard.
Spring 2015 is well underway and inventories of homes in Novi, Northville, Farmington Hills and West Bloomfield are well below the average inventory levels we have seen in a while, but this is and can be an asset to home sellers if we as Realtors can convince them that now is the best time to put their home on the market to get the best price possible. As professional Realtors we have sort of a counseling role to play as well when speaking to potential home sellers, explaining the low home inventories and how this can benefit them at this time. It's not only about selling our services or ourselves to get a listing, its also about listening to their fears and concerns. We have many tools that available such as graphs, statistics and data to throw at a home seller, but good old fashion listening and being able to communicate with them in a way they can understand is key to addressing their concerns.
The Bottom Line
If you are debating putting your home on the market in Oakland County this year with very low home inventories , now may be the time. The amount of buyers ready and willing to make a purchase is at the highest level in years. Contact me to get the process started.
[button shape="square" size="mini" float="none" href="http://homes2moveyou.com/comparative-market-analysis/" info="none" info_place="top" info_trigger="hover"]Get your Free Home Value Report Today[/button]