[et_pb_section bb_built="1″ _builder_version="3.0.47″][et_pb_row _builder_version="3.0.48″ background_size="initial" background_position="top_left" background_repeat="repeat"][et_pb_column type="4_4″][et_pb_text _builder_version="3.18.2″]
Home Appraisal Tips For Farmington Hills MI Homebuyers
You've been shopping for a home in Farmington Hills MI for weeks and you finally uncover the ideal home for your family in a great neighborhood. You put in a good offer and it gets accepted. If you are planning on taking out a mortgage, it now has to undergo a comprehensive appraisal of its worth. 
Although this may sound harsh, your dream-home-to-be isn't a "home" to your lender. It's a house and collateral, and if for some reason you are unable to make your mortgage payments, your lender can foreclose on your home and sell it to recoup all or some of its costs. 
Your mortgage lender will have to know the value of your home before handing over that large chunk of change. After you sign a home purchase agreement (the contract between you and the seller about the terms of the pending sale), and before your lender approves your loan, the home you are planning to buy must pass an appraisal by an unbiased third party – the appraiser.  
The home appraiser's job 
An appraiser is a state-licensed or certified professional. Their job is to assess an opinion of value or how much a house is worth. The appraiser is a neutral party who doesn't represent the buyer or the seller, a contractor chosen by your lender through an appraisal management company (AMC).
They work for lenders and help them decide if the home is a sound investment and worthy of the loan you're asking for. Unlike a home inspector, who looks for defects that could cost the buyer money down the road, an appraiser looks at home components that contribute to the home's value.
The appraiser will survey the house in person using specific criteria such as location, age, condition, square footage, additions/renovations, and recent sales of comparable homes. Home appraisals aren't public records, but appraisers use public property records and other public documents to support their appraisals.
Some sellers have their Farmington Hills MI homes appraised before listing them on the market to help arrive at a fair asking price.
Who pays for the home appraisal?
Generally, it's the buyer's responsibility to pay for the home appraisal, a fee that's typically included in your closing costs. While the cost of a home appraisal varies by the size and location of the home (among other factors), you can expect to pay around $300 to $400, according to recent estimates. Appraisers protect the bank and buyers from a potentially bad deal, so they're worth every penny. 
The appraisal report
Once the appraisal is finished, the appraiser issues a written report with their opinion of the value of the home, and both the buyer and the lender will receive a copy of the report. If the home's appraised value ends up higher than what you're paying, generally the deal will move forward. 
However, if the appraisal is lower than your offer on the Farmington Hills MI home, your lender won't give you a loan for more than the appraised value. If you and the seller agreed on $300,000, for example, but the appraisal value comes in at $290,000, there is a $10,000 shortfall. 
Options if faced with a low appraisal
If you are faced with a low appraisal, all is not lost. Negotiations aside, if the appraisal price seems much lower than the contract price, your agent can ask the appraiser to reevaluate their report. Appraisers can sometimes make mistakes in the basic data.
For instance, the number of bedrooms or baths. Or maybe, they need context for the comps, such as if a recent sale for a lower-than-typical price was between family members — or if a more-recent sale is available that changes the perspective.
If your offer included an appraisal contingency, you can renegotiate the price with the seller by persuading them to lower the sales price or split the difference between the home's appraised value and the offer. If the seller is unwilling to negotiate, you can choose to walk away from the deal and keep your deposit.
Or you could decide to pay the additional $10,000 out of pocket so your home loan goes through. In either case, you have options. 
Talk with your Farmington Hills MI REALTOR® about their experience with the appraisal process, how they would recommend handling any shortfall — and how willing you should be to walk away from a deal that's not right for you.
Partner with Top-rated Farmington Hills MI REALTOR® – Tom Gilliam
Whether you are interested in buying a home in Farmington Hills, MI, or it's time to list your current property, experience matters most in a changing market. Top-rated Farmington Hills REALTOR® – Tom Gilliam offers over 20 years of local experience, in-depth market knowledge, and access to the most up-to-date listings for Farmington Hill MI homes for sale.
Known for his professionalism and care for every detail, Tom is an expert at uncovering the perfect home for his clients' lifestyle needs in the right neighborhood or community.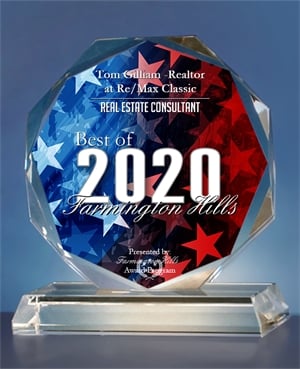 If you are ready to sell your home, Tom will create a comprehensive marketing plan that exposes your home to the public as well as to other real estate agents through the Multiple Listing Service (MLS), other cooperative marketing networks, open houses for agents, etc.
Your listing will appear on all the most popular real estate sites where buyers spend hours a day looking at homes such as Realtor.com, Zillow, Trulia, REMAX, Redfin, and dozens of others. 
Your property will also be featured on Tom's own highly-trafficked website Homes2moveyou.com. You can be assured that your home will get sold quickly and for the highest market price.
Search Farmington Hill MI Homes for Sale
Tom works very hard for his clients and will be there to protect your interests, advocate for you, negotiate on your behalf, and do whatever it takes to ensure the best possible results. If you or someone you know is interested in buying or selling Farmington Hills MI real estate, please give top-rated Farmington Hills MI REALTOR® – Tom Gilliam a call today at (248) 790-5594 or you can reach him here.
Tom Gilliam, REALTOR®
RE/MAX Classic
29630 Orchard Lake Rd.
Farmington Hills 48334
Direct: 248-790-5594
Office: 248-737-6800
Email: Tom @ Homes2MoveYou.com
License #314578 
[/et_pb_text][/et_pb_column][/et_pb_row][/et_pb_section]