It's that time of year again in Greater Oakland County Michigan when winter approaches, so there's no better time then now to give your home an energy check up. Energy costs have shot up, and you may be paying a lot more than necessary to be comfortable in your home throughout the year. Most homeowners in Greater Oakland County have a number of easy, inexpensive options for reducing energy consumption and energy bills. The older your home, the more likely it is you can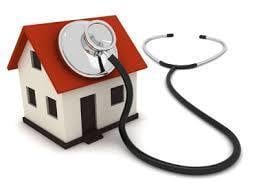 dramatically cut your utility costs, improve your comfort level and be environmentally responsible in the bargain. As we can clearly remember Winter 2013 in the Greater Oakland County area was the toughest in years and it really took a toll on may homeowners and their tight budgets.
Here's where to look for opportunities to save as much as $500 a year on energy expenses:
Heating And Cooling Systems
How old are your systems? If brand-new, you're likely to have super high-efficiency units. If less than five years old, they're likely to be high efficiency and certainly worth keeping. Older systems may or may not be costing you more money than necessary. If yours are 20 years old or more, replacing them could keep you more comfortable and cut your utility costs by a third or better. You may want to look at solar heating (free energy!) as part of a heating system upgrade. Though the initial investment in any new system may seem steep, consider that dramatically lower bills will recoup your cost in just a few years. After that, it's pure savings.
Make sure your heating and cooling systems get a tune-up every year. For under $100, a professional cleaning and maintenance check annually should more than pay for itself.Do you change your systems' air filter monthly? Doing so costs little, but improves system efficiency, thereby saving money.
Do you have an electronic thermostat? If not, install one and program it to use less energy (higher temperature in summer, lower in winter) while you're away from home during the day, and at night while you sleep.
Before going on vacation or a business trip, turn the thermostat down to 55°F in winter, or up to 80°F in summer. That's comfortable enough to keep indoor plants alive, and to keep pipes from freezing during cold weather.
Hot Water
How old is your water heater? Is it a high-efficiency unit? If your heater has given you 10 or more years of service, you would probably save money by replacing it.
What temperature is your water heater set to maintain? Most factory settings are at 140°F, usually higher than necessary for a ready supply of hot water. Experiment with turning the temperature down and see if you even notice a difference. Start with 130°. If you find that adequate, drop it to 120°.
Don't forget to turn the water heater way down (preferably off) when you're away from your home on business trips or vacation. Why pay for hot water nobody is going to use?
Does your water heater have an insulating blanket? Are exposed hot water pipes wrapped in insulation? Keep them wrapped and you'll spend less.
Have you installed low-flow shower heads? Again, the cost of the fixtures will be repaid with annual savings, not only in reduced energy to heat the water, but also in lower water bills.
Air In/Air Out
Do your outside walls and attic have insulation in them? To check the walls, remove a cover plate from an electrical outlet on an outside wall. If you can't find any insulation, make the investment to minimize the amount of expensive "conditioned" air that escapes your home. Also consider adding attic insulation if you have 3″ or less. Go up to 12″.
Do some of your air ducts run through your attic or basement? Make sure they're wrapped in insulation.
Does your home have more than one return register per floor? It probably should. No matter how many you have, make sure they are not blocked by furniture or curtains.
Do you use your old fireplace? Though charming, fireplaces are certainly not energy efficient in today's homes. Consider replacing it with an airtight woodstove or fireplace insert that sends heat back into your home.
If you must use your old fireplace, make sure it has a flue that closes tightly and keep it closed when you are not using the fireplace.
Does your home have new, energy-efficient windows, doors and storm doors? If not, consider investing in replacements with low-E or thermal-paned glass.
Do windows and doors have properly installed weather-stripping and caulking in good repair? If not, it's an inexpensive fix that takes a little bit of time but pays high rewards in savings.
Appliances
Is your refrigerator less than 2 years old and energy-efficient model? Consider replacing refrigerators over 10 years old. At the very least, replace gaskets if they no longer fit tightly.
Does your dishwasher have an energy-saving feature? Be sure to use it!
Lighting
Consider replacing often-used incandescent light fixtures with fluorescent fixtures.
Replace incandescent light bulbs with compact fluorescent light bulbs.
Use lower-wattage bulbs throughout the house.
Replace outdoor security lights that stay on all night with motion-sensitive fixtures.