[et_pb_section bb_built="1″][et_pb_row][et_pb_column type="4_4″][et_pb_text _builder_version="3.18.2″]
Good News for The Economy on The Home Buying Front – May 27, 2020: Demand for housing was strong at the start of 2020 but pulled back sharply at the onset of the coronavirus pandemic. The unexpectedly quick recovery, however, has surprised many forecasters. Home prices have remained the same, and given the lack of supply, they are not likely to fall in any significant way. 
States are beginning to reopen and buyers are rushing into the new home market, as the supply of existing homes keeps falling to new record lows. Some analysts also believe there is now an exodus from urban downtowns, where people have been forced to shelter in place in small spaces, to more suburban markets where they can get more space and even a backyard.
A Rise in Mortgage Applications
As buyers are resuming their home search, mortgage applications have seen a rise for the sixth straight week. New data from the MBA's Weekly Mortgage Applications Survey shows mortgage applications ticking up 2.7 percent for the week ending May 22 compared to the previous week.  
Buyers were also helped by near-record-low mortgage rates. The average contract interest rate for 30-year fixed-rate mortgages with conforming loan balances of $510,400 or less increased to 3.42% from 3.41%. Points, including the origination fee, remained unchanged at 0.33 for loans with a 20% down payment.
"The purchase loan amount has increased steadily in recent weeks and is now at its highest level since mid-March," said Joel Kan, MBA's Associate Vice President of Economic and Industry Forecasting.
The gain mirrors an unexpectedly strong sales pace just reported for new construction homes in April – forecasted to fall 22% but instead rose nearly 1% for the month, according to the U.S. Census.  
Mortgage Refinancing Down 
Despite mortgage rates hovering near MBA's all-time survey low, refinance activity was essentially flat but still 176 percent higher than this time last year. Conventional refinance applications increased 2 percent, while government refinancing was down almost 7 percent.
FHA share of total applications decreased to 11.2 percent from 11.5 percent the week prior.  

VA share of total applications decreased to 12.4 percent from 13.4 percent the week prior.

USDA share of total applications decreased to 0.6 percent from 0.7 percent the week prior.
Adding refinances and purchase applications together, total mortgage application volume was up 2.7% for the week ending May 22.
 Mortgage Forbearance Requests Are Leveling Off
Forbearance requests by homeowners nearly leveled off in the first half of May. Given job losses and record unemployment, many servicers were fearful that requests to skip mortgage payments would hit 20% to 30%.
"Servicers were relieved when the pace of forbearance requests fell to 93,000 borrowers in the third week of May, compared with 1.4 million requests in the first week of April," according to Black Knight, a mortgage analytics firm.
"What has brought back confidence the most may be the slowing of forbearance activity just shy of 10%," said Tom Millon, CEO of Computershare Loan Services, a third-party mortgage provider that services more than $100 billion in loans globally. "Forbearance activity is mimicking the coronavirus curve, and the curve is flattening and forbearances are flattening."
One of the big challenges as the U.S. reopens the economy is consumers' lack of willingness to plunge back into public life. According to PYMNTS' ongoing survey of 10,000 consumers, many consumers will require a vaccine in order to alleviate fears of catching COVID-19 – making it difficult for the economy to recover in the months ahead.   
Partner with Top-rated Farmington Hills and Oakland County MI REALTOR® -Tom Gilliam for Unmatched Expertise in Buying and Selling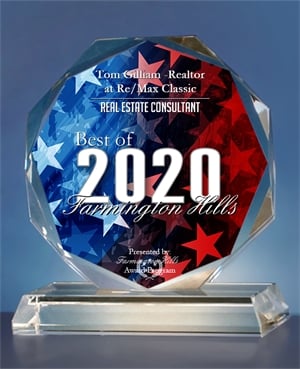 A top-rated Farmington Hills and Oakland County MI real estate agent like Tom Gilliam can show you more properties and save you thousands of dollars when buying a home. You need an agent who knows the area, processes a vast network of local connections, and has the skills to negotiate like a pro.
From first-time homebuyers to multi-million dollar investors, Tom continually strives to provide top quality service for his clients. With access to the most up-to-date MLS listings for Oakland county MI properties, Tom is able to match your lifestyle needs with the perfect home.
If you are ready to list your current property, Tom has the experience and skills necessary to handle the sale and marketing of your home for the best possible results. Tom employs the latest technology to deliver massive exposure and drive maximum response from qualified buyers.
Tom also partners with the most talented home stagers to ensure that your home is thoughtfully staged to showcase its features and amenities. With over 25 years of local real estate experience, Tom will protect your interests, advocate for you, and go above and beyond your expectations to ensure a smooth and successful transaction.
If you or someone you know is interested in buying or selling real estate in Farmington Hills or Oakland County MI, please give Tom a call today at 248-790-5594 or you can get in touch here.
Tom Gilliam, REALTOR®
RE/MAX Classic
29630 Orchard Lake Rd.
Farmington Hills 48334
Call: 248-790-5594
Office: 248-737-6800
Email: Tom @ Homes2MoveYou.com
License #314578
[/et_pb_text][/et_pb_column][/et_pb_row][/et_pb_section]