[et_pb_section fb_built="1″ _builder_version="3.0.47″ custom_padding="21px|0px|35.8438px|0px|false|false"][et_pb_row _builder_version="3.0.48″ background_size="initial" background_position="top_left" background_repeat="repeat" custom_padding="0|0px|17.9219px|0px|false|false"][et_pb_column type="4_4″ _builder_version="3.0.47″ parallax="off" parallax_method="on"][et_pb_text _builder_version="3.18.2″]
Farmington Hills MI First-time Homebuyers: The Down Payment
As a first-time homebuyer, socking away money for a down payment to purchase a home in Farmington Hills MI may seem like an overwhelming task. The down payment is the upfront cash you pay to qualify for a home loan, which is expressed as a percentage of the home price. 
Many potential homeowners think that 20% down is the only option when it comes to getting a mortgage, but, that is just a common misconception, as there are many options out there.  
Lenders often look at the down payment amount as your investment in the home. Not only will it affect how much you will need to borrow, but it can influence whether your lender will require you to pay for private mortgage insurance (PMI).
Mortgage insurance protects the lender in case the borrower defaults on the home loan, and typically, you will need PMI if you put down less than 20% of the home's purchase price. 
Different loans require different down payment percentages
Down payment requirements can also vary by lender and your credit history. The minimum down payment for an FHA loan is just 3.5% with a credit score of 580 or higher, for example, but the minimum is 10% with a credit score of 500 to 579.
State and local down payment assistance
Exploring local and national first-time homebuyer assistance programs is an important step in the journey to homeownership. Down payment assistance is often combined with favorable mortgage interest rates or tax breaks.
Many state housing authorities combine closing cost and down payment assistance programs with mortgages that have favorable interest rates. Some states even offer tax credits you can use on your federal tax return.
These first-time homebuyer assistance programs can boost your chance of homeownership in particular geographic areas, or help borrowers in certain professions, such as educators, first responders, or active-duty military and veterans. 
It's important to note that programs will usually set a maximum sale price and some have income limits, so not all home buyers will qualify. Still, it's worth checking out programs in your state.
Down payment gifts from family members
It's not uncommon for first-time homebuyers to get help from family members. Using a gift to supplement savings can help first-time homebuyers clear the down payment threshold.
According to a 2019 Generational Trends report from the National Association of Realtors, of all homebuyers ages 28 and younger, 28% used a gift from a relative or friend to make a down payment. And of all buyers ages 29 to 38, 21% used a gift.
Down payment gifts are acceptable to lenders, but applying a gift toward a down payment involves more than depositing a check. The donors will have to verify in writing that they made the gift and have the financial ability to make such a donation.
They will be required to provide bank statements as proof, along with a letter confirming that the donation is a gift and not a loan. 
If the gift funds are added to the buyer's bank account after settlement, then documentation will still be required before it can be applied to the purchase. Typically, this will require a receipt of the cashier's check as given to the closing agent.
Partner with top-rated Farmington Hills MI REALTOR® -Tom Gilliam
Whether you are interested in buying a home in Farmington Hills, MI, or its time to list your current property, experience matters most in a changing market.
Offering over 20 years of local experience, top-rated Farmington Hills REALTOR® – Tom Gilliam offers in-depth local market knowledge and access to the most up-to-date listings. Tom is known for his professionalism and is an expert at uncovering the perfect home for his clients' lifestyle needs in the right Farmington Hills neighborhood or community.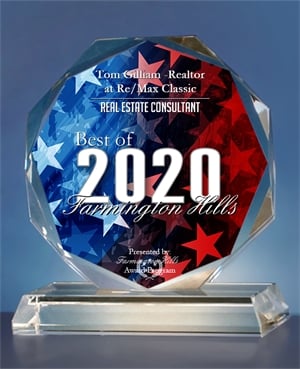 For sellers, Tom will create a comprehensive marketing plan that exposes your home to the public as well as to other real estate agents through the Multiple Listing Service (MLS), other cooperative marketing networks, open houses for agents, and so on.
Your listing will appear on all the most popular real estate sites where buyers spend hours a day looking at homes such as Realtor.com, Zillow, Trulia, REMAX, Redfin, and dozens of others.
Your property will also be featured on Tom's own highly-trafficked website Homes2moveyou.com. You can be assured that your home will get sold quickly and for the highest market price.  
Farmington Hill MI Homes for Sale
Tom works very hard for his clients. As your agent, he will protect your interests, negotiate on your behalf, advocate for you, and be your trusted guide and advisor throughout the home buying or selling process.
If you or someone you know is interested in Farmington Hills MI real estate, please give Tom Gilliam a call today at (248) 790-5594 or you can reach him here.
Tom Gilliam, REALTOR®
RE/MAX Classic
29630 Orchard Lake Rd.
Farmington Hills 48334
Direct: 248-790-5594
Office: 248-737-6800
Email: Tom @ Homes2MoveYou.com
License #314578
[/et_pb_text][/et_pb_column][/et_pb_row][/et_pb_section]