[et_pb_section bb_built="1″][et_pb_row][et_pb_column type="4_4″][et_pb_text _builder_version="3.18.2″]
Fannie Mae & Freddie Mac are extending help to millions of homeowners facing financial hardships as a result of COVID-19. 
Both Fannie Mae and Freddie Mac help stabilize mortgage markets and protect housing during extraordinary periods when stress or turmoil in the broader financial system threaten the economy such as the current COVID-19 pandemic.
Nearly half of the nation's mortgages are owned or backed by Fannie Mae or Freddie Mac.
The swift wave of unemployment and financial hardships from furloughs, reduced wages, and commission cuts have left many homeowners worried about how they will make their mortgage payments in the coming months, but relief options are available.
If you are unable to make your mortgage payment, it's important to call your lender as soon as possible. That said, reaching your lender can take some time because financial institutions are being bombarded with so many calls.
The Consumer Financial Protection Bureau provided guidance on what to do if you can't pay your mortgage and what options are available as part of the Cares Act signed in law on March 27.
The CARES Act puts in place two protections for homeowners with federally backed mortgages:
A foreclosure moratorium
A right to forbearance for homeowners who are experiencing financial hardship due to the COVID-19 emergency
Both Fannie Mae & Freddie Mac are offering help to homeowners to get through this crisis without losing their homes. If you don't have a federally backed mortgage, you still may have relief options through your mortgage servicer or from your state. 
To look up whether or not your mortgage is owned or backed by Fannie Mae or Freddie Mac, you can click these links:
Fannie Mae  
Fannie Mae said it will suspend foreclosure sales and evictions of borrowers for 60 days, according to the company statement. In addition, homeowners are eligible for a forbearance plan to reduce or suspend their mortgage payments for up to 12 months.
If Fannie Mae owns your mortgage loan, their Disaster Response Network™ (DRN) can help you navigate the mortgage relief process and address other financial challenges.
You can visit KnowYourOptions.com to learn about available mortgage assistance and relief options from Fannie Mae.
Freddie Mac
Freddie Mac is also taking action to help make sure homeowners with Freddie Mac-owned mortgages who are directly or indirectly impacted by COVID–19 are able to stay in their homes during this challenging time.
Freddie Mac is offering options like mortgage forbearance for up to 12 months, waiving of assessments of penalties and late fees, halting foreclosure actions and evictions of borrowers living in Freddie Mac-owned homes until at least May 17, 2020, and loan modification options that lower payments or keep payments the same after the forbearance period. 
You can learn more about Freddie Mac's mortgage relief options to help homeowners by visiting My Home by Freddie Mac®.  
Borrowers who may be experiencing financial challenges due to COVID-19 are strongly encouraged to contact their mortgage servicer (the company listed on your monthly statement) so they can explore Fannie Mae and Freddie Mac's workout options.
To be eligible for protections under the CARES Act, your mortgage must be federally owned or otherwise backed by one of the federal agencies and entities listed below:
Additional Mortgage Relief Options
Many states are implementing or considering various mortgage relief options, including the suspension of foreclosures, as well as additional assistance for homeowners. Check your state's government website for details.
Farmington Hills MI REALTOR® – Tom Gilliam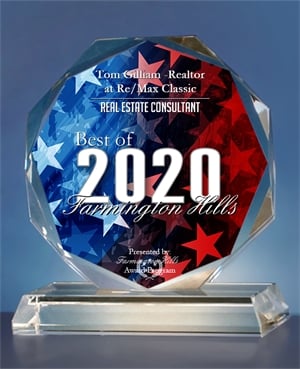 Whether you are interested in Farmington Hills homes for sale or you are ready to list your current property, Tom Gilliam provides the kind of knowledge, skills, dedication, and personalized service you need and deserve.
Tom will take the time to listen to your needs and concerns, keep you informed every step of the way, and will go above and beyond to ensure a smooth and successful transaction.
To find out more about buying or selling Farmington Hills MI real estate, please contact Tom today at 248-790-5594 or you can get in touch here.
Tom Gilliam, REALTOR®
RE/MAX Classic
29630 Orchard Lake Rd.
Farmington Hills 48334
Call: 248-790-5594
Office: 248-737-6800
Email: Tom @ Homes2MoveYou.com
License #301741
[/et_pb_text][/et_pb_column][/et_pb_row][/et_pb_section]