[et_pb_section fb_built="1″ _builder_version="3.0.47″ custom_padding="5px|0px|5px|0px|true|false"][et_pb_row custom_padding="0|0px|17.9219px|0px|false|false" _builder_version="3.0.48″ background_size="initial" background_position="top_left" background_repeat="repeat"][et_pb_column type="4_4″ _builder_version="3.0.47″ parallax="off" parallax_method="on"][et_pb_text _builder_version="3.18.2″]
Factors That Influence Your Farmington Hills MI Home Value – When selling your Farmington Hills MI home, setting the right list price requires both assessing nationwide housing market trends and knowing what's going on in your local market.
The truth is that no matter how highly you value your own home, there's no guarantee that it's actually worth as much as you may want to get for it.
That is why you want the assistance of a qualified Farmington Hills MI real estate agent who not only keeps their finger on the pulse of the market at all times but is actively selling homes in your local area.
Get A Free Comparative Market Analysis of Your Home
An experienced and skilled agent like top Farmington Hills MI REALTOR® – Tom Gilliam understands how to gather and evaluate all of the hard data that's key to getting your home sold fast and for the highest market price.  
Here are three important macro factors that influence the value of your Farmington Hills MI home:
1). Inventory, or months of supply
Inventory, or months of supply, is the calculation of how long it would take for currently listed homes to sell out. For example, 100 homes sell every month and there are 600 homes on the market, which equals a six-month supply of inventory.
In most markets, a six-month supply is considered a balanced market, meaning that there is an equal ratio of buyers to homes for sale. Markets with a below six-month supply are considered low inventory, meaning there are more buyers than available homes, making for seller's market conditions.
Above a six-month supply and you've got buyer's market conditions, where there are more homes listed than there are buyers house hunting. So what does inventory or monthly supply have to do with home values? It's simple.
High demand and low supply push prices up. Low demand and high supply puts downward pressure on prices, and vice-versa in a seller's market when homes are in tight supply.  
Even if your home is in excellent condition, situated in the best location, and filled with premium upgrades, the number of other properties for sale in your area, and the number of buyers in the market can impact your home value.  
Home buyer's in a buyer's market will likely have more wiggle room to negotiate on the home's price, timeline, and contract contingencies.  Sellers in a buyer's market may have to adjust the price to attract more offers or be willing to make concessions to a buyer, like covering repairs, paying closing costs, or being more flexible with the timeline. 
2). Interest rates 
It might appear on the surface that interest rates would matter more to home buyers, but interest rates can also impact sellers when it comes to home values. If interest rates increase, fewer people may be able to afford homes, and this can impact how much you can sell your home for. 
The easiest way to understand this is through the basic principle of supply and demand. A lower interest rate allows more of the buyer's monthly payment to go toward the principal, which means they can afford to buy a higher value home. A higher rate means a higher mortgage payment, which reduces the purchase price they can afford. 
For example, a buyer can afford a $500,000 home at a 4% interest rate. If they can only get a 5% mortgage rate, that's an extra $50,000 going toward interest instead. That means that the buyer can only actually afford a $450,000 home at that 5% rate.
A 1% rate increase will up the cost of the house by 10%. The higher interest rates rise, the fewer buyers there are who can afford to buy a house. If buyers drop out of the market, inventory levels rise and home values fall.
3). Market cycles and consumer behavior

 
Staying on top of current market trends can help in predicting the future of home values. The Federal Housing Finance Agency tracks these trends among single-family house prices with the House Price Index. And while home values historically trend upward, they're known to fluctuate or fall in the short term.
When home prices start to fall, many buyers will wait out the market and watch the downward trend. When home buyers wait out the market there are fewer active buyers, which leads to higher inventory and lower home values.
That is why you want to partner with a reputable Farmington Hills MI REALTOR® and local expert who really understands the trends in your area. Recent trends within the last four to five months can greatly impact your home's value. What goes down, must come up when it comes to real estate. And if your home value has recently decreased, analyzing home value trends can indicate how long it could take for it to rise again.
The takeaway
It's easier to avoid common home-selling mistakes and price your home correctly from the get-go by being aware of the factors that impact your home's value such as interest rates, supply and demand, and market cycles. Consider these important macro factors when pricing your home to help attract serious buyers and prevent your home from lingering on the market and becoming a stale listing, which ultimately comes at a cost.  
Partner with top-rated Farmington Hills MI REALTOR® – Tom Gilliam
Whether you are interested in buying a home in Farmington Hills, MI, or its time to list your current property, experience matters most in a changing market. Top-rated Farmington Hills REALTOR® – Tom Gilliam offers over 20 years of local experience, in-depth market knowledge, and access to the most up-to-date listings for Farmington Hill MI homes for sale.
Known for his professionalism and care for every detail, Tom is an expert at uncovering the perfect home for his clients' lifestyle needs in the right neighborhood or community.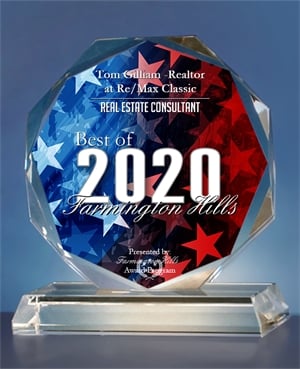 If you are ready to sell your home, Tom will create a comprehensive marketing plan that exposes your home to the public as well as to other real estate agents through the Multiple Listing Service (MLS), other cooperative marketing networks, open houses for agents, etc.
Your listing will appear on all the most popular real estate sites where buyers spend hours a day looking at homes such as Realtor.com, Zillow, Trulia, REMAX, Redfin, and dozens of others.
Your property will also be featured on Tom's own highly-trafficked website Homes2moveyou.com. You can be assured that your home will get sold quickly and for the highest market price.
Farmington Hill MI Homes for Sale
Tom works very hard for his clients. He will be there to protect your interests, advocate for you, negotiate on your behalf, and do whatever it takes to ensure a smooth and successful transaction.
If you or someone you know is interested in buying or selling Farmington Hills MI real estate, please give top-rated Farmington Hills MI REALTOR® – Tom Gilliam a call today at (248) 790-5594 or you can reach him here.
Tom Gilliam, REALTOR®
RE/MAX Classic
29630 Orchard Lake Rd.
Farmington Hills 48334
Direct: 248-790-5594
Office: 248-737-6800
Email: Tom @ Homes2MoveYou.com
License #314578
[/et_pb_text][/et_pb_column][/et_pb_row][/et_pb_section]