[et_pb_section fb_built="1″ _builder_version="3.0.47″][et_pb_row _builder_version="3.0.48″ background_size="initial" background_position="top_left" background_repeat="repeat"][et_pb_column type="4_4″ _builder_version="3.0.47″ parallax="off" parallax_method="on"][et_pb_text _builder_version="3.18.2″]
Buying a Home in Farmington Hills MI: Home Inspection Tips
Buying a home in Farmington Hills MI is a lengthy process, and will likely be one of the biggest financial decisions you make in your lifetime. Even if you find a great deal on the cost of a house, there are several other fees that will sneak in such as private mortgage insurance, closing costs, broker fees, etc. 
Hence, you might be tempted to forego the home inspection, especially since it's one more cost added to the pot. Even if your prospective home looks immaculate, you should still get an inspection because it could potentially save you thousands of dollars and aggravation down the road. 
What You See May not be What You Get
When looking at Farmington Hills MI homes for sale, what you see may not be exactly what you get. Most sellers are going to have their home looking its best for prospective buyers. You may "see" attractive pots of colorful flowers on the front porch, freshly painted walls, attractive granite countertops, gleaming hardwood floors, and other touches that catch your eye. 
What you won't see are things like cracks in the foundation, antiquated plumbing, dangerous wiring, appliances that don't work, or other hidden issues that might only get revealed by hiring a professional home inspector.  
Search Farmington Hill MI homes for Sale
A qualified Farmington Hills home inspector's job is to assess the condition of the property, including its heating and cooling systems, plumbing, electrical work, water and sewage, and some fire and safety issues. The inspector will also look for evidence of insect, water, or fire damage or any other issue that may affect the value of the property. 
When The Home Inspection is Done
Typically, a home inspection is done after a sales contract or purchase agreement between the buyer and a seller has been signed. Therefore, it's important that the contract include an inspection contingency or due diligence contingency, which allows the buyer time to find an inspector, schedule and attend the inspection, receive the inspector's report, and decide how to proceed based on the information it includes. 
It's a good idea to choose a home inspector early in the home buying process so you can schedule your inspection as soon as a seller accepts your offer. Good inspectors can be in high-demand, especially in the springtime when the majority of homes are sold. 
You should also budget for additional examinations in case the inspector finds problems or mentions issues that need further investigation, such as mold,  asbestos, or additions made without a permit. Whether the seller will give you more time to complete additional inspections is subject to negotiation. It's up to the seller to agree or not.  
Preparing A Home Inspection Checklist  
You can prepare for the home inspection by making a list of the areas of the house you want to be checked before the inspector arrives. The following items should be included on your checklist:

Foundation

Roof

Attic space

Rain gutters and downspouts

Exterior stucco or paint

Electrical panel, light switches, and power outlets

Thermostats and heating, cooling, and ventilation (HVAC) system

Plumbing fixtures, faucets, and water heater

Appliances

Walls, ceilings, and floors

Doors and windows

Stairs, steps, and railings

Walkways and driveways

Porches and balconies

Basement

Garage
A professional Farmington Hills MI home inspection will likely take at least a few hours, and it's a good idea to be present during the inspection if you can. That way you can find out as much as possible about the true condition of the home and ask the inspector about any findings that might concern you.
Additional Items To Consider
Keep in mind that since home inspectors are mainly concerned with the physical components of the property, there may be items about the home that are left out of the inspection, such as trees and landscaping, lawn sprinklers, sewer line, fireplace and chimney, swimming pool equipment, floors covered by carpeting, drainage, mice, rats, or other rodents, and wood pests such as termites or carpenter ants.
Inspectors typically won't estimate repair costs, the remaining life of appliances, or other systems for you. If you are concerned about particular items, you may need to get your own repair and replacement bids from local contractors.   
Home Inspection Assessment
Depending on the inspection report, you may decide to proceed with the sale, schedule additional inspections, renegotiate the sale price with the seller (if there are serious issues), ask that certain repairs be made, or cancel the contract altogether. If you request major repairs, you may also ask for a re-inspection with the original inspector to verify that the original issue(s) has been resolved. 
Takeaway
Since the Farmington Hills home you buy will probably be one of the biggest, most valuable purchases you will ever make, a professional home inspection will help ensure that you're making the right home purchase decision and a sound investment. 
Partner with Top-rated Farmington Hills MI REALTOR® -Tom Gilliam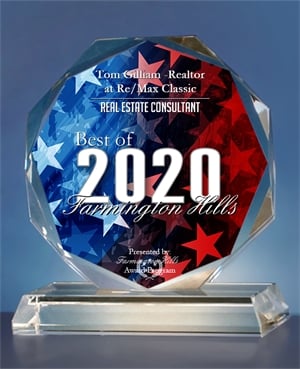 Whether you are interested in buying a home in Farmington Hills, MI, or its time to list your current property, experience matters most in a changing market.
With over 20 years of local experience, Farmington Hills REALTOR® – Tom Gilliam offers in-depth local market knowledge and access to the most up-to-date listings.
Known for his professionalism and care for every detail, Tom is an expert at uncovering the perfect home for his clients' lifestyle needs in the right Farmington Hills neighborhood or community.
Search Farmington Hill MI homes for sale
For sellers, Tom will create a comprehensive marketing plan that exposes your home to the public as well as to other real estate agents through the Multiple Listing Service (MLS), other cooperative marketing networks, open houses for agents, and so on.
Your listing will appear on all the most popular real estate sites where buyers spend hours a day looking at homes such as Realtor.com, Zillow, Trulia, REMAX, Redfin, and dozens of others. Your property will also be featured on Tom's own highly-trafficked website Homes2moveyou.com. You can be assured that your home will get sold quickly and for the highest market price.  
Tom works very hard for his clients. He will protect your interests, advocate for you, and be your trusted guide and advisor throughout the home buying or selling process. If you or someone you know is interested in Farmington Hills MI real estate, please give Tom a call today at (248) 790-5594 or you can reach him here.
Tom Gilliam, REALTOR®
RE/MAX Classic
29630 Orchard Lake Rd.
Farmington Hills 48334
Direct: 248-790-5594
Office: 248-737-6800
Email: Tom @ Homes2MoveYou.com
License #314578
[/et_pb_text][/et_pb_column][et_pb_column type="4_4″ _builder_version="3.0.47″ parallax="off" parallax_method="on"][/et_pb_column][/et_pb_row][/et_pb_section]