The Benefits of a Virtual House Tour When Selling Your Farmington Hills MI Home – Most traditional open houses are on hold, and in-person home showings are limited, as people practice social distancing to help stop the spread of COVID-19.
The pandemic has accelerated the demand for remote accessibility as home sellers have had to pivot to technology and virtual methods in order to sell their Farmington Hills MI homes and properties. 
With gatherings of more than 10 people prohibited across most of the U.S., real estate agents have been forced to cancel open houses. But many are using tools like FaceTime or Zoom to host live virtual open houses so they can show potential buyers around a home.
Virtual tours in real estate are nothing new. For at least a decade now, some form of the technology has existed to help agents break away from the usual static photos, drive traffic to a listing, and cater to long-distance buyers.
Virtual tours are recommended by the National Association of Realtors® as a way to avoid face-to-face contact while marketing homes during the coronavirus crisis.
As a home seller, you want to sell your home quickly and efficiently. Virtual and video tours have become essential tools for buying and selling homes. A virtual tour allows potential buyers to view properties completely online using 3-D and 360-degree photography and video.
Home sellers can give buyers an in-depth look at their property without having to actually open their doors – risking the buyers' health (or their own).  A virtual tour allows your home to be on display around the clock.  
The Difference Between a Virtual Showing and a Virtual Open House  
A virtual showing is a video walkthrough that allows an online buyer to feel like they are touring the house in person. The virtual showing is prominently featured in the online house listing and can also be promoted via social media. Homebuyers can then view and share the video at their convenience.
A virtual open house is an innovative alternative to the traditional open house, as the threat of COVID-19 can be an obstacle for homebuyers who don't want to view homes in person as well as sellers who don't want a lot of people walking through their home. 
An agent can guide prospective buyers through the home virtually at a specific time and date as if they were physically present and can answer questions in real-time, providing a more interactive experience.
The agent can advertise a virtual open house by contacting potential buyers and their agents and promoting the event just as they would a traditional open house. 
Here are the advantages of choosing an agent who can add a virtual showing or a virtual open house tour to your home marketing plan:
According to a

Housing Trends Report by Zillow

, 79% of buyers shop for homes online. A virtual open house gives your listing an immediate advantage.

Virtual open house tours allow homebuyers to view your property when it works for their schedule. Plus, for buyers relocating from another area, it eliminates the need for multiple trips, saving them time and money.

From bad weather to unprecedented events like the global coronavirus pandemic, physical open houses can be canceled, wasting a lot of time and effort. With a virtual showing, you don't have to worry about the unexpected.

A virtual showing makes it possible for people across the world to view your property in greater detail, expanding the potential buyer pool.

Traditional open houses can attract people who aren't actually in the market for a new home. When your open house is virtual, this won't be an issue.

Potential buyers have a better sense of whether the home is a good fit before they even contact you, so you'll get more serious inquiries.
An innovative and experienced Farmington Hills MI REALTOR® like Tom Gilliam, who is ahead of the curve and already using this technology, provides a clear advantage for his clients. If you're planning on selling your Farmington Hills MI home sooner than later, a high-tech approach to marketing your home is a must. 
Partner with Top-rated Farmington Hills and Oakland County MI REALTOR® -Tom Gilliam for Unmatched Expertise in Buying and Selling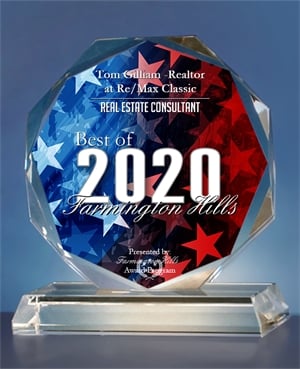 A top-rated Farmington Hills and Oakland County MI real estate agent like Tom Gilliam can show you more properties and save you thousands of dollars when buying a home. You need an agent who knows the area, processes a vast network of local connections, and has the skills to negotiate like a pro.
From first-time homebuyers to multi-million dollar investors, Tom continually strives to provide top quality service for his clients. With access to the most up-to-date MLS listings for Oakland county MI properties, Tom is able to match your lifestyle needs with the perfect home.
If you are ready to list your current property, Tom has the experience and skills necessary to handle the sale and marketing of your home for the best possible results. Tom employs the latest technology to deliver massive exposure and drive maximum response from qualified buyers.
Tom also partners with the most talented home stagers to ensure that your home is thoughtfully staged to showcase its features and amenities. With over 25 years of local real estate experience, Tom will protect your interests, advocate for you, and go above and beyond your expectations to ensure a smooth and successful transaction.
If you or someone you know is interested in buying or selling real estate in Farmington Hills or Oakland County MI, please give Tom a call today at 248-790-5594 or you can get in touch here.
Tom Gilliam, REALTOR®
RE/MAX Classic
29630 Orchard Lake Rd.
Farmington Hills 48334
Call: 248-790-5594
Office: 248-737-6800
Email: Tom @ Homes2MoveYou.com
License #314578