An Uptick in Mortgage Forbearances For The First Time in 3 Weeks – According to Black Knight, the latest data from their McDash Flash Forbearance Tracker indicated that the number of homeowners currently in forbearance plans increased this week after seeing three consecutive weeks of declines. In the past week, the number of active forbearance plans rose by 79,000, canceling out roughly half of the improvement seen since the peak on May 22.
As of Tuesday, 4.68 million homeowners were in forbearance plans, allowing them to delay their mortgage payments for at least three months. This represents 8.8% of all active mortgages, up from 8.7% last week. In the previous week, the number of borrowers in forbearance plans fell by 57,000. Forbearance plan increases were seen every day for the past five business days stated the report.
When entering forbearance, your mortgage payments are suspended until the end of the forbearance period. Those payments can be remitted either in repayment plans, loan modifications, or when the home is sold or the mortgage refinanced. The CARES Act, which was signed into law in March, allows borrowers to miss monthly payments for at least three months and potentially up to a year.
Mortgage bailout numbers were expected to improve as the economy reopened and with the slowing of job losses. However, the uptick in recent mortgage forbearance plans shows that homeowners are still struggling as COVID-19 cases continue to increase in several states.

According to the report by Black Knight, 6.9% of mortgages backed by Fannie Mae and Freddie Mac are in forbearance, up from 6.8% last week. That's a total of 1.93 million mortgages with $405 billion in unpaid principal. Although the numbers rose across all types of loans, they were sharpest for FHA/VA loans.  
FHA offers low down payment loans to borrowers with lower credit scores are particularly popular among first-time homebuyers. The number of forbearances for FHA backed home loans was 14.7%, up from 14.3%. The share of forbearances of VA loans was 7.5%, up from 7.3%. Together, FHA and VA loans represent $258 billion of unpaid principal, said Black Night.  
The number of private-market mortgages in forbearance was 9.6%. That's a total of 1.5 million private-market mortgages in forbearance, up from 9.5% the previous week according to the report. Private-market mortgages are not backed by a government agency or a GSE (privately owned, but receive support from the Federal Government). The unpaid principal balance for those mortgages is $361 billion.
At today's level, mortgage lenders may need to advance up to $3.5 billion/month to holders of government-backed mortgage securities on COVID-19-related forbearances. That's in addition to the $1.4 billion in T&I payments (the balance in an escrow account used to pay for property taxes and insurance) they must make on behalf of borrowers.
Partner with Top-rated Farmington Hills MI REALTOR® -Tom Gilliam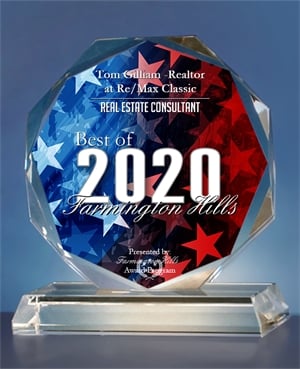 A top-rated Farmington Hills and Oakland County MI real estate agent like Tom Gilliam can show you more properties and save you thousands of dollars when buying a home. You need an agent who knows the area, processes a vast network of local connections, and has the skills to negotiate like a pro.
From first-time homebuyers to multi-million dollar investors, Tom continually strives to provide top quality service for his clients. With access to the most up-to-date MLS listings for Oakland county MI properties, Tom is able to match your lifestyle needs with the perfect home.
If you are ready to list your current property, Tom has the experience and skills necessary to handle the sale and marketing of your home for the optimum results. Tom employs the latest technology to deliver massive exposure that will drive mega-response from qualified buyers. Tom also partners with the most talented home stagers to ensure that your home is thoughtfully staged to highlight its features and amenities.
With over 25 years of local real estate experience, Tom will protect your interests, advocate for you, and go the extra mile to ensure a smooth and successful transaction. If you or someone you know is interested in buying or selling real estate in Farmington Hills, MI, or in surrounding Oakland County. please give top-rated Farmington Hills MI REALTOR® – Tom Gilliam a call today at 248-790-5594 or you can get in touch here.
Tom Gilliam, REALTOR®
RE/MAX Classic
29630 Orchard Lake Rd.
Farmington Hills 48334
Call: 248-790-5594
Office: 248-737-6800
Email: Tom @ Homes2MoveYou.com
License #314578
 Article Sources: