[et_pb_section fb_built="1″ _builder_version="3.0.47″][et_pb_row _builder_version="3.0.48″ background_size="initial" background_position="top_left" background_repeat="repeat"][et_pb_column type="4_4″ _builder_version="3.0.47″ parallax="off" parallax_method="on"][et_pb_text _builder_version="3.18.2″]
8 Key Factors That Can Influence Your Farmington Hills MI Home Value
Trying to price your Farmington Hills MI home accurately when preparing to sell it can be challenging. Key factors to consider when pricing your home include historical sales price, neighborhood & location, the market, the economy, home size & appeal, home age & condition, home upgrades & updates, and comparable homes (comps).
Here are 8 key factors that can influence your home's value:
1. Historical Sales Prices
One of the first things appraisers, real estate agents, and prospective homebuyers look at is the historical sale price of the property. For example, If the property has been sold three times in the past three years, for $250,000, $255,000, and $253,000, it seems reasonable to start at a valuation of around $250,000 and make adjustments based on any new additions or changes to the property.  
2. Neighborhood & Location
Neighborhood and location will influence a home's value. According to Inman, school system quality and home prices tend to be strongly correlated. Whether home prices influence school system investment or whether quality schools influence home prices, either way, school quality can significantly affect home values. 
Similarly, crime rates are negatively correlated with home values in the neighborhood. Homes that offer proximity to amenities like shopping, restaurants, everyday conveniences and recreation, and offer easy access to major highways tend to sell for more money than homes that are situated far away from everything.  
3. The Market
The current state of the housing market will also influence a home's value. Home prices are shaped by supply and demand and may fluctuate based on subtle changes in your area's economy.  If there are a lot of buyers competing for fewer homes, it's referred to as a seller's market.
Conversely, a market with few buyers, but with many homes on the market, is referred to as a buyer's market. In a seller's market, homes tend to sell quickly, whereas in a buyer's market it's typical for homes to see longer days on market (DOM). 
4. The Economy
When the economy is unstable, people worry about rising prices and getting laid off with little hope of finding another job. Missed mortgage payments lead to defaulting on your loan, losing your house, and long-term credit damage. People who are worried about losing their homes are less likely to take the risk to buy one.
When the economy's going strong, people are more confident that they'll be able to get another, maybe an even better job, if they leave or lose their current position. That's why top agents pay attention to economic indicators like job growth, unemployment rates, and the Housing Affordability Index.
5. Home Size & Appeal 
When estimating your home's market value, size is an important element to consider, since a bigger home can positively impact its value. Bigger houses tend to sell for higher prices. However, you must also factor in the appeal of the house.
Traditional, neutral layouts tend to carry more value than unusual layouts that appeal more to niche buyers. The more general the appeal of the home, the greater its value will be, especially when considering resale value. 
6. Home Age & Condition
Newer homes will tend to sell for more than older homes because they'll typically require less maintenance. However, an older home that's been well-maintained may sell for just as much as a newer home. Things like the home's foundation, structural integrity, electrical work, plumbing, and fixtures are all worth considering.
For example, if a roof has a 20-year warranty, that's money an owner will save over the next two decades, compared to an older home that may need a roof replaced in just a few years. 
7. Home Upgrades & Updates
Updates and upgrades can add value to your home, especially in older homes that may have outdated features. However, not all home improvement projects are created equally. The impact of an upgrade varies based on the market you're in, and you're existing home value.
Some projects like adding a pool or wood floors tend to have bigger increases for more expensive homes, while projects like a kitchen remodel or adding a full bathroom tend to have a bigger increase for less expensive homes.
8. Comparable Homes (Comps)
One of the best indicators of your home's value is the sale prices of similar homes in your specific area that have sold in recent months. Whether it's a home appraisal or a comparative market analysis (CMA) done by a qualified Farmington Hills MI agent, most real estate experts will rely on comparable homes or "comps" in the immediate area to estimate your home's value.  
When looking at comparable Farmington Hills MI homes:
Look for homes that were recently sold—the more recent, the better.

Choose homes that are most similar to yours in terms of features like the type of home (two-story vs. ranch), year built, number of bedrooms, bathrooms, and square footage.

When possible, choose homes in the same subdivision as your home. This is because the house a block over may not be a good comparable if it belongs to a different subdivision with different HOA rules, school districts, etc

If your home has a unique placement, such as on golf course, waterfront, or culdesac, look for comparable homes with the same placement. 
Farmington Hills MI homes are a great investment for any home buyer. When selling a Farmington Hills home it's important to know where your bottom line is. Keep these 8 factors in mind when pricing your home in order to attract serious buyers and prevent days on market, which ultimately, come at a cost.
Partner with Top-rated Farmington Hills MI REALTOR® -Tom Gilliam for Unmatched Expertise in Buying and Selling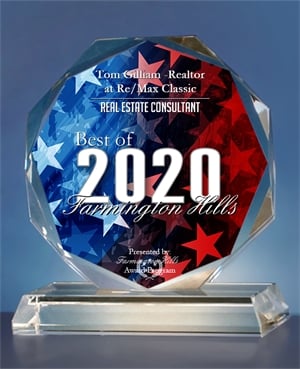 A top-rated Farmington Hills and Oakland County MI real estate agent like Tom Gilliam can show you more properties and save you thousands of dollars when buying a home. You need an agent who knows the area, processes a vast network of local connections, and has the skills to negotiate like a pro.
From first-time homebuyers to multi-million dollar investors, Tom continually strives to provide top quality service for his clients. With access to the most up-to-date MLS listings for Oakland county MI properties, Tom is able to match your lifestyle needs with the perfect home.
If you are ready to list your current property, Tom has the experience and skills necessary to handle the sale and marketing of your home for the optimum results. Tom employs the latest technology to deliver massive exposure that will drive maximum response from targeted buyers.
Tom also partners with the most talented home stagers to ensure that your home is thoughtfully staged to best showcase its features and amenities. With over 25 years of local real estate experience, Tom will protect your interests, advocate for you, and go above and beyond your expectations to ensure a smooth and successful transaction.
If you or someone you know is interested in buying or selling r Farmington Hills MI real estate, please give Tom a call today at 248-790-5594 or you can get in touch here.
Tom Gilliam, REALTOR®
RE/MAX Classic
29630 Orchard Lake Rd.
Farmington Hills 48334
Call: 248-790-5594
Office: 248-737-6800
Email: Tom @ Homes2MoveYou.com
License #314578
[/et_pb_text][/et_pb_column][/et_pb_row][/et_pb_section]